Whether you spell it "whisky," "whiskey," or "that delicious brown liquid that briefly makes everything seem amazing," it's a wonderful drink, and you want to get the good stuff. And thankfully, London has at least 11 spots where you can't go wrong: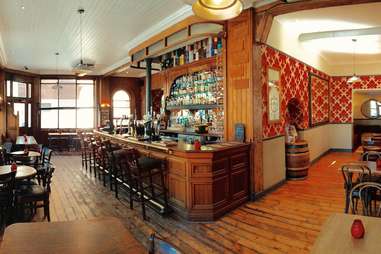 Borough
It may not look like much, tucked on the backstreets, but walk into The Britannia, and you'll find the beautiful glow of 130 whiskies washing over you. The staff are super knowledgeable, and it's pretty reasonably priced as well. Also -- cast an eye at their beer and burger lists. They're nothing to scoff at either.
St Paul's
Along with a great steak and a view of St. Paul's, Barbecoa also boasts over 200 bottles of the brown stuff, the best of which are stored in a caged "whiskey wall." They've got everything including ultra-rare Pappy Van Winkle, award-magnet Yamazaki 18 year old, and even their own house single-barrel 12 year old from the folks at Heaven Hill in Kentucky.
Mayfair
The 1920s may have been nearly a century ago, but deep within The Marriott the roaring decade is still in full swing. It's all elegance and class down here, with art deco running all throughout, and a drinks list to match (the cocktail menu is filled with flips and swizzles). When it comes to whisky, they have a fairly concise list, but it still covers a lot of ground, divided up by regions of origin from Japan, to the Scottish Highlands, to American wheat, and more.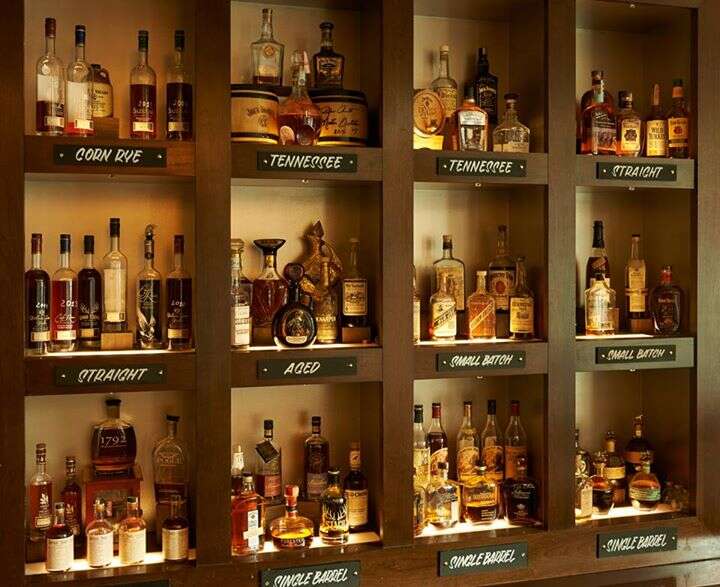 Mayfair
Although The Marriott might not seem like the obvious spot for a great whiskey selection, these guys have a serious list on their hands. With a list of over 200 bottles, including the first ever single-barrel selection from Jim Beam, they have one of the largest bourbon selections in England.
Soho
As London's oldest whisky shop, it comes as no surprise that Milroy's has an incredible selection on hand. Start at their tiny tasting bar with 250+ whiskies knocking around, and if you find something you love, they've even got liquor lockers so you can stash the bottle for next time. Then, head to the basement. It's been set up by Simo of the (sadly) former Coal Vaults, so settle into a Chesterfield and get drinking.
West Hampstead
This surprisingly roomy pub has a vast wall of whiskey that is only matched by its similarly impressive wall of vinyl records, from which they create the perfect sipping soundtrack. Want to give your own spin? They regularly let guests bring in vinyl from home to pair with their favorite favour of brown goodness.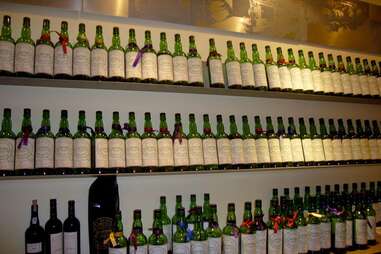 Farringdon
Ok, so it's members-only but trust us, this is one club that you want to be part of. Besides exclusive tastings, a dedicated quarterly magazine, and a private bar, they also have the largest selection of single-cask, single-malt whisky on planet earth.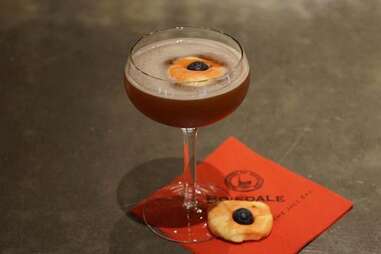 Canary Wharf
Work your way past the suits and head to this tartan-heavy steakhouse and bar. Sure it might seem a little cheesy, but once your perched at their 12-meter amber bar facing over 1000 whiskies, that suddenly won't matter. Its a truly a jaw dropping selection, so get ready to be there a while, and order some food for ballast.
Angel
When it comes to Bourbon, these guys have you covered. It's a kind of hipster pub, with a music venue upstairs, great roasts, and fun quiz nights, and it's also home to a huge list of America's finest -- although good luck reading the vast chalk board lists behind the bar. Get chatting with the staff, they really know their spirits and are always happy to help you find your new favorite drink. Also -- they're open till 4am on the weekends.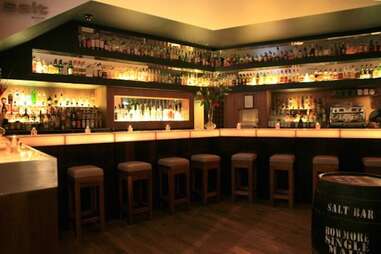 Marble Arch
So it might not look it, but this Indian shisha joint is hiding a casual 180 whiskies from all around the world behind its bar. With a good range and a great price point, this is a good place for everyone from the most seasoned to the novice who simply wants to expand their pallet.
Bethnal Green
These guys took a slightly different approach to their collection: instead of focusing on single malts or bourbons like some others on this list, they decided to specialize in Irish whiskeys and poitín, with maybe the largest selection in the UK at nearly 90 bottles. With a mix of both rare and easy introductory bottles, its a good place to dip your toe into the Irish Whiskey pool and see how you like it.
Sign up here for our daily London email and be the first to get all the food/drink/fun in the capital.
Haley Forest is a London writer who likes whiskey that's old enough to order a glass of itself. Follow her at @HCForest.