After eating London's finest dishes, it's only natural that you'd get a little thirsty -- and what better way to wash them down than with London's finest cocktails? But in the city that makes the best mixed drinks on the damn planet (seriously), it can be tough to know exactly which ones those are... which is where we come in.
Under My Skin
Artesian (address and info)
Marylebone
Artesian has been having a phenomenal couple of years, winning so many awards that other cocktail bars can only console themselves with a stiff, inferior drink. And when you're dealing with that kind of pedigree, it can be tough to pick a winner from the menu -- but the Under My Skin takes the cake, by blending Chief Gowanus gin, Gran Lusso vermouth, bitters, and leather that you literally breathe while eyeing yourself up in a black mirror.
Robin Hood, Quince of Thieves
The Blind Pig (address and info)
Soho
Bar manager Gareth Evans might not wear tight tights, but he certainly gives rich taste buds a run for their money. With Somerset apple brandy, quince liqueur, honey mead, lemon, and even a mini apple bullseye, you will be a merry man indeed.
Word of God
PortSide Parlour (address and info)
Shoreditch
Although PP is known for its impressive rum selection, it's this whiskey-fueled number that really catches attention. With an easy 50/50 split of Bulleit rye and Cynar, just a pinch of salt to mellow it out, and garnished with coronations, it's a bit sweet, a touch bitter, and packs a major punch.
Welcome to Kentucky, Have a Nice Day
The Cocktail Trading Co. (address and info)
Soho
Sure, these guys only opened a minute ago, but we're going to go on record and say they're cooking up some of the best juice in town. This award-winning box of noodles is packed with Jim Beam bourbon, yuzu juice, matcha tea, and a ginger & plum infusion, covered in bacon-flavored noodles (shah... they're actually vegan), and sipped through chopstick-esque straws.
Vermouth? You Can't Handle Vermouth
City Social (address and info)
The City
Another drink from the mind of Gareth Evans, this time served sitting high up in Tower 42 near Liverpool St. Bulleit rye, Cocchi Vermouth di Torino, Gancia Bianco, Campari, and Pierre Ferrand Dry Curaçao are stirred down and sipped while staring at a perfect view of the Walkie Talkie, the Cheesegrater, and the Shard.
Night at the Picture House
Belair House (address and info)
Dulwich
If you're up for venturing South to Dulwich, you'll be solidly rewarded for your efforts at Belair House. Although masquerading as a carton of salted popcorn, hiding underneath it all is sweet, caffeinated, and punchy dram with Ketel One vodka, Kahlua, orgeat, cream, and popcorn essence.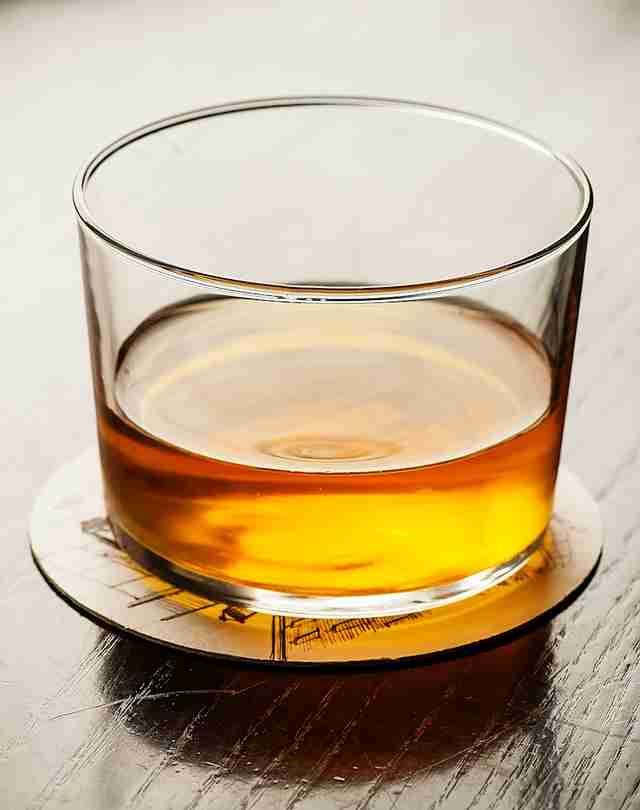 Avignon
69 Colebrooke Row (address and info)
Islington
It comes as no surprise that drinks legend Tony C has created a masterpiece of a drink. Harnessing one of the oldest recorded scents of frankincense and coupling it with the calming qualities of camomile with the rich depth of Merlet Cognac, it will make you feel like a wise man indeed.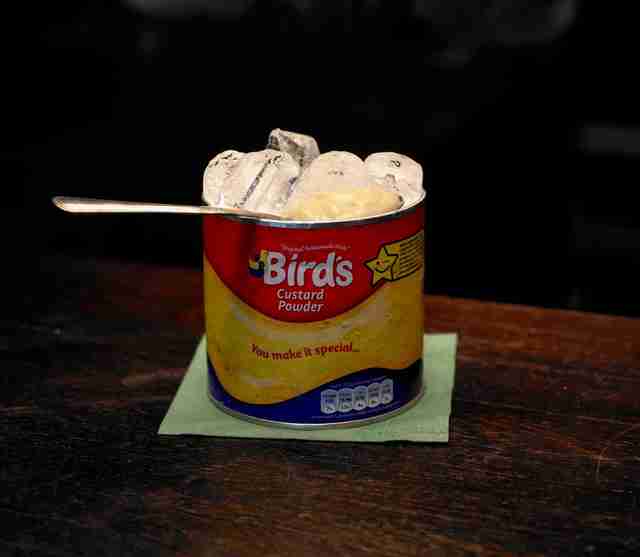 Rhubarb and Custard
Ladies and Gentlemen (address and info)
Kentish Town
A recent addition to the budding cocktail scene over in Kentish Town, this former public loo now serves this number; presented in a Bird's Custard tin, it puts together seasonal rhubarb with a healthy dose of locally made Portobello Road gin.
Pina Fumada
Discount Suit Company (address and info)
Aldgate
While it might take you a couple tries to find the way into this basement-level drinking den, the Pina Fumada will make it all worth it. Strangely like a piña colada, this mezcal refresher throws in a good dose of Velvet Falernum, pineapple, honey, and lemon.
Quinine Sour
Gymkhana (address and info)
Mayfair
These guys have way more up their sleeves than just award-winning Indian food. Tucked away downstairs is a swank little bar that has some serious drinks going on. If a G&T and a curry sour (if there was such a thing) had a lovechild filled with Tanqueray gin, tonic syrup, ginger, fresh curry leaf, lemon & egg white, this baby would be it.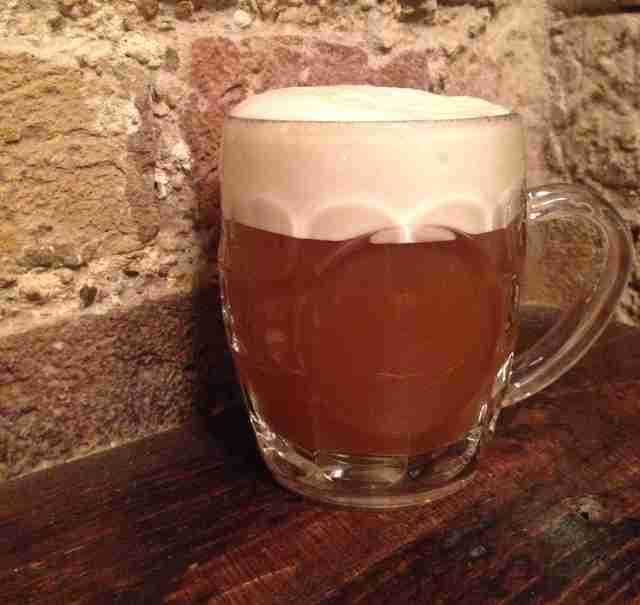 Ale of Two Cities
Callooh Callay (address and info)
Shoreditch
This is an oldie but a goodie, created by Sean Ware. With 42 Below Feijoa vodka, Punt e Mes, lime and apple juices, nettle cordial, and malt syrup, you'll feel like you're drinking beer, but better. 
Sign up here for our daily London email and be the first to get all the food/drink/fun in the city.