The Best Hotel Bars in London
Once upon a time, hotel bars were relegated to traveling businessmen (and the escorts who kept them company). Thankfully, we've entered a new era, one in which hotel bars are some of the best watering holes around, complete with artful menus, gorgeous spaces -- and almost always enough room for your whole crew. Go and feel like you're at the top of the world in these expert bars, secure in the knowledge that if your night goes really well, a bed is not that far away.
Holborn
Scarfes is perfect if you're in the mood to be pampered like royalty, or you just want to camp out by the fireplace with a book. With high ceilings, crazy artwork, massive chandeliers, an insane back bar, Sunday burlesque shows, and even a resident pup, there's nothing subtle here -- yet somehow it manages to be ridiculously cozy. Prop up the bar for hours or curl up on an overstuffed sofa: you're sorted.
Courtesy of The Artesian
Oxford Circus
This bar has won almost every award possible in the last few years, including such heavy-hitting accolades as Drinks International's World's Best Bar (for three years running), Best International Hotel Bar, Best International Bar Team, Best International Cocktail Bar, and Best International Bartender from Tales of the Cocktail (which is basically the Oscars of the booze world). Although much of the staff has changed in the last few months, the drinks are still outstanding -- and we're all looking forward to seeing what's next for this London hotspot.
Fitzrovia
Hidden in the back of the stunning Ian Schrager-designed Edition Hotel, this micro bar is truly sexy as hell. Specializing in punches (they're in the name, after all), bring some friends, and be ready to share concoctions in every size, shape, and style. Snag a couple seats by the fireplace, then let bar manager Davide Segat blow your minds.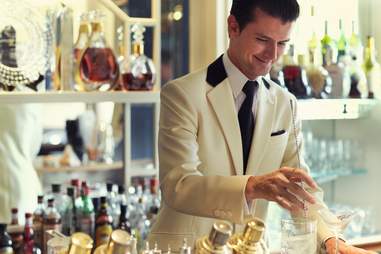 Courtesy of The American Bar
The Strand
Back when the US did that silly Prohibition thing, most of the top bartenders at the time ditched speakeasies and police raids for the fairer (and, you know, legal) shores of Europe. In London, Harry Craddock -- author of cocktail bible The Savoy Cocktail Book -- took over The American Bar, where he invented now-classic cocktails like the White Lady and the Corpse Reviver #2. These days, the bartenders are just as talented, the decor just as monochrome swank, and the time still seems to fly by.
Courtesy of The American Bar
The Strand
While the American Bar is pristine and classic, the Beaufort Bar is sultry and grand. Winner of the Best International Hotel Bar at Tales of the Cocktail (2015), this is the place to go when you want to impress someone -- it's truly a jaw-dropping affair, decked in black and gold. The drinks are the stuff of legends, and pay homage to some of the greats, like Frank Sinatra and Marilyn Monroe -- who once propped up the bar.
Courtesy of the Connaught Bar
Mayfair
Take a spin on their martini trolly -- the bitters and vermouths are made in house, and their twice-frozen ice has some kind of magic properties, so you can customize that baby just how you like it. It's really all about the details in this elegant space, so sit back, eye up the marble bar, and let the bartenders do their thing.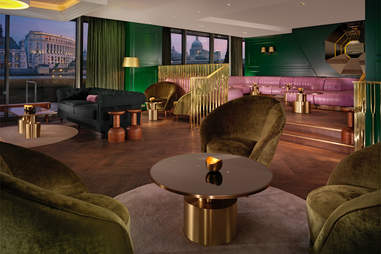 Courtesy of Dandelyan
Southbank
This hotel bar breaks the mould a bit: it feels like a 1970s cruise ship lounge, there are always great tunes (anything from dirty hip-hop to '80s dance hits), it's manned by a heavily tattooed, quirky staff, and the drinks will have you guessing as you bottoms-up round after round with glee. The man with a plan here is Ryan Chetiyawardana, aka Mr Lyan, who is basically a booze wizard making drinks out of anything and everything. There's a big focus on botany here -- expect plants to show up in everything.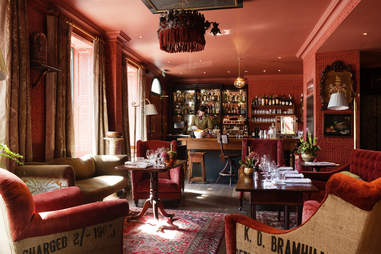 Courtesy of Zetter Town House
Clerkenwell
It might look like your eccentric aunt's living room, but this overly decorated den pumps out some of the best drinks in town. With a menu designed by Tony C (of 69 Colebrooke Row), the cocktails here are as ridiculously easy to drink as they are boundary-pushing: think a whisky sour that's been infused with beurre noisette, and a collins concocted with bee pollen.
Courtesy of The Blue Bar
Knightsbridge
Luxe and classic, there's always quite a scene here with an interesting mix of famous faces, hotel guests, serious cocktail drinkers, and a few ladies of the night. Grab a martini and settle in for some mega people watching.
Courtesy of Dean Street Towhouse
Soho
The Soho House Group can basically do no wrong in this town. The long bar is where it's at, so be ready to start stuffing your face with their excellent eats and drinks. Start at breakfast and stay late into the night: if you're still there past 11pm and the hotel has rooms available, it's all yours for 50 quid.
Courtesy of GONG at Shangri-La
Borough
If you're a sucker for a view, it really doesn't get much better than this. Sitting atop the 52nd level of The Shard, you can almost watch the world spin from here. Knock back some of their flawless cocktails and put the phone down for a minute -- no picture is going to capture this vista. They're a bit tough on the dress code, so leave your flip-flops at home and be ready to throw down some serious cash (it's worth it, promise).
Sign up here for our daily London email and be the first to get all the food/drink/fun in the capital.
Haley Forest is a writer who grew up going to the Lobby Lounge bar at the Ritz-Carlton in San Francisco with her mother, and thought she was very sophisticated asking for a "Water on the Rocks." She also dreamt of being a hotel bartender at age 8. Things didn't exactly go that way, so follow the real story at @HCForest.