The finest beer minds in London fill you in on what to drink in the sun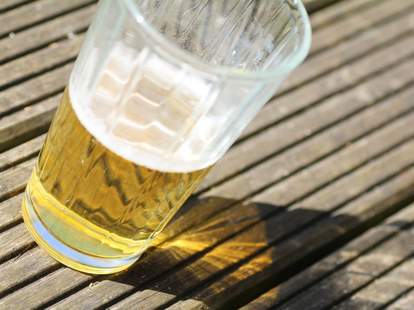 Few things enhance Summer better than beer, but before you go reaching for that imperial stout, you should know that not all warm-weather brews are created equal. To help make sure you make the most of your Summertime drinking, we tapped (!) five of London's finest beer minds (oh... ) to weigh in on what they like to drink when things heat up.
Melissa Cole, sommALEier at lovebeer@borough
Tap East's Tonic Ale (Blonde Ale, 3%)
Melissa says: "There's a joy to drinking beer in the same place that it was brewed -- it's like you're managing to organise a proverbial in an actual brewery! Tonic Ale is the brainchild of Tap East's head brewer Jim Wilson. It may be subliminal messaging from the name, but you get that lovely lime and botanicals aroma you'd get from a well-made G&T and a quinine-like bitter bite at the end -- best of both worlds on a sunny day in my book."

Magic Rock Simpleton (Session IPA 2.6%)
Melissa says: "I often call myself a simple woman with simple tastes, so this hits the spot for many reasons! Calling itself a 'sessionable IPA' (India Pale Ale, which are historically much higher in alcohol) it's a ridiculously Moorish 3% brew with lots of tangerine aromas, a big grapefruity bite on the palate, and a dry, almost under-ripe peach end that has you diving back in for more."
Jack Stones, Beer Sommelier at Meantime Brewing Company
Thornbridge Kipling (English Pale Ale, 5.2%)
Jack says: "Lovely golden Pacific pale ale full of citrus and grapefruit: Summer in a glass. The new-world hops don't become too overpowering after the second bottle either, which is always a risk with something this hoppy."

Sharps Honey Spice Tripel (Belgian Strong Ale, 10%)
Jack says: "Another golden ale, however, a little bit more challenging and not something you're likely to get away with having too many glasses of! However the citrus flavours are still there, this time from the addition of actual citrus peel rather than from punchy fruity hops. Maybe a beer to accompany a sunset, as it will certainly be warming."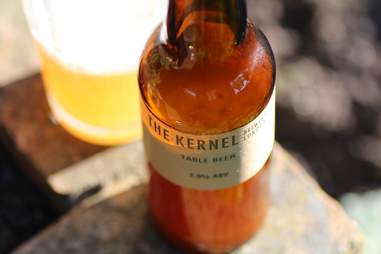 Will Hawkes, Beer Writer/Guru for Craft Beer London
The Kernel Table Beer (American Pale Ale, 3%)
Will says: "Low in strength this pale ale might be, but it has real depth of flavour -- and the clean bitterness is just the thing for a hot day."

Partizan, Saison Galaxy (Saison, 5.4%)
Will says: "In an Ashes Summer, how about an beer made with Aussie hops? The Galaxy variety adds passion-fruit flavour to the sourish tang of this Belgian-style ale."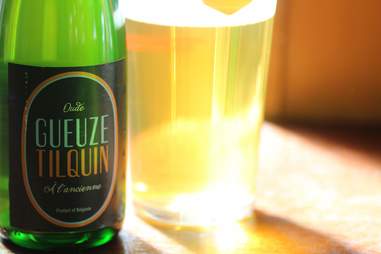 Martin Hayes, Founder of The Craft Beer Co.
Oude Gueuze Tilquin a L'Ancienne (Gueuze, 6%)
Martin says: "From the world's newest lambic blender -- Pierre Tilquin learnt his trade at the older Belgian lambic blenders before starting his own business and releasing his first beer in 2011. This beer is tart and sour, but on a hot Summer's day there are few things more perfect to be enjoyed in the sunshine."

American Pale Ale, Dark Star (American Pale Ale, 4.7%)
Martin says: "A world-class beer which is good all year 'round, but in the Summer, this beautifully well crafted beer really comes into its own. It is wonderfully thirst-quenching and packed full of citrus flavours."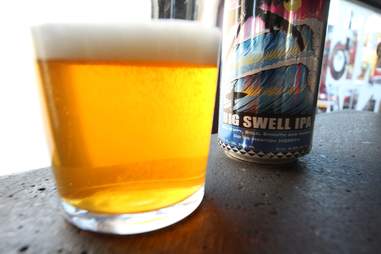 James Watt, Founder of BrewDog
Maui Big Swell (American IPA, 6.3%)
James says: "This bad boy serves up a tidal wave of hops, and is Martin's favourite canned IPA. It totally hits you in the face with the quintessential hop aroma and would be awesome served up at a BBQ for Summer."

Ballast Point Wahoo Wheat (Witbier, 4%)
James says: "Citrusy and orangey with a wholly refreshing coriander hit, Wahoo Wheat is inspired by crashing waves and has a distinctly surfy quality about it. The zingy mouthfeel would be super-refreshing whilst sipping on a beach."