Quite possibly the first speakeasy to eschew the whole "serving you booze" thing, BYOC (Bring Your Own Cocktail) is a hidden bar that doesn't actually sell any alcohol -- instead, you bring the bottle of your choice with you, and they'll make it into a bespoke cocktail on the spot with their array of "syrups, fruit juices, spices, herbs, salts, and homemade cordials"


Head to this innocent-looking juice bar in Covent Garden, walk inside, and present your bottle (there's a Tesco 'round the corner where you can get some red rum, or whatever, if you forget) -- they'll let you behind the counter, and down the secret stairs at the back


The space is a small but impeccably appointed candlelit throwback to the '30s era w/ a jazz-heavy gramophone


After you've been seated, this trolley will be wheeled out to help get you, well, trolleyed, with the barkeep giving you a quick palate Q&A before getting to work on your drink.


£20 (per person) will get you two hours of boozy innovation, with a different drink each time, aided by bottles from other tables, from which everyone is expected to share and share alike... sure to make speaking quite easy indeed... and then much harder.
Recommended Video
Buffalo Chicken Beer Cheese Fondue Fries Are Like an Edible Sports Bar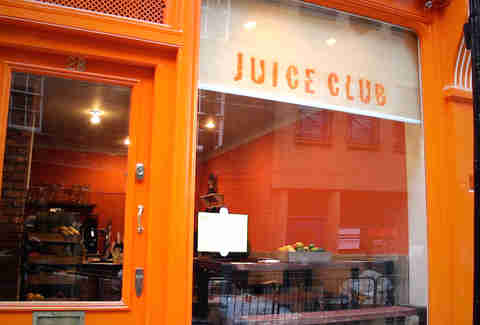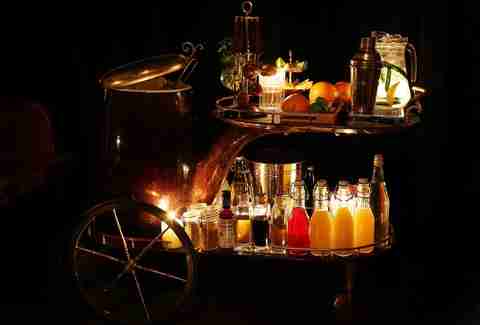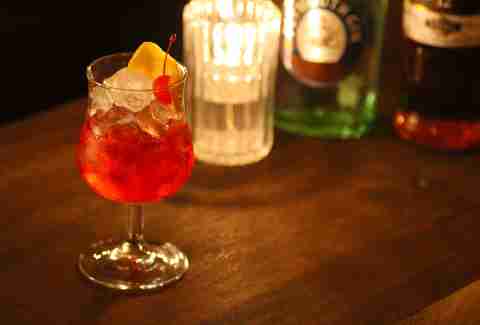 Previous Venue
Next Venue
Venue Description
1. BYOC
28 Bedfordbury St, Covent Garden, WC2N 4BJ
Located in Juice Club in Convent Garden, this secret speakeasy is accessible after paying a modest cover. Past the hidden door, and down a staircase, is BYOC: a '20s-style candle-lit cavern. It has every element to concoct a cocktail (including the folks to make them) EXCEPT the booze. Just bring whatever spirit you fancy and they'll turn it into something you probably would have screwed up at home.