London's Cocktail Scene Is Trumping the Rest of the World's... Here's Why
Once upon a time, London wasn't exactly known for excellent food and drink... which, yes, might be a considerable understatement. But times have changed, and in recent years, London has become one of the best cocktail and bar scenes in the world -- some might even say the best cocktail scene in the world. And that's not just hometown pride talking: bartenders from the colonies -- a part of the world that tends to think it both invented and perfected the cocktail -- now look to the Big Smoke as a city of drinking inspiration, celebration, and a good night out.
The fun factor
Drinking should always be fun, and London takes a sense of play and adventure to heart. Bars here like to make sure you're having a great time while knocking back some killer beverages. The idea of a quality cocktail den that crosses over into party land might seem obvious, but across the pond, this idea is a bit more foreign... at some of the stiffer American speakeasies, "appreciating a cocktail" can feel like a lot like work.
In a world where advanced cocktail drinking often goes hand in hand with elite and pretentious behavior, there are a solid number of bars pumping out quality drinks at high volumes that also just want you to have a good time, regardless whether you can name five types of gin or not.
"The London bar scene to me is more playful and whimsical than what I see here in the US," says Yael Vengroff, the beverage director of the craft cocktail bar/bowling alley in the Hollywood Roosevelt Hotel. "This isn't to say that folks aren't embodying that style in America. It's just not the focus. Amazing bars to me would be Trailer Happiness, Callooh Callay, [and] Artesian. I love the attitude and experience of the LCC bars. LAB is almost like the cornerstone of all of the above, and El Camion is my favorite place to drink every night of the week."
Melbourne native William Pineapple, who ran Notting Hill Tiki-esque party spot Trailer Happiness before heading out to New York, is no stranger to the fire breathing, lamp swinging, and loud sing-alongs that make a classic Saturday night.
"London bars are more 'fun' with their drinks... meaning it has entry-level cocktail bars like Be at One and London Cocktail Club," explains Pineapple. "You don't have to be a snob about drinking cocktails in London. Be at One still does a two-for-one all day Sunday."
The best hotel bars
While the US was busy doing that Prohibition thing back in the 1920s, London happily embraced the movers and shakers (heh, literally) of the cocktail world... so, basically, we got a huge head start on the whole game. Bet you regret that move now, dontcha, US? Most of these pioneer bartenders landed at the big hotels of London, like The Savoy, slinging drinks for fellow expats and locals alike, all of whom were amazed by this new cocktail thing.
The Dead Rabbit in New York has landed in the top three on the list of World's Best Bars (along with Artesian and Nightjar) for the past several years, and even took home the World's Best Bar award at the 2015 Spirited Awards at Tales of the Cocktail, which is basically the Oscars of the booze world. Its head bartender, Jillian Vose, feels that there is always a certain amount of friendly rivalry between the top bars, but in London, the hotel bars really come out on top.
"We're starting to see NYC hotel bars taking it seriously. But other than NoMad, there's no comparison," she says. "London is killing it with hotel bars. They're like apples and oranges."
Pineapple agrees that the drink programs at hotels are a different game in London compared with the rest of the world. "Hotel bars in London have programs that are really inspiring," he says. "They have money, and aren't afraid to spend it... for instance, Artesian, Connaught Bar, and Punch Room at The London EDITION."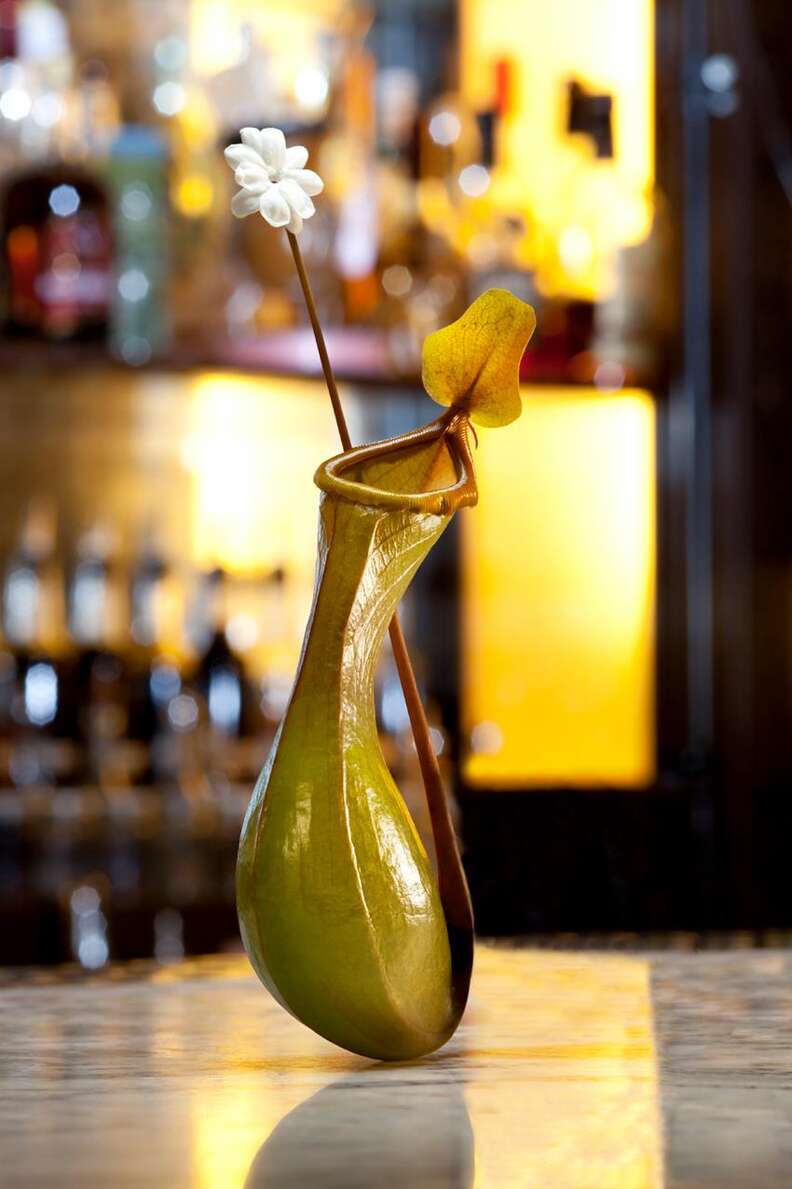 Next-level concepts
If we eat with our eyes first, it stands to reason that presentation is a huge part of how we enjoy our beverages, too. Lemon twists and basic coup glasses are fine -- lovely, really -- but sometimes, a drink just needs to be served inside a Lego elephant... or, with a whole bouquet of flowers and dry ice. These over-the-top garnishes have become an integral part of what people see as London-style cocktails. Pamela Wiznitzer, creative director of lauded New York bar Seamstress, and president of the NYC chapter of the United States Bartenders Guild, says she is consistently amazed by London's advancements in presentation.
"I've always found there are more hyper-theory bars in London, where they have cocktail artistry or 'extreme cocktailing,'" Wiznitzer says. "Artesian and Nightjar's style is hugely about aesthetics... presentation becomes the No. 1 factor for the drink."
This land of Instagram-worthy cocktails sometimes come with a considerable price tag, especially for pilgrimaging drinkers thinking about conversion rates, but this added level of showmanship is all part of the equation. The top quality products being used, combined with the expert execution and presentation, add a level of drama that can't be beat anywhere.
"The price of a drink may be much higher," Wiznitzer says, "but it makes the cocktail presentation more important. If guests are paying that much money, then you have to show them it's worth it."
The closest thing the US has to that kind of elevated presentation and garnish game is The Aviary in Chicago, from Michelin-approved chef Grant Achatz. Beverage director Micah Melton likes to keep his drinks interactive and fun, and seeing the way that London likes to play with its drinks only adds to his inspiration for future interactive concepts.
"I feel like London is more open to new concepts instead of just trying to do speakeasies over and over and over," Melton tells Thrillist. "The bartenders are more creative. They're doing something that's pushing boundaries, like White Lyan. Even the classic hotel bars like Connaught Bar with their martini cart; it's still innovative and multisensory."
Keeping it local
While destination bars will always wave their trophies around, little neighborhood bars are equally standout in the London scene. Some mega-talented bartenders -- many of whom trained up at the bigger, award-winning bars -- have turned around to open their own little watering holes. Using quality ingredients, zero faff or malarkey, and some serious heart & soul, the little places have become what makes this town extra special.
Danny Neff, who runs East Village fun-time cocktail bar Holiday Cocktail Lounge in New York, recently came to London to throw a pop-up at Loves Company, by Old Street. After diving into the Shoreditch bar circuit, he found himself at the tiny agave bar, Casita.
"Casita had that balance of having a great cocktail because of the fresh ingredients, and it was just fun," he says. "It had a welcoming, regular clientele, and the people who came in were looking for one thing: to have a great drink and enjoy themselves."
This kind of easygoing attitude, with regulars who embrace like-minded drinkers, really embodies why it's just so damn fun to drink in London... everyone wants to drink amazing drinks, toast to the good life, and keep the party going.
Sign up here for our daily London email and be the first to get all the food/drink/fun in the capital.
Haley Forest is a food & drinks writer who has created (and potentially lost) plenty of memories in bars across London. Watch her adventures on all things social at @HCForest.