22 Shuttered LA Bars We Miss the Most
Over the last 25 years, Los Angeles has seen its fair share of bar turnover. And while any LA bar closing sucks, some just suck a little more than others. These are the suckiest of the bunch: the 22 shuttered LA bars we miss the most, from St. Nick's and Lola's, to Saints & Sinners and The Roxbury on Sunset.
Dimples
Burbank
Closed in: 2015
Reason we miss it: Where else could you get a DVD and photo of your sloppy karaoke performance? Nowhere else. Nowhere. And, heck, even that owner who encouraged the women patrons to dance on stage to The Black Eyed Peas' "My Humps" will be missed. (And if you don't know what we're talking about, its UNBELIEVABLY GREAT Bar Rescue episode -- "Karaoke Katastrophe" -- reruns, like, all the time.)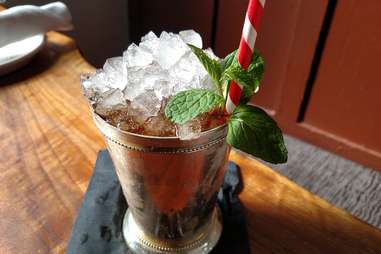 Brilliantshine
Santa Monica
Closed in: 2015
Reason we miss it: Its potential. The SaMo bar was owned by mixology stars Julian Cox and Josh Goldman and had just debuted its new Tiki spot in the former Tinga space and hired Michael Lay to help run the cocktail program... weeks before it closed for good.

St. Nick's
Mid-City
Closed in: 2014
Reason we miss it: St Nick's was the only place on a street filled with juice bars and designer clothing stores where you could get a cheap, heavy-handed pour of dive-bar booze and pretend you were in college again (probably because you were hobnobbing with people who actually were).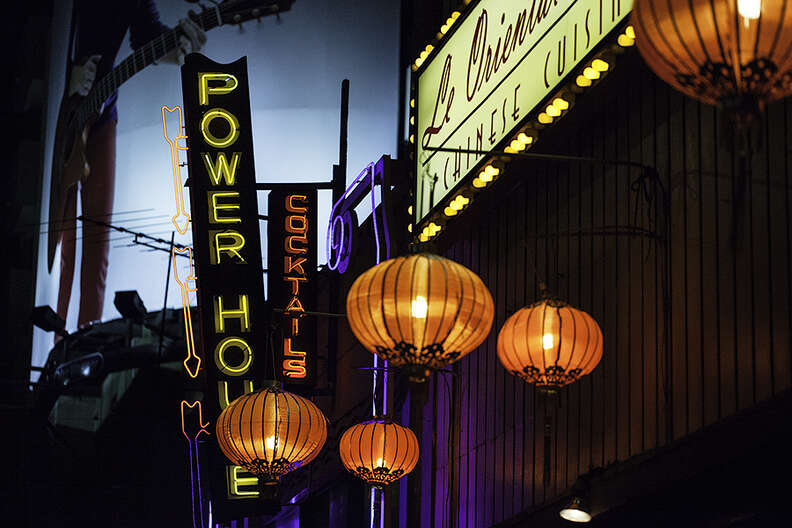 Power House
Hollywood
Closed in: 2014
Reason we miss it: In Hollywood and want a heavy pour and a potential hang with Mini Mr T? Then you were walking into this shabby dive, which recently transformed into a schmancy craft cocktail bar under the same name.

Good Hurt
Mar Vista
Closed in: 2014
Reason we miss it: Bartenders dressed like sexy nurses, and their "prescriptions" for sobriety were no joke. It was also one of the only live music venues on the Westside, which didn't always mean the music was good -- but if you live by the ocean, it was at least close.
Cat & Fiddle
Hollywood
Closed in: 2014
Reason we miss it: The patio here was AMAZING, not to mention you'd almost always spot Morrissey, who was a regular at the 30-year-old Hollywood pub. How regular? When it closed, in typical Morrissey fashion, he lamented in his zine, "We are all orphaned."
Bahooka
Rosemead
Closed in: 2013
Reason we miss it: Bahooka was a massive San Gabriel Valley outpost stuffed with Polynesian clutter that somehow worked, like Rufus the then-36-year-old fish mascot, flaming cocktails served in salad bowls, and more kitsch than you could shake an on-fire stick at. Then, after 46 years, it closed in 2013.

Renee's Courtyard Cafe
Santa Monica
Closed in: 2013
Reason we miss it: Creepy dolls everywhere! Although this happening 32-year-old hangout for neighborhoodies was a stone's throw from the antiseptic and touristy Promenade, it was cluttered, quirky, and inexplicably decorated with dolls that made it feel like you were having flavored vodka cocktails in your crazy Aunt Renee's living room.
Lola's
Fairfax
Closed in: 2013
Reason we miss it: Touted unapologetically as the birthplace of the apple martini, Lola's also offered Key lime pie, s'mores, and caramel apple martinis. Rimming glasses with graham cracker crumbs was a thing here, as were incredibly sweet chocolate martinis, making it a go-to for Girl's Night Out/people without diabetes.
The Tar Pit
Mid-City West
Closed in: 2012
Reason we miss it: This La Brea bar seemed like a no-brainer when it opened -- it was in an area of town with no great cocktail bars, it had top bartenders from Catch & Release and The Spare Room busting out top-notch drinks, and award-winning chef Mark Peel was serving up bar bites. Alas, the '40s décor didn't take, and now the same address is Bludso's BBQ. So, maybe it was a good thing after all?
Red Rock
Sunset Strip
Closed in: 2012
Reason we miss it: In its prime this divey sports bar with its primo people-watching perspective was the only place in West Hollywood where you could wear sweatpants and eat curly fries without judgment. And that used to mean something.

Saints & Sinners
Palms
Closed in: 2011
Reason we miss it: Fire-breathing bartenders at this '70s-ish den of inequity served a beloved drink called the "Holy Water." Yes. That happened. And we wish it still did.
Del's Saloon
West LA
Closed in: 2010
Reason we miss it: For 35 years, this dive -- which was in the sweet spot of several neighborhoods -- attracted a cast of characters from all walks of life, like Rio, the impulsive harmonica-playing half-blind guy; Lucky, a red-headed Porsche-driving pool shark; and the Basher, a writer who was rarely seen without a Miller High Life in each hand. Where will he double-fist now??

Miyagi's
West Hollywood
Closed in: 2010
Reason we miss it: Thanks to its multiple stories of debauchery, hitting this Japanese-themed Sunset Strip institution was basically a rite of passage for anyone who'd just moved to LA; you could take in some terrible sushi on the ground floor and make your way upstairs for karaoke and dancing, often in various states of just-got-to-town undress, and alongside then-unknown actors and actresses who're probably still dreading the fact that photos taken there might ever see the light of day.

The Derby
Los Feliz
Closed in: 2009
Reason we miss it: Remember the swing dancing scene in Swingers that convinced you to move to LA in the first place? That was The Derby: the last of the four Brown Derby chain restaurants, which actually managed to avoid the wrecking ball by being deemed a Los Angeles Historic-Cultural Monument in 2006. Alas it's just a bank now.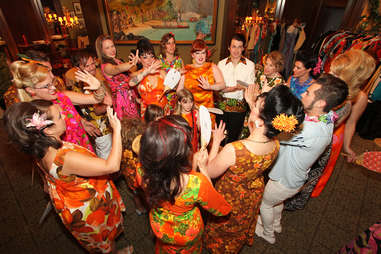 Trader Vic's at Beverly Hilton
Beverly Hills
Closed in: 2007
Reason we miss it: How can you not miss enjoying a Mai Tai in the original space that launched a thousand Tiki bars? Sure, they moved some of the memorabilia and cocktail menu to a poolside lounge in the hotel, and still call it "Trader Vic's" but the ORIGINAL Trader Vic's was a Rat Pack haunt and helped kick off the drinks-with-umbrellas-in-them craze in the '50s.

Lava Lounge
Hollywood
Closed in: 2007
Reason we miss it: That kinky Sunday karaoke DJ -- who just so happened to often be future Thrillist LA editor Jeff Miller in his pre-intertron days. Also: who doesn't love cheesy underlit Tiki décor??

Daddy's
Hollywood
Closed in: 2006
Reason we miss it: This cocktail lounge was where a mix of musicians, young professionals, and locals retreated, away from the touristy spots on the boulevard. The drinks were strong, the couches plush, and the clientele always mysterious.
Al's Bar
Downtown
Closed in: 2001
Reason we miss it: In its prime, this West Coast equivalent to New York's CBGB was the jumping-off point for many big names -- everyone from The Misfits, to Beck, to the Red Hot Chili Peppers played intimate shows there in their early days.

Small's K.O.
Hollywood
Closed in: 1998
Reason we miss it: Its always-eventful last call. Before the same location became upscale spots Pour Vous and Ivan Kane's Forty Deuce, it was Sean MacPherson's intimate rock 'n' roll dive, where you could end the night with a $2 beer while sitting beside a "celeb" like Justine Bateman (miss you, Justine!).

The Roxbury on Sunset
West Hollywood
Closed in: 1997
Reason we miss it: All the celebrities in one spot! Basically if you were young and hot in Hollywood, or a Shannen Doherty hanger-on, you were allowed into the bar area of this Sunset Strip venue where you rubbed elbows (and, if you were lucky, other parts) with Madonna, Tom Cruise and, um, Tia Carrere. Schwing!!!

Yee Mee Loo
Chinatown
Closed in: 1989
Reason we miss it: The jukebox. Yeah, this was technically closed 26 years ago, but it's our list and you're not the boss of us. Also: while you can now enjoy Yee Mee Loo's famous blue drink at the Good Luck Bar in Los Feliz, its jukebox, with its croon-heavy music selection with Billie Holiday and even Marlene Dietrich, perfected the LA noir ambiance of this once-iconic bar/restaurant.
Sign up here for our daily LA email and be the first to get all the food/drink/fun Los Angeles has to offer.
Caroline Pardilla, aka Caroline on Crack, writes about booze for Los Angeles Magazine and Eater Drinks. Follow her drink adventures @carolineoncrack on Instagram and Twitter.