5 LA locales that turn the sexy up
There's no one definition of "sexy" -- what fits the bill for you might be totally un-sexy to someone who gets their definitions from UrbanDictionary.com. We partnered up with GUESS Night -- a new fragrance whose own definition includes "hot peppers" -- to track down five very different LA spots that, one way or the other, provide an atmosphere that serves as a prelude to getting your freak on.
Bootsy Bellows
This performance centric lounge fashioned with 60's sensibilities caters to every appetite, from the sensual (cat-costumed burlesque dancers) to the depraved (puppets).
No Vacancy Bar
One of these three doors contains No Vacancy Bar -- they don't allow photos inside, because like any affair worth its salt, it's best kept secret. Except Bill Clinton - Gennifer Flowers, which was much better out in the open.
Nozawa Bar
Ah, the omakase date. There is nothing sexier than putting your ordering decisions in the hands of another man so you can fully concentrate on... what was that? You had to return it to the store?!
Spare Room
Hard wood. Balls. Cocktails. They did such a nice job with this place.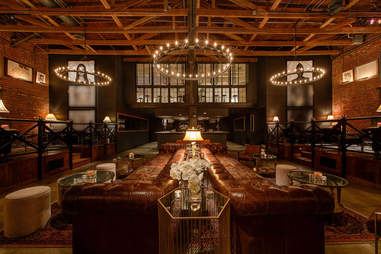 Warwick
Those tastefully blurred out images in the background? They're actually giant naked ladies. Yep.