Located downtown in a 100yr-old building that's named after the dude who helped design the Brooklyn Bridge and that once housed a factory that churned out Slinkys (!!), Angel City Brewing's a suds-making beerhall busting out literally the freshest craft beers possible, from the barrel to the tap. They've got some weirdness left behind from past tenants, including this slide that was presumably used for sending down shipping packages/hilarious Goo Goo Dolls references. The magic happens back here, though, with the main brewer -- not this dude who's cleaning up his mess -- but a crazy red-haired guy who proved his meddle at Gordon Biersch, and's now brewing everything from large batches of kinda-standard IPAs to teensy batches of off-the-wall suds spiced with a jus sauce. They'll all be available at ACB's eight, extra-sexy rotating taps. And you'll get to enjoy them either at the well-lit, totally safe bar pictured way up top, or at these ominously lit, totally safe (??) picnic tables. Eureka! Is the name of this beer!
Recommended Video
Pizza Acrobatics Is a Real Sport, and You're Going to Love Watching It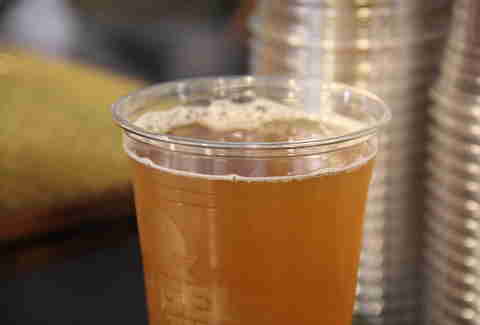 Previous Venue
Next Venue
Venue Description
1. Angel City Brewery
216 S Alameda St, Los Angeles, CA 90012
Located in the historic John A. Roebling warehouse in the Arts District, Angel City Brewery has become a leader in the California craft beer scene. Its signature beers range from staples like the Angel City IPA to limited-time brews and gems from the warehouse collection. You can toss 'em back in the art deco space or in one of the numerous restaurants and bars at which they're sold.