A Brief History of the Last 20 Years of LA Barhopping
Bar hopping in LA has seemingly always been a bountiful (and booze-filled) endeavor. And while many of the city's most legendary drinking spots are now gone, thanks to fickle Angeleno tastes and nightlife trends, their influence -- and our memories of being under the influence inside of them -- live on. Which is why we're flashing back to the last 20 years of the buzziest bars and nightclubs that offered woozy and wondrous spells that allowed us to take shots, hook up, and get down... until they were infiltrated or shuttered, and we all moved on to something else. Here then, is one of the most challenging lists we've ever compiled: a brief history of the last 20 years of the hottest bars in LA.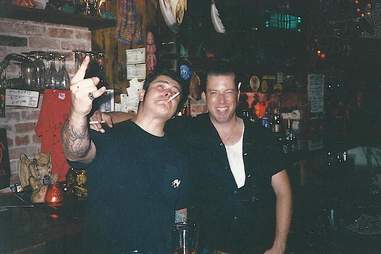 Courtesy of Lina Lecaro
1995-2000: Conspicuous Consumption
Bar Deluxe
Hollywood
Hottest years: 1995-1997
Back in '93 when it opened, and before Hollywood got "cleaned up," Bar Deluxe was on a street many considered crack central -- Las Palmas Ave just above Hollywood Blvd. But Janice DeSoto (formerly a promoter for rockin' joints called White Trash and English Acid) knew her hell-raisin' crowd wouldn't be scared away. The red and black, two-level hotspot was a magnet for the lewd and tattooed crowd, with live rockabilly, punk, and metal bands, and regulars nightly.
Currently:Premiere Supper Club
Smalls K.O.
Hancock Park
Hottest years: 1995-1998
For many in LA, it all begins with Smalls. Jon Sidel and Sean MacPherson's dark, subtly divey drinking hub was a hipster hive before "hipster" was even a thing. Located on Melrose at Gower, the bar (which opened in 1990) made for a poppin' pit stop before shows and clubs, but for many, Smalls was all about scoring a seat early and soaking up the lively LA scene -- and liquoring your liver -- all night. By the middle to late '90s, it started featuring live bands, which meant there was no reason to go elsewhere, ever.
Later became: Forty Deuce. Currently:Pour Vous
The Garage
Silver Lake
Hottest years: 1997-1999
OK, The Garage was technically more of a rock club than a bar, but we can't talk about drinking holes in the '90s without mentioning Steve Edelson's flame-covered Silver Lake space. Local live bands rocked the tiny stage, usually for free, but $5 max. Plus, there was a bar next door and upstairs (with DJs) if you didn't like the racket in the main room. The Garage was a neighborhood hangout with grit, something a lot of the current Silver Lake music spots sadly lack today.
Currently:The Virgil
Checca/Tempest
West Hollywood
Hottest years: 1998-2000
This unassuming little restaurant and bar hosted some of the best parties of the '90s, all with decidedly retro flavors. Club Undergound (still going strong in Chinatown) got its start here, while the '60s/Brit-pop fave Café Bleu saw scooters lined out front every week soon after. And the revamp of Rodney Bingenheimer's English Disco brought glitter litters to Weho's Eastside, too.
Currently:Harlowe
Opium Den
Hollywood
Hottest years: 1998-2000
The Den's former guise, The Gaslight, was a dump, but a beloved one. So when a bunch of club folk including celebrity party dude Brent Bolthouse opened up the Opium Den, there was some resistance. Thankfully, the dark room and spacious Ivar Ave room stayed pretty rock 'n' roll, with a pool table, cool tunes on the juke, and jam-like live music. Ozomatli got their start here.
Currently:The Ivar Theatre
Beauty Bar
Hollywood
Hottest years: 2000-2005
Though the Burgundy Room, The Room, and The Spotlight served boozers and cruisers on busy Cahuenga for years, it wasn't until Beauty Bar (which also had outlets in SF, NYC, and Vegas) brought its glitter-covered walls, hair-dryer seats, "martinis and manicures," and rockstar DJ sets to the area that the scene really started to lather, even earning the block a new name via the LA Times: "the Cahuenga Corridor."
Currently:Grandpa Johnson's
Courtesy of Lina Lecaro
​2000-2005: Hollywood Swingin'
Star Shoes
Hollywood
Hottest years: 2005-2007
In many ways the sister venue to Beauty Bar (proprietor John Nixon was involved with both bars), Star Shoes was another themed drinking hole that relied on eye candy for décor (this one was footwear, natch) and ear candy on the decks for dancing. When Shoes and Beauty were on top, the term "Hollywood Hipster" was not a misnomer.
Currently:Cosmo Ultra Lounge
Goldfinger's
Hollywood
Hottest years: 2000-2004
Rock 'n' roll ruled at this gilded grotto at one of Hollywood's druggiest corners: Yucca and Wilcox. Known as Hell's Gate before going glam and capitalizing on the area's popularity with the chain belt brigades, Goldfinger's was a wild one, with DJs, bands, go-go dancers stomping table tops, and a hot, smoky mess of an outdoor patio.
Currently:Parlour Room
Lava Lounge
Hollywood
Hottest years: 2000-2007
Attracting a decidedly more dapper crowd than the above, The Lava Lounge did Tiki-chic before it was a phenom like today. The mini-mall hovel served tropical drinks and had swingin' bands, most famously The Blue Hawaiians rockin' surf and exotica, who played both the grand opening in '94 and the closing party in 2007; current Thrillist senior editor Jeff Miller also spent many, many, many Sundays rocking "The Humpty Dance" at karaoke -- and later, hosting LL's karaoke nights.
Currently:The Woods
The Parlour
West Hollywood
Hottest years: 2002-2005
Amid WeHo circuit bars and thumping dance clubs, the Parlour was an odd bird of a bar, showcasing underground entertainment such as the pansexual '20s speakeasy-themed Bricktops and the punk writers wrangler called The Unhappy Hour. It's now a Sean MacPherson spot, and one of the most popular straight bars on Santa Monica Blvd.
Currently: Bar Lubitsch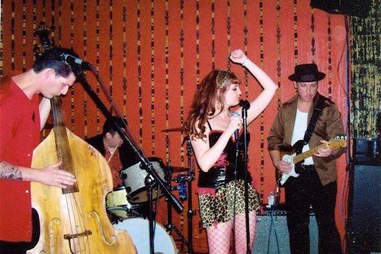 Lava Lounge | Courtesy of Lina Lecaro
2005-2010: Dives Thrive
Bigfoot Lodge
Los Feliz
Hottest years: 2005-2008
Theme bars are huge these days, but we'll give Bigfoot (which also has a Westside location) props for being one of the first and most successful at kitschy environs. Bobby Green's woodsy log cabin style venue established his company 1933's cozy old-timey aesthetic, which he's gone on to apply to faves such Thirsty Crow, Sassafras, and Idle Hour, and it continues to smoke the competition in Los Feliz.
Broadway Bar
Downtown
Hottest years: 2005-2009
The millennium marked an increase in Los Angeles' bar bounty thanks to a very small circle of impresarios, namely, Green and partners at The 1933 Group and Cedd Moses and partners at 213 Nightlife. (The Houston Brothers have only been on their heels in more recent years.) Moses has been involved with a bevy of great bars, some of which would be on our Top 30 list for sure: Good Luck Bar, 4100, Seven Grand, Golden Gopher, etc. Forced to pick Moses' most influential locale, we're going with Broadway, his most audacious attempt to transform Downtown Los Angeles' nightlife. Gopher came first, but Broadway was, and is, hard to ignore with its massive neon and snazzy two-level layout. With a roster that now also includes Seven Grand, Casey's Irish Pub, Tony's Saloon, Cole's, Las Perlas, and Cana Rum Bar, Broadway begat all that Moses intended for Downtown, and then some.  
The Short Stop
Echo Park
Hottest years: 2005-2010, present
If Hollywood in the late '90s became about bottle service and velvet ropes for the club scene and rock 'n' roll bars for those seeking alternatives, then Silver Lake became about something more laid back. The scruffy rock scenes at Spaceland and the Echo could be complemented by a visit to the area's dives, which blew up in popularity at the time. The dimly lit former cop bar The Short Stop, co-owned by Afghan Whigs' Greg Dulli, reigned for dancing and prancing in your skinny jeans, and along with Little Joy next door, it pretty much still does.
Akbar
Silver Lake
Hottest years: 2005-2010, present
This Sunset Junction gay bar has been a lively guy grind since it opened in the mid-'90s, but it did benefit from attention and subsequent onslaught of fatter pockets into the 'hood the past decade, attracting more straights and GBFs than ever before. Though the looky-loo quotient peaked mid-2000, it remains to this day a great mixed bar thanks to arty and tarty promos and parties on weekends and cheap, strong drinks all week.
Smog Cutter
Silver Lake
Hottest years: 2008-2010
A dive in the truest sense, Smog Cutter was the bar we all went to when we wanted to avoid "the scene" at the above in Silver Lake. The austere environment, batshit crazy wait staff, and tragic karaoke were part of its charm and they still are for regulars who live in the area. Scenesters have moved on, though the gentrification of the area could see a new generation of smog-hogs infiltrate soon.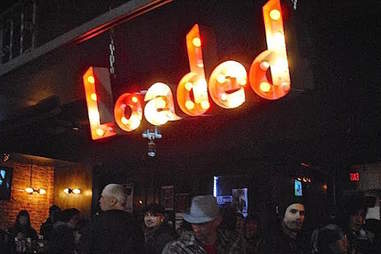 Courtesy of Lina Lecaro
2010-2015: Retro Vibes
Loaded
Hollywood
Hottest years: 2010-present
Though punker-than-thou types like to remember its precursor bar called Tiny's K.O. (the initials in tribute to Smalls), that one was quite frankly, a mess when it came to management (you never knew when it would actually be open). When Loaded took over, the owners may have went a little too "Hard Rock Cafe" with the décor, but with a little wear and tear, it ended up just the rock 'n' roll bar Hollywood needed. These days, black-clad, spikey-haired slews pack the place and catch live bands in the adjacent room (sadly, closing -- for the time being at least -- in Feb), and Loaded has lasted longer than Tiny's, Angels & Kings, and RokBar (which all worked the same formula).
Formerly: Tiny's K.O.  
The Edison
Downtown
Hottest years: 2008-2012
One of the most stunning bars on the list, as The Edison -- housed in a former electric plant -- grew in popularity, so did the overall idea of drinking Downtown. While DTLA was mostly known for old dives, The Edison upped the ante, melding mixology and old-timey atmosphere into a destination to dress up for. Of course, the long lines and the dress code continue to be a deterrent for some, but overall, Andrew Meieran (of Clifton's revamp fame) created an ornate steampunky palace that everyone had to check out at least once. It changed cocktail culture not just in Downtown, but for all of LA.  
The Three Clubs
Hollywood
Hottest years: debatable, but we'll say 2010-present
The Three Clubs opened back in '91, but it didn't hit its stride until a decade in, and we think it's better than ever right about now. Marc Smith's old-school hangout, famously seen in Mad Men, has had its popularity come and go over the years, but we always make our way back, thanks to promotions like its long-running Monday Night Tease (burlesque), random rock band showcases (added later in its lifespan), and bombastic DJs on weekends. The dark front bar area alone is worth braving traffic on Vine and Santa Monica no matter what's happening in the next room. Three Clubs is a classic, and classics not only never go out of style, they deserve appreciation the older they get.
Bar 107
Downtown
Hottest years: 2005, 2015
A beacon for bad behavior, 107's overloaded kitsch décor and irreverent party promos made it a favorite alternative to Downtown's swanky new bars for the past five years. It would've been remembered for this punky zeal regardless, but when the proprietors decided to fight their landlord last year and stay open 'til they were kicked out, with the "#OccupyBar107" movement, they immortalized the brave little bar for eternity.
Currently: Closed
Good Times at Davey Wayne's
Hollywood
Hottest years: 2014-2015
Though relatively new to the bar game when compared with many of the proprietors on this list, the Houston Brothers have in many ways ruled the past five years in LA nightlife, at least when it comes to word of mouth for their watering holes. Houston Hospitality currently runs a host of themed bars including La Descarga, Harvard & Stone, Bronson Bar, No Vacancy, Dirty Laundry, and Butchers & Barbers and most recently the K-Town hotspot Break Room 86, but we'll give top honors to the epic '70s-themed Davey Wayne's for perfect repro of a Brady Bunch-style domicile.
Formerly: Crane's Hollywood Tavern
Sign up here for our daily Thrillist email, and get your fix of the best in food/drink/fun.
Lina Lecaro is the author of Los Angeles's Best Dive Bars: Drinking & Diving in the City of Angeles, and LA Weekly's lead nightlife reporter at large. She also freelances for pubs including Playboy, Yahoo, LAist, and recently, Noisey/Vice and Tales of the Cocktail's new blog. Though she's a lightweight when it comes to cocktail consumption, she's a heavyweight when it comes to barhopping, having hit half a dozen drinking spots in one night (on a few occasions) in the name of "investigative" journalism. Find her on Instagram and Twitter at @linalecaro.