How Angel City Brewery Makes Its Famous Avocado Beer
Did you know the official fruit of California is the avocado?! It's true! And in case your official-fruit intake is running dangerously low this summer, the kind/brilliant folks at Angel City Brewery have found a killer way to increase your consumption: avocado beer.
Just in time for their fourth annual Avocado Fest on Sunday, August 14th, the crew at the Arts District mainstay took us behind the scenes to see the hands-on process of making their famous Avocado Ale (trust us, it's way more fun than avocado toast). Ready? Let's go.
To begin, lead brewer Layton Cutler brews a Kölsch-style ale using a German ale yeast, which will be used as a base beer for the special brew. Why kolsch-style? The fresh, bright, and crisp flavor with a hint of fruitiness balances out the nutty flavor of the avocado, creating a perfect blend for summertime drinking. During the first part of the brewing process they also add avocado honey, which is a dark and nutty-tasting honey that's been collected after bees have pollinated trees on an avocado farm because, hey, bees like avocados, too.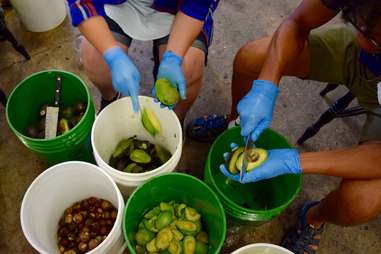 The crew -- which includes bartenders and other brewery employees -- then sets to work pitting and removing the skins from 70lbs of avocados by hand.
Once that's done, they puree bunch after bunch of cilantro to make 1.5 gallons of the good green stuff.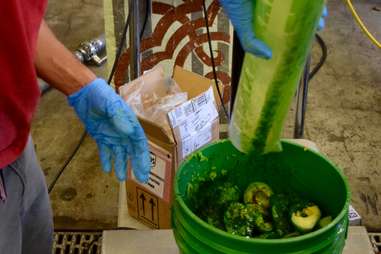 The cilantro puree is then added to the avocados.
Followed by 2 gallons of lime juice.
And a small amount of garlic and onion powder are added before the ingredients are then blended with the biggest hand mixer you've ever seen.
Then Cutler lugs the bucket of the final mix to the fermenter.
And the mix is poured into the fermenter with Angel City's Kölsch-style ale, where it will be cold-conditioned for about a week, which helps to make for a smoother beer. "We use a pump to recirculate it through the tank to make sure that we're extracting and getting as much of a mixture of the avocados into the beer as possible," says Cutler. This step is the brewery's own "Dry-Guac," technique -- similar to dry-hopping when dry hops are added after the first fermentation to create IPAs and other hoppy beers. Afterward the beer is filtered and then kegged.
During the first couple years the brewers tried adding the avocado during the "hot side" of the brewing process in the kettle. But they found when the puree was exposed to 200+ degree wort, and it gave a cooked avocado flavor (and let's face it, nobody likes a cooked avocado.) They also dialed back the amount of garlic and onion powder they've used in the past, which they felt gave the beer more of a guacamole flavor. Instead, they want to focus on the subtle, nutty flavors of the avocado. "It's also a little creamier than other beers because there are a lot of fats in avocados, so that adds a certain thickness that you wouldn't otherwise have. It is kind of hard to pick out, but once you know you're looking for that creaminess you can notice it."
To be one of the first to sample this year's batch of Avocado Ale, head down to the Avocado Fest at Angel City Brewery this Sunday, from 11am to 8pm. You'll also find plenty of 'cado-related fun, including an avocado eating contest, avocado cornhole, an avocado photo booth, and food trucks making good use of California's state fruit. There will also be live music, art for sale, a make-your-own-michelada bar, and three summer-inspired Avocado Ale cocktails, including The Peach Pit, which may or may not be made by Brandon Walsh.
Sign up here for our daily LA email and be the first to get all the food/drink/fun Los Angeles has to offer.
Danny Jensen is a regular Thrillist contributor who would happily plunge into a vat of avocado and beer any day in the name of journalism. Find him playing avocado cornhole on Twitter and Instagram