With 2015 brewery openings like Mumford, Iron Triangle, and Boomtown, LA's craft beer scene is finally blowing up. Luckily for us, there's one more name in the DTLA mix, just in time to round out the year. 213 Hospitality (the wizards behind The Varnish, 4100 Bar, Honeycut, and a ton of other greats) got their hands on a space in the Arts District, and the aptly named Arts District Brewing Co. might just be the best new brewery in LA. Don't believe us? Take a look:
First off: this space is huge. The bar itself is expansive, wrapping around the entire brewery to provide a ton of seats, which means you don't need to do that back-and-forth shuffle to order a drink, probably ever.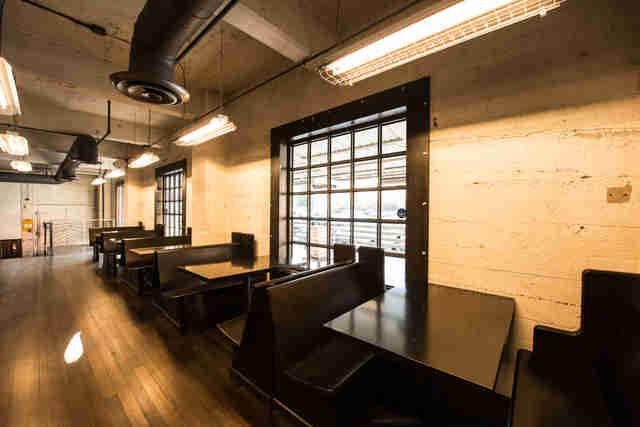 And the roominess doesn't stop there: beyond the physical bar, there are plenty of booths and tables to sit at. The space seems to lend itself to almost any occasion. Beers with buddies? Check. Just got fired from your job and you need to surround yourself with friendly people and tasty beer? You know it. Taking somebody on a date while also trying to prove you know the coolest new spots in LA? Arts District Brewing has you covered.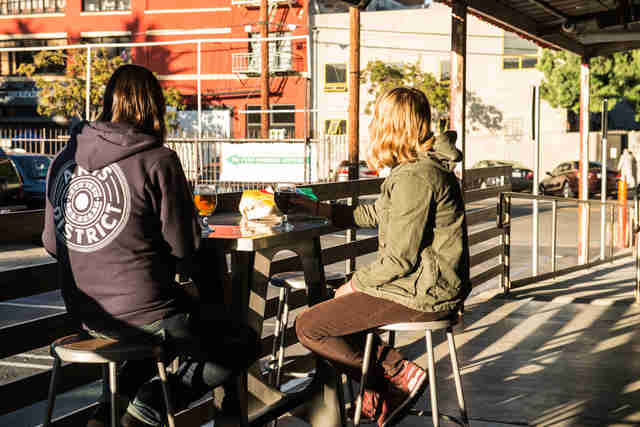 All that space inside still somehow making you claustrophobic? Never fear, there's a big patio outside so you can drink your tasty beverages in the fresh air. But is drinking the only thing you can do on the patio? We think not…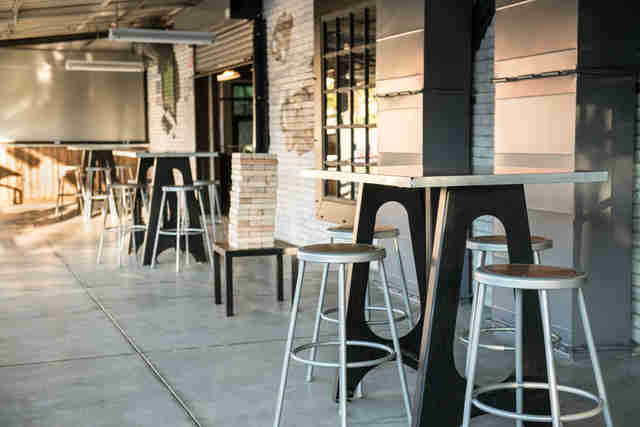 Hang tight, the fun doesn't stop there. Inside it's got SKEE-BALL!!!! Oh, and...
And darts (aka the only sport that you're SUPPOSED to be drinking while you are playing).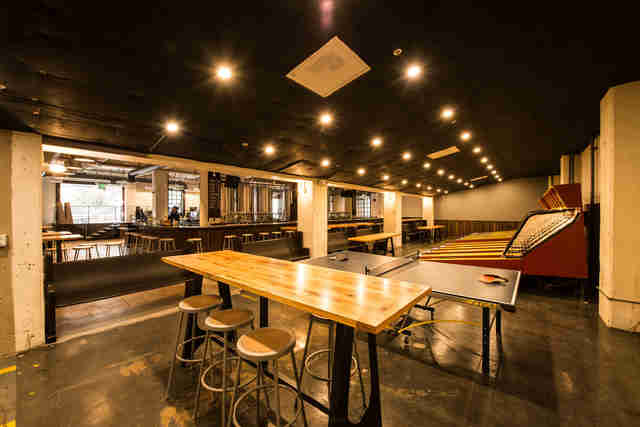 And somehow, with all of this fun stuff, the place doesn't feel at all cramped or crowded.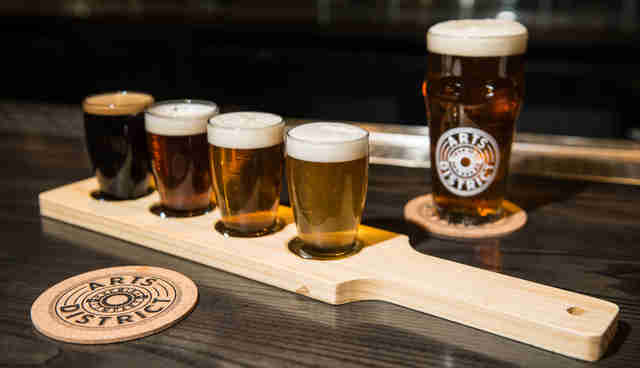 But what about the beer? It's starting with nine brews all between $6-$7, with four-beer flights for $10.
Love IPAs? Get your hands on the Traction or the Kablamo. Don't like oatmeal stouts? Trust us, its Velveteen Rabbit will make you a convert. Looking for a reason to channel Champ Kind? It's got a wheat amber called Whammy. WHAMMMMMMMMMY!
OK, you've got beer in your belly and games in your hands. The only thing that's missing? Food, of course. Good thing Fritzi next door has an opening right into the brewery so you can order some of its delicious grub, like burgers, dogs, and even short rib hand pies, while you're drinking.
So, is it time to make Arts District Brewing Co. your new home? Yes. Yes it is. Duh.
Sign up here for our daily LA email and be the first to get all the food/drink/fun Los Angeles has to offer.
Wilder Shaw is a regular Thrillist contributor who will be spending A LOT of 2016 at Arts District Brewing. Enjoy a pint with him on Twitter at @WilderShaw_ and Instagram at @wildershaw.