There's a secret coffee-roasting operation behind this garage door
Okay, here's the deal: we can ONLY tell you about the secret coffee operation hidden behind this unassuming, beat-up garage door in Atwater Village if you promise you won't tell anyone else... other than the hundreds of thousands of people our email goes to. Cool? Cool.
This is the home of Trystero, maybe the best home-roasted coffee in all of LA, and it's made in a guy's personal garage (which you can chill in on Saturdays) and then hand-delivered to the Eastside.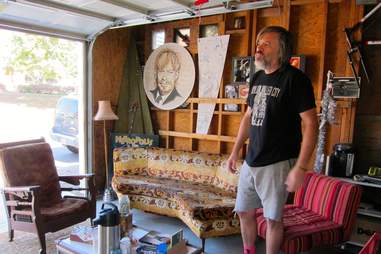 Tannaz Sassoni
So, what's inside? Dude, so many places to sit. That, and Greg Thomas, who wears awesome pink socks/found out that roasting beans on a skillet on his stove made some seriously good coffee.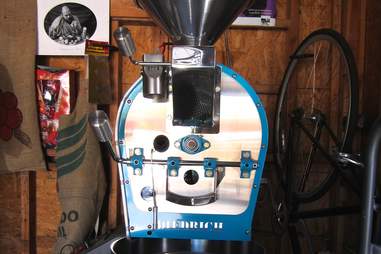 Tannaz Sassoni
So he started proprietarily making them in bulk in this space-age-looking roaster, sourcing beans from Brazil, Ethiopia, Columbia, and Costa Rica.
Tannaz Sassoni
The result? These glorious, perfectly brown, super-stimulating beans. He'll ship them to you, but that's not nearly as rad as getting them delivered...
Tannaz Sassoni
... to-order, by Greg, by bike. Yeah, seriously.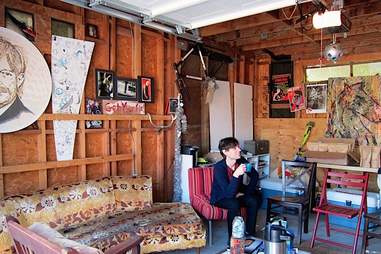 Tannaz Sassoni
The coolest part, though? Greg will open the garage on Saturdays (make sure he's around by checking his Twitter), so you can chill, have a cup, and pre-order some beans.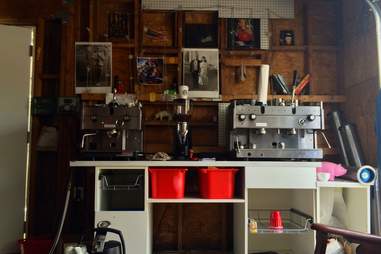 Tannaz Sassoni
Your cappuccino'll be made using various garage apparati (probably not including the pink plastic pig?).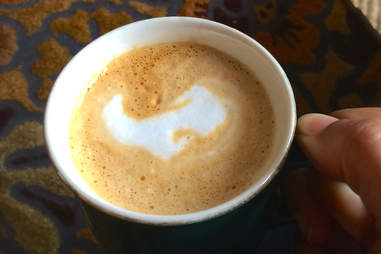 Tannaz Sassoni
As for what he just drew on the top of your cup's foam? Well, that's a secret, too.
Tannaz Sassooni writes about good food and good times in Los Angeles on her blog allkindsofyum.com. Follow her at @tannazie.