"Let's just split it ten ways" and "The all-you-can-drink ended at noon" are just soundbites of brunch gone awful. Rejoice-fully, things were all kinds of awesome at Auchentoshan's invite-only brunch series hosted Nov 23rd & 24th at Bestia and Eveleigh. The afternoons featured meat, whisky, a mind-reading illusionist, and a cabaret performer with a "leg up" on the bar, literally.
Each event had its own dynamic Auchen-creation. Bestia offered the Clyde's Cup (Auchentoshan Three Wood, Olorosso sherry, fresh lemon juice, cane sugar) while Eveleigh offered cocktails like the Pished Affie, Scottish slang for 'saucy afternoon' (1 dash of barrel aged bitters, egg white, 1 lemon, 3/4 honey syrup, 1/4 Nardini Amaro, 3/4 pear brandy, 1 1/2 Auchentoshan Three Wood, whip/L&H, sour glass, grated cinnamon, pear fan).
Orange (tie) is the new black (tie).
Vegetarians, cover your eyes!
Three of spades. That's our guess.
Everybody raise a glass... to wearing sunglasses indoors.
A little double fisting at brunch, what what.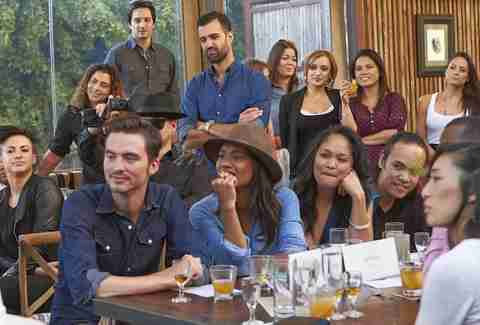 What's got everyone's attention?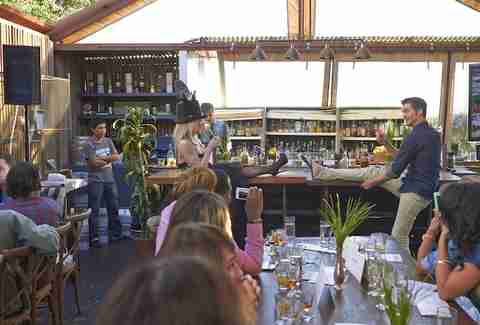 That'd be Mandy Lauderdale, who besides rocking a giant black feather on her hat, went toe-to-toe with those brave/flexible enough.
All in all, not a bad way to kick off a Saturday, or any day.