Where to Drink in Palm Springs This Summer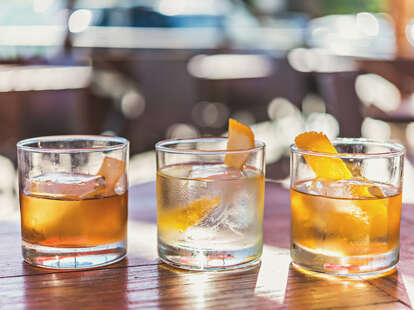 You've probably heard that it's been hot in Palm Springs lately. That means if you're visiting in the near future, you'll spend your days at the pool and your nights at many of the town's heavily air-conditioned bars, which, let's be honest, is probably what you had planned to do anyway. Check out these 10 desert watering holes worth a stop this summer.
Palm Springs
Despite an influx of worthwhile new drinking spots popping up in Palm Springs in recent years, The Ace Hotel's cozy onsite bar – with black brick walls, half-moon booths, and a stately bear watching over the place – remains a hot spot. On any given evening you might find DJ sets, live band performances, karaoke sessions, visiting comics, or their always-packed trivia night, as well as a hip crowd downing fresh cocktails and craft brews. The bar also recently launched a daily happy hour menu from 3pm to 6pm, which includes pints of Modelo for $4, a margarita for $7, or a three-rye flight for $15, along with discounted small plates.
Palm Springs
Once you've walked through the door, it can be hard to leave this comfy new back-room bar attached to the popular Mr. Lyons steakhouse on the south end of town. The feel is part loungey living room, part speakeasy, and part retro bar with some cool vintage pieces and old-timey art on display (like the dozens of Vanity Fair Spy prints that cover the walls -- leftover relics from when the place was the renowned prime rib restaurant Lyons English Grille). There's also an adjacent outdoor patio and bocce court you'll want to use in the winter, when temps finally cooperate. The cocktail menu is divided into two sections: Classic (think Vieux Carres and Old Fashioneds) and the innovative House section, which includes the standout fresh daiquiri and a gin-and-Chardonnay-based French 75: house-carbonated, bottled, and served on the rocks. (Heads-up -- they're closed 7/25-8/31 for vacation.)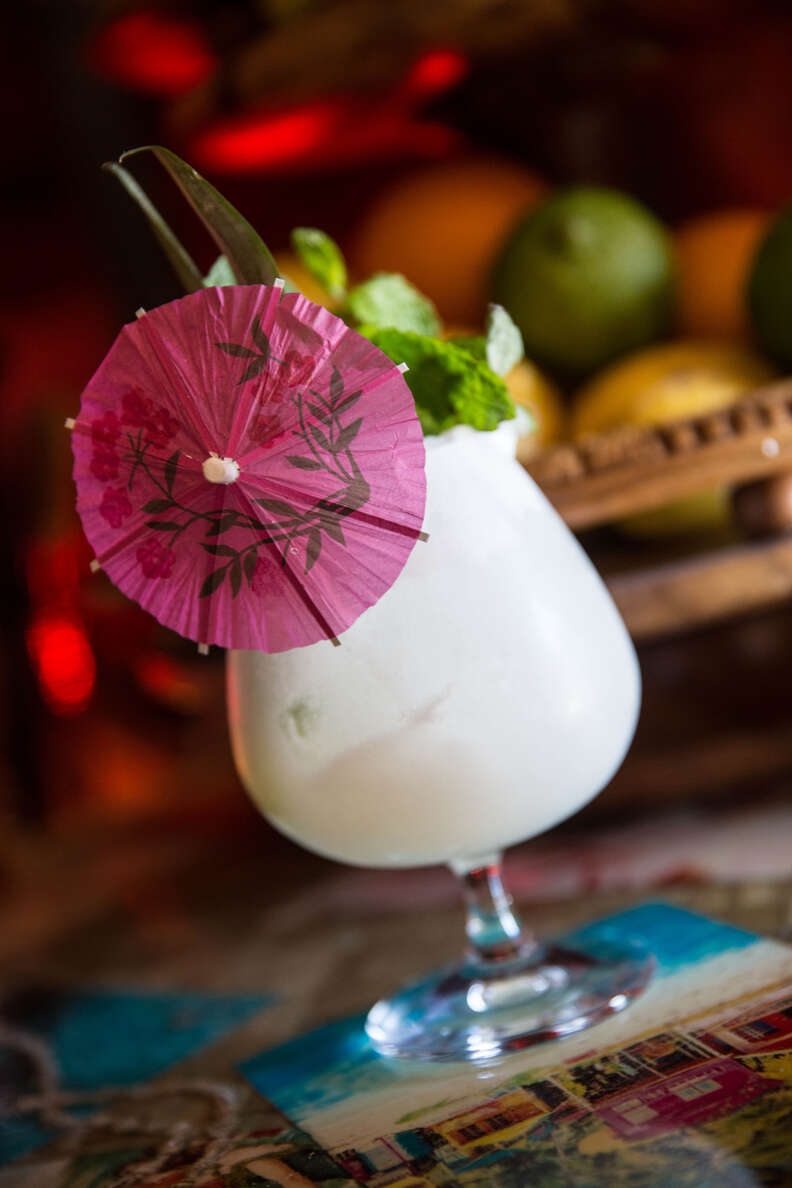 Palm Springs
This small but mighty tiki bar that's not-so-coincidentally housed in the original Don the Beachcomber building is an uptown fan favorite with kitschy Polynesian décor (you can't miss the puffer fish light fixtures and topless art) and attention-to-detail drinks often garnished with orchids, herbs, and umbrellas. Try Bootlegger's version of a piña colada, concocted with the addition of allspice and green chartreuse, or the gin-based Northwest mixed with lime, celery bitters, and rosemary. And if you have a hankering for a midnight mojito, stop in for the daily happy hour that runs from 12am to 2am every night... and 4pm to 6pm for early birds.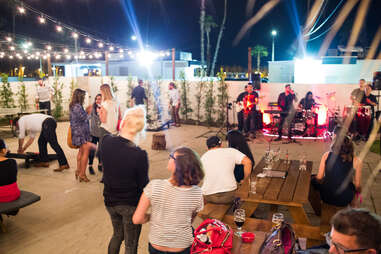 Palm Springs
This mural-painted spot on the main drag has an excellent cocktail menu (including a smattering of beer cocktails), a lineup of craft beers by the bottle and can, and a super-extensive offering of whiskey and scotch. On weekends, they open up the expansive backyard where you can play ping-pong, corn hole, and bocce or just hang at some picnic tables while drinking. Look for reggae-folk duo Mikey Reyes Acoustic Movement to start performing every other week and collaborating with a rotating lineup of other local musicians this summer.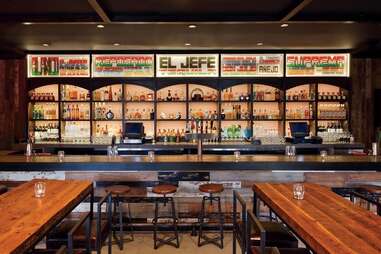 Palm Springs
With one of the best tequila lineups around, this dark cantina-style restaurant off the lobby of the Saguaro is always a solid stop for a taco and margarita (if you want to upgrade from the basic Cantina version, try one with jalapeño-infused tequila) or one of several smoky mezcal cocktails. There's a daily drink happy hour every day from 3pm to 6pm, but the best deal takes place on the always-crowded Taco Tuesday, when many of the tacos are just $2 or $3 and the house margarita price dips to $5.
Palm Springs
A night of bar-hopping on Arenas Rd -- home to many of Palm Springs' most popular gay bars, including this one -- nearly always includes a stop at this legendary multi-room bar and dance club that's been operating for more than 20 years (and now also has an outpost in Fort Lauderdale). In addition to lots of DJs and a nine-hour-long happy hour, there's a hefty lineup of weekly events including underwear contests, karaoke, lip-sync battles, drag shows, and retro-themed T-Dances every Saturday afternoon.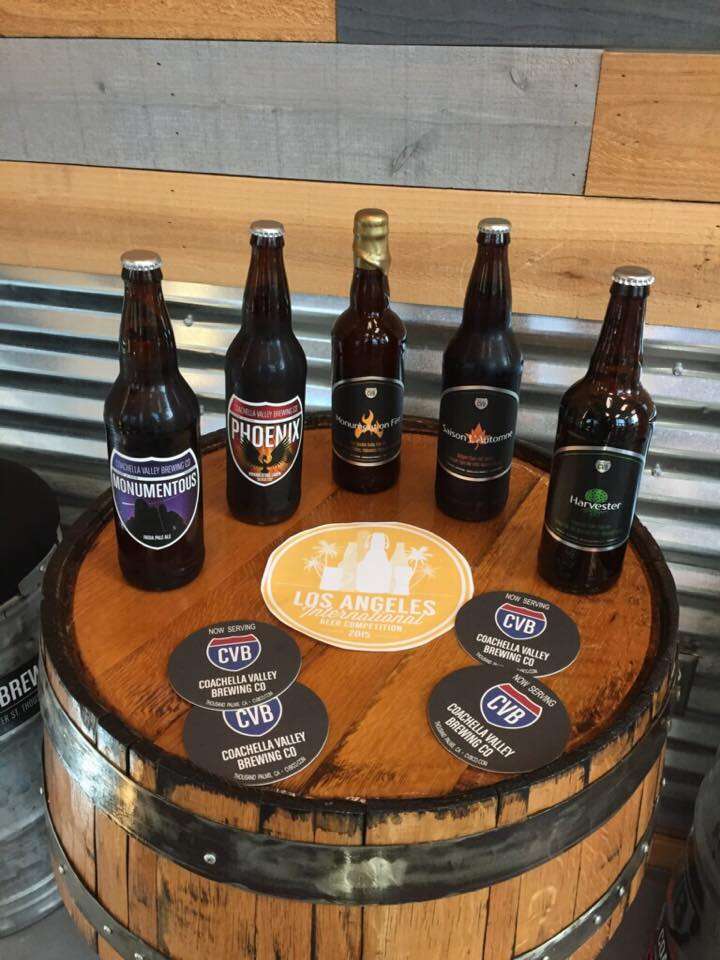 Thousand Palms
It'll be worth your while to find this laid-back brewery tucked inside an industrial park. Its wood-paneled tap room with a stainless steel bar and barrels stacked along the walls usually has an offering of more than 20 brews on draft and a handful of bottles and makes it easy to try a bunch of varieties thanks to $8 flights and single 4oz tasters for a couple of bucks (along with full pours and growler fills too). CVB, which been brewing for about three years, sources fruit from nearby farms for some of its beers (the Belgian-style Desert Swarm uses local kumquats) and there are several labels you can only get at the tap room. Look for a monthly food truck-and-music night as well as cask tapping on the last Friday of every month.
Palm Springs
No Palm Springs visit is complete without a trip to this beloved piano bar at the old-school Ingleside Inn. Though the crowd still skews older (like senior-citizens-and-the-elderly older, making for the best people watching ever), these days there's also a weekend mix of younger patrons along with occasional Palm Springs summer staple group: the bachelorette party. The gregarious piano players take requests and their range is vast -- you might very well hear a few Sinatra classics and "Mambo No. 5" within moments of each other -- which is why the tiny dance floor is usually full. And, in case you were wondering, the guy in all those framed photos standing next to celebs like Cher and Arnold Schwarzenegger is owner Mel Haber, who often keeps an eye on the scene from the bar.
Indio
The karaoke situation at this Western-themed bar is no joke. The place puts on hosted karaoke every single night of the year (with bonus afternoon session on Wednesdays and Sundays too). The crowd is made up mainly locals, who come for reasonably priced drinks, to watch whatever game is on before karaoke kicks off, and grab some good BBQ. But come April, the place gets packed with festival-goers thanks to its short-Uber-ride proximity from the Coachella polo field.
Palm Desert
It's a dive bar. It's a music venue. It's a pizza place. It's the site of intense Wii Bowling tournaments and beer pong competitions with cash prizes. Yes, this unassuming spot in Palm Desert that attracts hordes of 20- and 30-somethings does it all. Other than some pretty killer drink specials (like $1 PBRs and Rolling Rocks on Mondays), it's perhaps best known for the wide range of bands, which range from punkers to funkers, that hit its stage every week.

Sign up here for our daily LA email and be the first to get all the food/drink/fun Los Angeles has to offer.
Lizbeth Scordo is a freelance writer, which means she'd be able to meet at one of the above bars on relatively short notice. Follow her on Twitter @lalizbeth and on Instagram @modlizbeth.