Tons and tons of people have birthdays -- in fact, you most likely have one as well! But having a birthday is far easier than actually celebrating a birthday: LA's nightlife is so sprawling that you probably have no idea where to go for the big day. Lucky for you, we scoured the city to find the best places. The 13 that made our cut are large enough for a medium-sized group to hang comfortably, have something else to do besides just drink (or are within stumbling-distance from other activities), and are hopping not just on weekends, but through the week, so you don't need to deal with being the only people at the bar.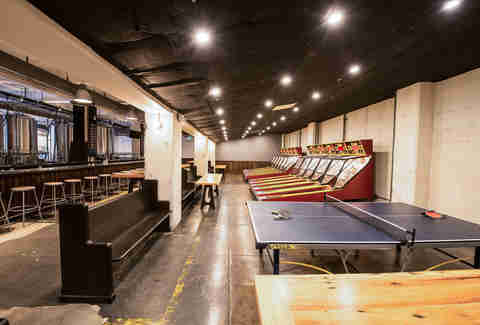 Arts District
If the sheer size of this place doesn't qualify it as one of the best birthday spots, all of the games make it so. Between Skee-Ball, ping-pong, darts, corn hole, and Jenga, you'll be able to get irritatingly competitive against your friends. And if you've got some gluten-free people in your crew, tell 'em to cool their jets because ADB has liquor, too.
Los Feliz
Houston Hospitality's Thai Town spot hasn't gotten any less great over the years. The only thing better than the live music, burlesque dancers hanging off the ceiling, and always changing R&D Bar (with cocktail themes that have ranged from Knocked Up to Hey Arnold! to Zelda)? The DJs, who constantly ignore the Top 40 you get everywhere else, and hook it up with sexy Motown and funk beats all night long, and the bands, which range from Neil Young cover bands to some of the best indie-rockers in LA.
Hollywood
Speaking of HH joints that haven't gotten any less great, Good Times at Davey Wayne's is still rocking '70s flair at the living room-themed Hollywood bar. If you're looking to make it a big day instead of a big night, Good Times is open in the afternoon on weekends for some killer food on its patio (which is also where you can grab those alcoholic sno-cones) -- which also means you don't need to sweat the nighttime guest list.
East Hollywood
If karaoke is the birthday you're looking for, steer your crew to Blue Goose. It's easy to miss, because the poorly lit sign just says "Cocktail Lounge," but sneak around the side of the strip-mall to find the entrance. The comfy leather couches go quite nicely with the bar's stiff pours, and for some reason this place never seems to fill up -- so it's the perfect spot for you and your friends to completely dominate while you sing crooning versions of Alanis Morissette and David Bowie.
West Hollywood
Melrose Umbrella Co. also seems to have gotten the hint that a lot of people are over the days of the Top 40 DJ, because they blast throwback jams that people want to hear (who could ever get sick of The Isley Brothers?). Plus, the drinks are great (Try a "Patterson's Nap", with bourbon, tangerine, lemon, and Campari) and the clientele tend to look like supermodels, which means when you strike out on your birthday, you're striking out large.
Atwater Village
The Griffin's wide open center and dual bars are already the recipe for a great birthday, but if your big day happens to be on a Wednesday, you've got another excellent ingredient: the bar's Wing Wednesdays, where you can snake a beer and five wings for $5. Oh, your birthday is on a Friday? Looks like you've got reason to celebrate twice now.
Van Nuys
If you thought Downtown and Glendale-adjacent were the only places brewing special craft brews and fun stuff to do, you thought wrong. Since 2014, MacLeod has been pouring choice English-style ales in the middle of a warehouse in Van Nuys, complete with live music, food trucks, darts, and board games. A big group of friends looking to get their birthday beers on will feel right at home, especially since they have a "Buy Your Friend a Beer" board, and you can subtly/not-so-subtly suggest they rack up a couple hundred for you.
Downtown
The heart-of-DTLA location alone makes it a top-notch spot to begin (or end) your special night. Add to that the fact that you don't need a reservation and there's lots of space and you have yourself a birthday that everybody's gonna enjoy. Gather your group on the patio and get down on some tasty shared plates -- like the chicken & donuts with Tapatio whipped cream -- and a giant beer and spirits list (including the amazing, hard-to-find KIN white whiskey).
North Hollywood
Tonga Hut has everything you want in a birthday, if everything you want includes over 70 different "grogs" (including some that are on fire). The North Hollywood spot has plenty of booths, as well as a jukebox, darts, and, of course, the opportunity to join The Loyal Order of the Drooling Bastard... aka if you can drink every single one of the bar's grogs in a year, you'll get a special hand-carved plaque on the wall. A birthday is obviously the best time to start.
Downtown
You'll feel like you've been thrown straight into the French Quarter as soon as you step foot into The Little Easy, and if that means a ton of faux-pearl necklaces and "woooooing," you'll be all the better for it, even if there's (generally) no flashing. The bar's got tons of seating, tasty bar food, and crazy B movies playing on the TVs -- and a giant tank of self-serve water for whichever of your friends goes the hardest.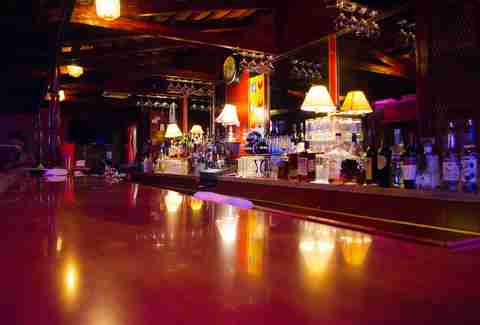 Atwater Village
In a town so full of clubs, covers, and velvet ropes, it's nice to be able to grab some booths with your friends, and, ya know, actually be able to hear them. That, combined with cheap & crazy strong drinks, Chinese & Thai food, and the bar's infamous "Big TV" make The Roost hard to beat. Plus, you'll be able to hear your friends say thank you when they realize how good you were to their wallets this year.
Highland Park
Though the food at The Hermosillo is rock solid, the real treat is nestled inside courtesy of the expansive beer menu of Highland Park Brewery. It has draft beers as standard as IPAs and Hefs, as well as beers that are as experimental and tasty as a cilantro & ancho chile brew. Throw a shuffleboard table and the Ring/Hook game into the mix, and you've got yourself a helluva birthday.
Koreatown
Let's be honest: Shatto 39 Lanes is the cheapest bar in town, and it's got the added bonus of being in the same building as LA's best bowling alley. What else do you need (besides arcade games, pool tables, and a snack bar, which they also have)? Birthday olympics, yo.
Sign up here for our daily LA email and be the first to get all the food/drink/fun Los Angeles has to offer.
Wilder Shaw had his birthday at one of these places. Ask him which one it was on Twitter at @WilderShaw_ and Instagram at @wildershaw.