These are LA's 8 best cocktail bars
December 21st is the longest night of the year -- almost 15 straight hours of darkness. Nerds like to call it the "Winter solstice". We like to call it the "Best Night of Your Life", because that's damn sure what it could be, if you spend it at the city's best Thrillist-approved happy hour spots, cocktail bars, nightclubs, etc. Check out our picks for LA's best cocktail bars below, and make sure to fully map out a perfect evening with our itinerary builder.
Honeycut
Downtown
The newest drop from the dude behind The Varnish and Las Perlas is this collab with the guys from New York's lauded Death & Co. It has a 50-strong specialty cocktail list (including some bottled guys), and a next-door dance floor that's lit like the video for "Billy Jean".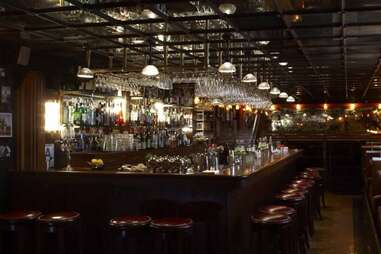 Roger Room
Mid-Wilshire
This tiny, circus-themed (please-have-a-lion-please-have-a-lion-please-have-a-lion) bar sports more freshness than an LA prince, with seasonal fruits and veggies potently upping its flavor game.
Pour Vous
Hollywood
Burlesque on Tuesdays, DJs throughout the week, top-end bartenders, and -- oh yeah -- AN ACTUAL FREAKING TRAIN IN THEIR BACKYARD are among the draws to this Paramount-adjacent bar. Just make sure you dress nice... the door guys here can be sticklers.
Harvard & Stone
Thai Town
From the same guys as Pour Vous, this industrial-feeling room's got top-flight bands as well as a back-bar where 'tenders from all over the world develop their own programs, which means any-night hits (Asian-flavored cocktails!) and misses (black licorice-flavored cocktails!).
The Library Bar
Hollywood
Though main man Matt Biancaniello's moved on to greener, consultant-type pastures, his legacy at the Roosevelt's downstairs bar remains: stellar, custom drinks, made to your parameters (and by your 'parameters', we mean whiskey. Liquor-forward. Some citrus notes.).
The Spare Room
Hollywood
The Roosevelt gets a double-billing on the list thanks to TSR. Their upstairs saloon's got real game -- Jenga, checkers, bowling, and more. Also? Bands sometimes, and DJs more often. We've even seen Thom Yorke drop by on the ones and twos (most. awkward. dance. party. ever.).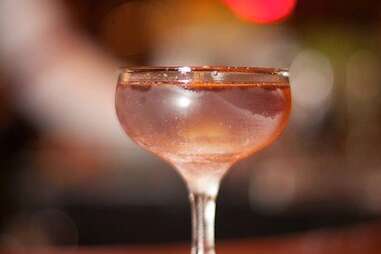 Copa D' Oro
Santa Monica
The Westside's premiere mixed-drinkery's another one that specializes in choose-your-own-adventure-style drinks, though their specialty program's also top-notch, with seasonal goodness like the Southern Belle loaded w/ bourbon, grappa, pear liquor, grapes, peppers, and lemon juice.
Basement Tavern
Santa Monica
Yeah, it's a party spot, so it's easy to forget that they're as artisanal ingredient-devoted as any other top-notch bar in town. Their Moscow Mule? Unbeatable.