The Best LGBTQ Bars in Los Angeles
We're here, we're queer, and we're ready to dance!
Following in the example of other nightlife venues and events, LA's LGBTQ bars are slowly coming back to life and welcoming patrons of all identities, orientations, and proclivities back on their dance floors. Once firmly headquartered in West Hollywood, our city's LGBTQ scene has since expanded to include worthwhile spots in Silver Lake and Downtown, plus a few roving parties that pop up at different venues around town.
More than a place to catch an entertaining drag brunch or dance until you drop, LGBTQ bars sprang up out of necessity to offer those communities safe spaces to meet others, congregate, and of course, celebrate identities that society has not always so readily accepted. This makes it all the more disheartening that so many LGBTQ bars have closed in recent years, and in particular spaces that cater to lesbians, trans women, and other queer identities.
While the Oxwood Inn, LA County's last surviving lesbian bar, closed its doors in 2017 after serving the San Fernando Valley for 45 years, we're happy to report that a new guard is stepping up to create inclusive spaces, ranging from an underground club series to community-oriented queer field trips. Though most of these newcomers still lack permanent locations, we've got our fingers crossed that we'll soon be able to add another entry to the dwindling list of 21 lesbian bars that remain in the U.S. (pro tip: one of them is in nearby San Diego).
You might notice that this list feels a little bare—that's because we opted to omit bars that have since shutdown for good (RIP Oil Can Harrys) and long-standing gay bars (like Fubar and Mother Lode) that have yet to re-open their doors since pandemic shutdowns forced them closed. With LA County requiring proof of vaccination in public indoor spaces like restaurants, bars, and clubs beginning on November 4, we're hopeful that some of our favorite LGBTQ-friendly haunts will soon feel safe opening back up. In the meantime, mosey on over to any spot on the list below, all of which have resumed business in some form, even if it looks a little different than what they've offered in the past. Here are our favorite LGBTQ bars across LA:
Various locations
This party with rotating local talent happens seasonally and prides itself on creating an inclusive environment where everyone feels free. The next party will be their first following a two-year hiatus due to the pandemic, and they're going all out with a unique Halloween experience that highlights LA's biggest LGBTQ talents, including performances by rap chanteuse MZ NEON, industrial techno electro artist Romy, plus Lez Croix matriarch Your Muther spinning alongside witchy electronic pop DJ AH-MER-AH-SU and Molly House Records producer DAVEOMAKESBEATS. A costume contest will be held and tarot readings will also be available. The Halloween party is happening on October 29 at the Resident in Downtown LA. Purchase tickets here.
Various locations
We might be stretching the definition of gay bar with Queer Field Day, but we resonate with the mission of this ongoing series that endeavors to create safe spaces that help queer people find local community, with events ranging from beach meetups to bar takeovers with trivia to crowding Staples Center stands for Sparks games. Queer content creator Lilly Brown is behind the series, and was inspired to create an inclusive space geared towards queer people that didn't require being in a bar, which are only inclusive for people who drink or are over 21. Their next event is Out of Mind Fest, a Halloween-themed, outdoor mini-festival and art showcase with performances by Slugs, Nico Turner, Jackie Lipson, and others, plus DJ sets by Bri Giger and BB Gurl.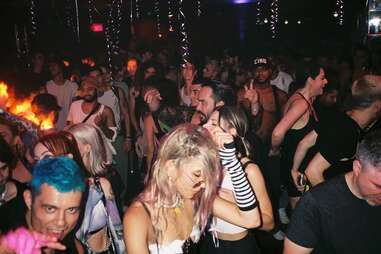 Various Locations
Catch One, formerly Jewel's Catch One, holds the distinction of being the longest-running Black gay club and one of the first Black discos in the country, and was formerly owned by Jewel Thais Williams. The club is now under new management, but pays homage to its past by hosting events by A Club Called Rhonda, an all-inclusive rave series that was founded in LA but has since gone international. The next LA event, Black Wednesday, will be just ahead of Thanksgiving weekend on Wednesday, November 24, with five rooms and two floors of dancing and drinking. While alcohol will stop being served at 2 am, the party will last through 4 am, offering one of the best after hours club options in the city.
Various locations
This LGBTQ-led, astrology-themed dance series offers free entry all-night to whichever zodiac sign is currently ruling the season. Formerly a monthly party held at The Satellite (RIP), Gay Asstrology now hosts Constellation Pop Up parties at Oracle Tavern in Downtown LA with live DJs and tarot readings on offer, as well as a Gayass Brunch series at El Cid, with bottomless mimosas and other drink specials, a full brunch menu, live DJs, and tarot readings available. Their next event is a Scorpio Costume Party that will be held at Oracle Tavern on Friday, October 22.
DTLA
This longstanding Downtown bar has always been a divey refuge for local Latinx gays, who saunter through the door seeking community, stiff cocktails, and even stiffer go-go dancers. Just don't be surprised if the dancers' makeshift stage is a couple tables pushed together. It's a no-frills, no-attitude option for drinking, dancing, and drag, not to mention an important space for a community that put DTLA on the map.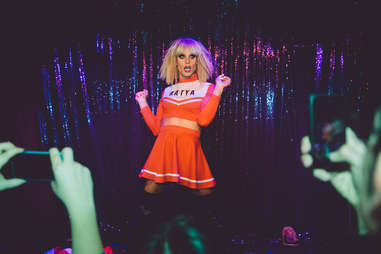 DTLA
Outside of New Jalisco Bar, Downtown Los Angeles was practically a no man's land for queer people until just a few years ago. These days the neighborhood's steel and concrete acts as the setting for a thriving scene of LGBTQ tastemakers and young professionals, and this bar is that scene's home base. Featuring some of the city's most diverse party programming, including RuPaul's Drag Race viewing parties; Cochinxs, an inclusive kink and sex-positive party on Thursdays; Brüt Bunkr, a sexy house and disco party on Fridays; and Puteria, a sexy and sweaty Latinx dance party on Saturdays. Holding the title of DTLA's largest gay bar, this sprawling, multi-room space packs people in and keeps them fed with a full menu of bar eats.
West Hollywood
Located in the heart of WeHo, this nightclub offers up a dance floor every night of the week, regularly blasting Top 40, hip-hop, and Latin soundtracks for the crowd. Every Monday, Micky's hosts Showgirls, a drag show led by Morgan McMichaels and a rotating cast of queens, with music by DJ Paulo Ramirez. The drag show starts at 10 pm, but beforehand at 9 pm, the club hosts Season 5 of Project Drag, a weekly competition with the winner crowned as a new Showgirls cast member, plus a prize that includes $5000 in cash, $100 gift card from Queen Custom Claws, a gift card from Serena ChaCha Wigs, make up from Camarillo Beauty, and a photo shoot from We Love Queens. On Thursday nights, the upstairs room is transformed into Club Arriba, featuring Latin music and dancing. Stop by at noon on Saturday for "Bring it Back to Brunch," a drag show brunch where $20 will get you a mimosa and brunch combo, and $5 specialty shots and $6 wells are on offer. Micky's also has a full kitchen with elevated bar foods like sweet potato truffle fries, poke, and an old-school smashburger, plus vegan options.
West Hollywood
This lively spot, named for the revolving door at its entrance, was a favorite among WeHo's LGBTQ bar-hoppers before it shuttered and re-opened in 2011. A contemporary version of the "video bar" of yesteryear, the Revolver of today has upped its game by adding drag, karaoke, and happy hour specials on weekdays, and live DJs, go-go dancers, and laser light shows on weekends to round out its diverse party calendar.
Silver Lake
Those who aren't formally initiated into leather and kink culture may be too intimidated to pay this indoor-outdoor bar a visit, and that's really too bad. On weekdays, Eagle LA is simply a casual neighborhood watering hole for those who prefer draft beer, rock music, and porn on the TVs to other bars' Top 40 and music videos. On the third Saturday of each month, Eagle LA hosts a femme-centric party called Cruise LA (not to be confused with their weekly Cruise event on Saturday nights that is "no theme, no cover, just hot horny men"), usually in collaboration with queer producers like Homocult and featuring Lez Croix DJs like Romy and Your Muther. Other ongoing events include a Sunday Beer Bust with $4 domestic drafts, Lucki Break on Tuesdays with happy hour drinks and free pool, and Wednesday's Hump Night with $11 domestic pitchers and $6 well drinks from 9 pm–2 am. Weekends are typically when the kinksters come out to play, showing up in droves for "gear nights" dedicated to leather, rubber, and other kinky scenes.
Silver Lake
Another bar that's more "neighborhood watering hole" than fog-filled nightclub, Akbar has long been a refuge for the city's queer community (and our allies) who seek nothing more than stiff drinks and a jukebox. The bar's backroom gets a bit more inventive, hosting events that span karaoke, craft nights, live comedy, and of course, lots of dancing with DJs.
North Hollywood
A popular spot for weekday happy hours and weekend evenings, The Bullet Bar draws a decidedly casual crowd made up mostly of guys who prefer a drink at the bar and a smoke on the patio to the dance floors and long lines of the city's other nightlife offerings. That said, if it happens at a gay bar—think queer film screenings, BINGO, beer busts, disco Sundays—you'll find it here.
Stephan Horbelt arrived in Los Angeles nearly 20 years ago and never wants to leave. He's currently Executive Editor of the international gay social network Hornet.
Danielle Dorsey is the Los Angeles editor at Thrillist.