LA has never been a city with a huge Irish pulse, so with St. Patty's Day fast approaching, you'll need to know just which Irish pubs you'll be spending the day in while you think about castles, magic, leprechauns, and Ice-T. Basically what we're saying is, it's up to you, faithful readers, to kick LA's Irish scene into gear. Here are the best places to be blimey in LA.
Recommended Video
The Best (and the Rest): Best Easy Ramen Hacks and Winter Beers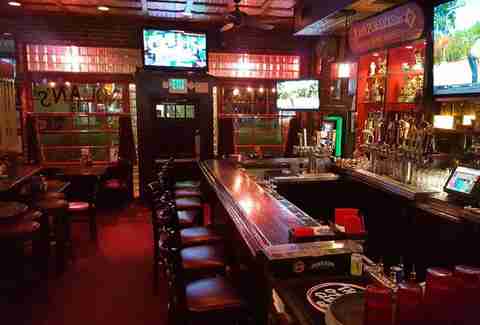 Toluca Lake
Big whiskey selection: nailed it. Guinness on tap: essential. Irish favorites like bangers and mash, Irish stew, and... uh... mozzarella sticks: always. Timmy Nolan's kills it at being a traditional Irish bar with a contemporary approach (which is probably why many people consider them the best Irish bar in the entire city). One thing's for sure: By our calculations, you owe them a visit right about now o'clock.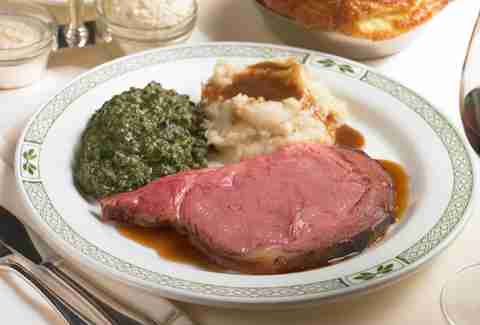 Atwater Village
The Tam has been rockin' the block for over 90 years now (and is a longtime favorite of Grandma Connie), so you know they're doing something right -- namely, monstrously portioned carvery food, like top-notch prime rib cuts and corned beef sandwiches. Hit up their attached Ale & Sandwich Bar in the daytime for some discounted food and other goodies, like a deviled egg sandwich).
Palms
Not to be a confused with an Irish newspaper, The Irish Times is about as chill as an Irish watering hole can get; they've got pool tables (free on Sundays!), live music on the weekends, Wednesday night karaoke, Tuesdays and Thursday trivia nights, and, duh, Guinness. IT is the cruise-control to chill with its mostly regulars clientele and its mega-friendly staff. Sláinte!
Downtown
From tasty Irish fare (like homemade corned beef & cabbage), to live music on Fridays & Saturdays, to comedy shows on Wednesdays, to the tastiest damn picklebacks in LA, Casey's is loaded with goodness. And wanna know what goes great with some iced Irish coffees while you play ping-pong and darts on their huge patio? More iced Irish coffees. Many, many more.
Mid-Wilshire
Though the wall-to-wall shamrock-covered ceiling (adorned with names of the bar's regulars) is the best ceiling in the city, don't worry, there's a lot more to fall in love with than clovers inside the legendary Tom Bergin's: namely their Irish coffee, since the bar claims Bergin is the one who brought the coffee and whiskey concoction to America in the first place (though so does Buena Vista Cafe in San Francisco -- we'll have to ask Mr. Owl, 'cause the world may never know). Either way, order a baker's dozen of those bad boys, and follow them with the salmon Scotch eggs and corned beef & cabbage.
Long Beach
Sure, they do standard Irish pub treats, but they also do breakfast (like omelettes, Benedicts, and even Mexican specialties), which is great when you're up early to watch a soccer/rugby/professional horseshoe-tossing game on one of their many TVs. You'll definitely want to experience one of their bar-exclusive specials like the "Shoot the Root" (a shot of root beer schnapps dropped into a tumbler of Coors Light). And whiskey aficionados need look no further, 'cause they do tastings every other month.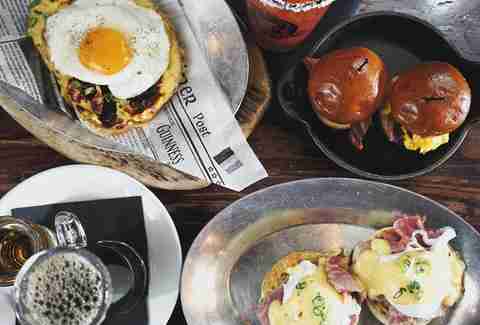 West Hollywood
Between their own house "Reilly's Mother's Milk" whiskey blend (with the smoothness of Irish whiskey and the boldness of American bourbon), Monday karaoke nights, a multitude of parties (like St. Paddy's day block parties), a famously good-looking staff, and slogans from their not-actually-a-real-person founder ("Sobriety is a treatable illness"), R&R's is one of the most fun bars on the strip. Plus, they've got bottomless brunches on weekends and Irish nachos, aka Irish cheddar, scallions, peppered Irish bacon, and corn salsa over house-made kettle chips.
Long Beach
The food at the Dubliner is definitely not an afterthought, as can be the case at so many Irish pubs. This classic Irish haunt rocks everything from Guinness stew (with potatoes, carrots, celery, and onion) to shepherd's pie (ground beef and lamb with carrots, peas, and onions topped with Guinness beef broth and mashed potatoes) to an all-day full Irish breakfast (rasher, Irish sausage, pork pudding, tomato, mushroom, & baked beans). And if that ain't enough for ya, they've got live music seven nights a week, and 16 beers on tap with almost 30 more in bottles. They've also got international rugby playing on the TVs, so thank your lucky charms for that.
Valley Glen
If you crave a dive bar over a pub, Ireland's is for you. You'd be wise to "dive" (GET IT???) headfirst into their extra long (2-8pm, Monday-Friday) happy hour for $3 beers, $4 wells, and $6 20z beers (not to mention $5 Whiskey Wednesdays) and even wiser to grab a $9 banger sandwich.

Also: We'd tell you that the "32" comes from the amount of counties in Ireland, but like, duh, everybody knows that.
Sign up here for our daily LA email and be the first to get all the food/drink/fun Los Angeles has to offer.