The official unofficial Joshua Tree Drinking Guide
Because your girlfriend is always like, "Can we please have sex for a fifth time tonight? Also, do you wanna go to Joshua Tree National Park to look at a bunch of crazy rock formations and those weird trees?", and you're always like, "Ugh, I guess we can have sex AGAIN. Also does Joshua Tree have bars?", and she's all, "Thank you for agreeing to the sex thing. Oh, and I have no idea about the bars thing."... thankfully, we totally do!
Here're the eight best bars in and around Joshua Tree.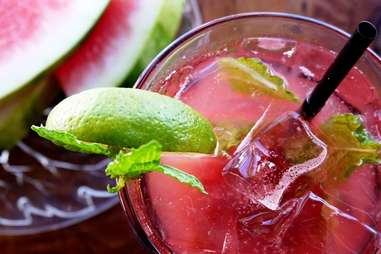 29 Palms Inn (click here for address and info)
This '60s-vibey bar's close enough to the hotel pool that you maybe don't wanna keep your keys/phone/wallet in your pockets once you sit at the bar, especially after you read this part about them having their own farm on property, which means a seasonal cocktail menu that's always made with legit-fresh ingredients. Also noteworthy: Led Zepp's Robert Plant is a semi-regular.
La Casita Nueva (click here for address and info)
This homey restaurant boasts ELEVEN different margaritas (guava! strawberry! Midori!??!) and has lunch specials starting at $5.99. Not all the action is during the day, though, since it's attached to a bar called Kokopelli's Kantina, where the national pastime of the desert is performed: karaoke.
Pappy and Harriet's (click here for address and info)
Located in the ramshackle-looking, not-really-a-town Pioneertown, Pappy and Harriet's is a four-mile drive away from Joshua Tree on a dark, winding road, but it's worth every poorly lit turn: the bar has a killer vibe, thanks to a music booker who gets Coachella-bound artists like Bright Eyes and Queens of the Stone Age to play their tiny stages, and a sick food menu that includes killer burgers and steaks.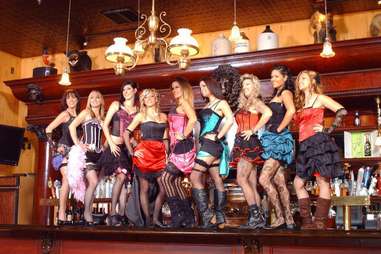 Willie Boy's Saloon and Dance Hall (click here for address and info)
A former brothel that's been open since the late-1920s, there's a lot going on at Willie Boy's: $5 mechanical bull rides, two full bars, nine beers on tap, a jukebox, live music, line dancing, a huge stage and dance floor, and a 750lb smoker out back that produces unbelievable fall-off-the-bone beef and pork. Oh, and there's an arcade room filled with four pool tables, as well as an original jail cell from the real town of Deadwood... but none of the cast members, which is a crying McShane.
Joshua Tree Saloon (click here for address and info)
Known as "The Gateway to Joshua Tree", this pool table-abetted barstaurant is inches from the entrance to the actual park, and is usually stuffed with locals and tourists who both come out for karaoke on Thursdays and Fridays, live bands on Saturdays, open mics on Tuesdays, and steaks charbroiled by a guy named Irv every day of the week.
PJ's (click here for address and info)
Hello, 12hr happy hour! Discounted drinks at this raucous bar last from 8am-8pm, which means you can get your choice of 20 cheap-ass tap beers while you challenge some dude -- who looks like he may have recently helped Walter White bury some bodies -- to a game on their two pool tables.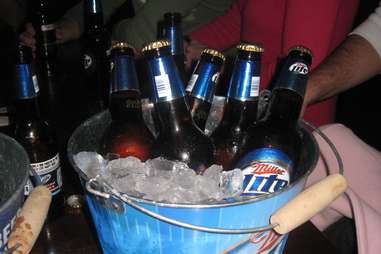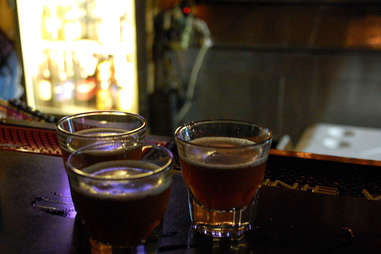 Virginian Cocktails (click here for address and info)
An old-school dive hangout that opened in 1938, this place is like walking onto the set of Cheers... if there was a massive desert outside rather than, ya know, a city. Overturned shot glasses mark reserved spots for hardcore regulars that haven't arrived yet, and if you want free food (i.e., if you are human), Renee the bartender makes a gratis feast for whomever'll eat it, every single Saturday.
Amy Shouse, an LA native, lives in Santa Monica but her ancestors are from the San Fernando Valley. In a previous life, she served hard time in the corporate world. Since her escape, she's written for the LA Times, Forbes, Salon, Smart Planet and DAME among others. She blogs at OddGoodTrue.com.