The Best Coffee in LA Is from This Climate-Conscious Coffee Roaster
Aquarela is bringing in the best new coffee varieties from Brazil and helping to save the future of coffee in the process.
Photo by Alex Eliscu Kipling, courtesy of Aquarela
Photo by Alex Eliscu Kipling, courtesy of Aquarela
Every coffee shop wants to position itself as a neighborhood gathering place, a local spot focused on the local community, and it's a nice thought. But it glosses over one crucial fact. The coffee itself—the center of the business—almost always comes from thousands of miles away from farms in Africa, Southeast Asia, Central America, and South America. Many coffee roasters have added facts about producers and their farms to the bags of beans, tidbits about elevation, soil, varietal, and process, but not so many have info about the farmers themselves. And almost no one is as involved with their farmers as Alex Eliscu Kipling and Otávio Shih, the duo behind LA-based coffee roaster and shop Aquarela.
Kipling and Shih are fully dedicated to Brazilian coffee, and they travel back and forth between LA and Brazil multiple times per year. Shih is originally from the Brazilian state of Minas Gerais, and Kipling is an LA native who lived in São Paulo for years working in the coffee business there and is currently in Cornell University's Agronomy program pursuing a master's. On their travels to Brazil, they visit farms, get to know the farmers and the land, check on harvests in every phase of their growth, and talk shop with the people producing the precious beans. And in so doing, they're helping to protect the future of coffee as we know it.
You don't hear much about it here, especially not in most coffee shops, but Brazil has experienced a devastating series of climate events over the last several growing seasons. Much like California, there has been an extended drought punctuated by occasional devastating floods. In general, things are trending hotter and drier, but then there was also a shocking frost in Brazil's coffee-growing region in June and July of 2021, which destroyed coffee yields and plants throughout the area. Coffee leaf rust, a fungal blight, is on the rise. It's no stretch to say this is climate change in action, and it's coming for coffee—especially Brazil's prized yields of Catuai and Bourbon, two of the region's most highly regarded coffee varieties.
But industrious farmers and scientists in Brazil are working on solutions—they're developing new coffee varieties that will be able to withstand increasingly difficult atmospheric conditions, from drought and heat to frost and rust. The agronomists at the Fundação Procafé, a non-profit coffee foundation tucked into the town of Varginha in Brazil's Minas Gerais coffee-growing region, are setting a course forward.
They have decades-long projects underway to craft these new varieties, fusing some cultivars known for hardiness with other varieties of coffee that are famed for flavor but are more delicate, with a lower tolerance for adverse weather and water events. The hope is that these new hybrids will have the toughness of the former with the sugar, acid, and oil content of the latter, creating a plant that can survive bad weather and disease while still yielding a delicious and high scoring on the Specialty Coffee Association scale cup of coffee.
But therein lies the trouble. There's no way of knowing for sure how they'll turn out until you try them. That means asking farmers to plant experimental crops, giving up some of their valuable space, which could be planted with reliably good coffee plants, and using it to test a theory. It's a big ask, especially considering it can take years for new plants to grow to full maturity and bear fruit, and these plants have to survive more than a single harvest. That's where Kipling and Shih come in.
Thanks to their extensive time spent on coffee farms around Brazil, Kipling and Shih have relationships with many different coffee growers. The pair at Aquarela have gone to some of those farmers and worked with them to plant these new cultivars from the Fundação Procafé, in particular lots allocated directly to Kipling. They're even signing pre-harvest contracts for the coffee, guaranteeing that Aquarela will buy the yield at an above-market rate, regardless of how they turn out—with a sliding price that increases as the coffees receive higher and higher scores on the SCA scale. Now all three groups are working together with fingers crossed, and the stakes are high. Brazil is far and away the world's largest coffee producer, and if that sector struggles, it could have a massive domino effect on that country's economy and the world's coffee supply.
These new varieties that Kipling and the Fundação Procafé bear unfamiliar names like Grauna, Siriema, and Acauama. But they may be household names very soon. And there is one variety in particular that is well on its way there already—Arara. Arara is a natural cross between two older varieties that have been around for a while, but it has recently grown in popularity thanks to its resistance to drought and rust.
If you pop into Aquarela's shop, a small storefront on the Echo Park-Chinatown border with a handful of tables on the sidewalk, you will likely see their new Arara prominently displayed on a bookcase next to the register. The beans come from farmer Maria Soraia, who slowly ferments them with lactic acid over several days, a process that helps bring forward juicy fruit notes and a creaminess in the cup. Maria Soraia's lovely example hits those marks, a zip of dark fruit with a delicate sweetness and a full body. Kipling and Shih identify notes of pink peppercorn, lychee bubblegum, and chocolate candy bar, and it's hard to disagree. It's an interesting, exciting coffee, and there are many more to come.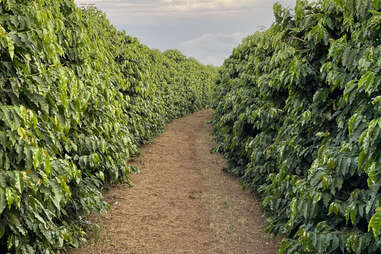 Kipling is headed back to Brazil in August for the end of the harvest season to check on this year's final yield. "That's when I'll know whether or not the ones we grew this year are at the standards that we need them to be," he says. They don't all make it, but he's got his eye on several promising lots, and he plans to return to LA with a bunch of new beans. His hopes are high for Aquarela and the producers he's grown to know so well over the years.
"As a producer, you're fighting against so many different things," Kipling says, "you're trying to get the highest cup quality and you're also trying to keep up with the environment as it's constantly changing." It's not an easy time, but supporting these producers as they push into new cultivars presents a compelling way forward.
Kipling cites articles about the uncertainty surrounding the fragile coffee plants, with some research indicating that by 2040 or so, many of the varieties we know may have gone extinct. But, he says of the Fundação Procafé and their cultivars, "here it is, here's the answer. These guys are researching it, have been researching it, and this is the hope for the future."