UCLA Drinking Guide: The top 13 Bruin-friendly bars near campus
Can't drink in class, can't drink in Pauley Pavilion, can't drink in the handicapped stalls of the library bathroom -- sometimes, it feels like the whole world is against you drinking at school.
Luckily, there are a bunch of places right next to school that are totally okay with it. They're called bars. And we've rounded up the 13 best that Westwood has to offer, so submit that FAFSA, take out that extra subsidized loan, and start turning that useless Federal Pell Grant into cold, hard liquor.
Westwood Village
First rule of O'Haras: don't call it O'Hara's. The seasoned vets of UCLA's bar scene still refer to this Irish sports bar by its pre-2008 moniker, Maloney's. Thanks to Tuesday's Pint Night, Friday's Dollar Shot Night, everyday low prices on AMFs, and an In-N-Out so close you can chase your shot with Animal Fries, "Maloney's" is the alcohol tank that fuels UCLA's nightlife. Pint Night brings in hundreds of frat stars, athletes, grad students, and professors emeritus that pack the place wall-to-wall, with everyone shaking dollar bills at the bartender trying to snag the best $2 pint of Coors Light that history has ever poured. Pro tip: get there early to lock down a beer pong table for the night, and you will be popular forever (or until 2am).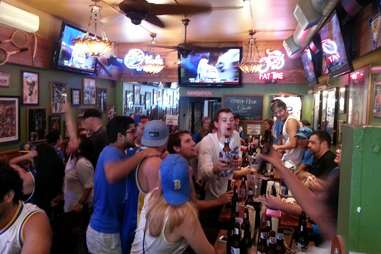 Westwood Village
Founded in the summer of 1969 (a few months after Lew Alcindor won his last national title with the Bruins), Sepi's remains the oldest standing restaurant in Westwood Village. Serving up $8 pitchers of Coors Light and $4 quesadillas during happy hour, there's a reason this historic booze-hole has been filling seats for half a century. Politely ask the bartender, and he'll hook you up with everything you need to play dice, cards, or a game or three of Candy Land.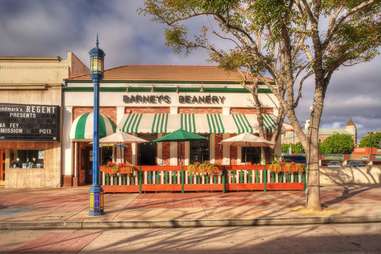 Westwood
Westwood's most popular sports bar, Barney's Beanery is decked out floor-to-ceiling in big screen TVs, UCLA jerseys, rock 'n roll paraphernalia, and, uh, some nudity (at least in the men's room). It remains the only place in Westwood where you can play a game of Madden on an 80in flatscreen, while downing pitchers of Sam Adams and chili cheese fries. Trivia Night on Wednesday, $4 IPAs on Thursday, and half-priced appetizers during their seven-days-a-week happy hour? Barney's will keep you amply liquored, fed, and... theoretically educated?... every day of the week.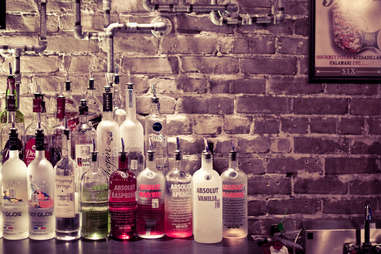 Westwood
Whenever you see a multi-syllabic Italian name, you know you're in for a classy time, and Palomino doesn't disappoint. Generally swathed in Westwood socialites and professional types, UCLA students pour in to take advantage of the world's great social equalizer -- the all-day, every-day happy hour. Well drinks for $5.95, draft beers for $4, and a whole list of reduced-price, Tuscan-inspired appetizers makes even a chain a great place to impress a date without falling deeper into that endless pit of student debt.
Westwood
There may be a distinct absence of red cups, beer pong, and wet t-shirt contests (or are there???), but $3.50 draft PBRs and $6 wines by the glass at The Glendon's happy hour are still enough to draw massive flocks of students every weekend. They also serve up a mind-blowing riff on poutine called Cougar Fries -- Belgian fries doused in bacon, truffle oil, and a mushroom shallot gravy that'll cure even the harshest "headache".
Westwood
Lace up those wingtips you bought off the clearance rack for that unpaid internship interview -- it's about to get all kinds of classy up in here. Located in the upscale W Hotel less than a mile from campus, Whiskey Blue serves up an extensive craft cocktail menu in an intimate, lounge-style setting that would make any sorority girl be all, "Whoa, this is a really intimate, lounge-style setting". Added bonus: Monday-Saturday happy hour from 5-9pm.

Santa Monica
The crew at Busby's West started playing some serious hero ball when they implemented a free limo service every Thursday and Friday night, shuttling students back and forth from their dorms, directly to the bar, and back to whatever dorm they end up back in at the end of the night. Busby's is fully equipped with beer pong tables, shuffleboard, ping pong, an arcade with Pop-A-Shot & Golden Tee, two bars, and a massive dance floor -- which really does make it the "ultimate sports bar and nightclub".
Santa Monica
It might not offer a free limo service, but there's no shame in taking the public bus to this atmospheric gastropub less than two miles from campus. Bar Food offers a nightly happy hour until 8pm featuring a $4 rotating beer special and $1 hot dogs, making it a killer spot to grab some grub and pregame. It isn't a typical college hangout spot, which makes their Sunday Trivia Night even more worth the trip -- not as many hyper-competitive law students threatening to shin-punch you for a $100 bar gift card.
Brentwood
With $5 all-you-can-eat tacos and two-for-one happy hour drinks, you can't afford to not go to Cabo Cantina every Tuesday for the rest of your life. Their 36oz fish bowl margaritas draw in a diverse crowd, from corporate real estate agents who had a rough day at work, to sorority girls who had a rough day at not-work. It's a life lesson, really -- no matter who you are or where you come from, everyone likes drinking discounted tequila from a fishbowl. Truth.
Brentwood
Q's rounds out the holy triumvirate of Santa Monica college bars, alongside Cabo Cantina and Bru Haus. All three share a massive building along Wilshire just past the 405, and all three have their own distinct crowd and vibe. Q's is where you go to lose money playing pool, because you forgot you were terrible at pool. They have 12 tables, more than 30 TVs, three outdoor patios, and a live DJ every weekend to accompany their full-service, late-night menu & extensive draft beer list. There's also an incredibly clutch 24hr McDonald's across the street. You're welcome.
Brentwood
This German-inspired beer bar has $4 vodka-soaked gummy bears. That's really all you need to know.
Sawtelle
Because she's super-awesome/sometimes will cut the crust off your sandwiches, Mom's gives the middle finger to inflation rates and serves multiple $3 draft and bottled beers all day, every day. They have comedy shows every Monday, ping pong tourneys every Tuesday, and the Westside's best/worst karaoke night every Wednesday.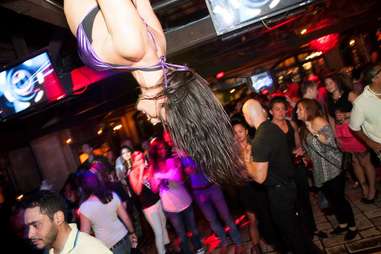 West Hollywood
Deep in the heart of West Hollywood's Historic Boystown, this inclusive-if-you're-straight-but-make-no-mistake-it's-definitely-a-gay-bar-dance-club draws the most eclectic crowd around -- one minute you'll be arguing college basketball, and the next you'll be joining a 100-person transgender conga line. Oiled up go-go dancers of all genders line the entire two-bar outfit, and since that's going to make you feel fat already, The Abbey also offers a full-service bakery counter until 2 am.
Sign up here for our daily LA email and be the first to get all the food/drink/fun Los Angeles has to offer.
Josh Scherer is a fifth-year super-senior and zero-time All-American at UCLA. He hopes one day that his political science degree will bring enough cash to finally order off the non-happy-hour menu at Palomino, but he remains incredibly doubtful.