With the recent blow-it-outta-the-water opening of Good Times at Davey Wayne's, "secret" and "hidden" bars are about to start coming up in every conversation again. To help ensure you've got your secret bar basics down, here's a beginner's guide to every LA bar that's -- in some way (hidden entrance!) or another (no address!) -- secret. Shhhhhh.
Culver City
This NYC-imported cocktail bar features both award-winning mixologists and a where-the-hell-is-it entrance, but what makes it special is the fact that it's one of the only places in town where you can get an old-fashioned Flattop and an Old Fashioned on the same visit.
How to get in: Go through the back door of the barbershop. Maybe get your haircut first though?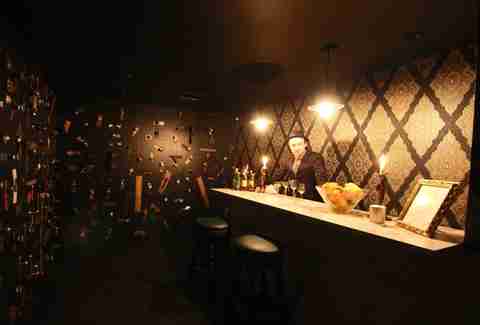 Koreatown
Even if there weren't a hidden entrance, this bar's facade -- at Vermont and Third -- is so indistinct, you'd think it was a whatever dive, rather than a classy cocktail bar. Add to that an Alice in Wonderland puzzle to get in, and you've hit K-town's best-or-second-best (see below) secret bar.
How to get in: Go through the front door... and then figure out which doorknob to turn to ACTUALLY get in.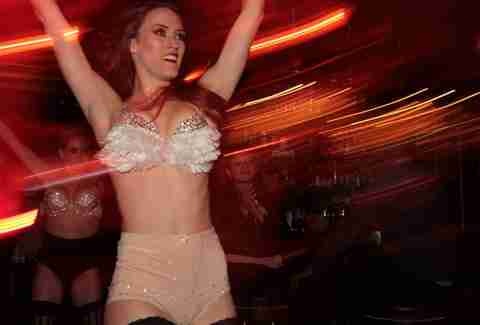 Culver City
You'd think the whole there's-no-name-and-it's-in-a-back-alley thing would have gotten old the minute Heather Graham did, but nope: Seventy7 Lounge continues the Swingers thing with stiff drinks, burlesque shows, and an entrance that's so money, it doesn't even know it.
How to get in: Find the cocktail sign in the alley -- there's a bouncer behind that door.
Toluca Lake
You may have already guessed that the name of this kinda Latin-themed lounge in the Valley doesn't have any signage, just, uh, red doorage; what's not totally clear is that in addition to delicious drinks, they also have an excellent food menu.
How to get in: Go to Robano's Pizza. Walk down the alley. Find the red door.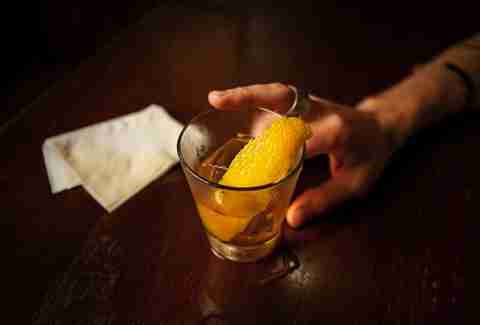 Downtown
Because one great whiskey bar wasn't enough, Seven Grand now houses a second great whiskey bar -- albeit one that's super-tiny, super-secret, has a whiskey-locker program for your personal stash, and only serves three mixed drinks.
How to get in: There's a phone, and a light, with instructions in English... and Japanese.
Hollywood
The oontzery the Supper Club shares a wall (...and a hidden door) with this industry-hang cocktail lounge from super-awesome bartender Daniel Nelson and his crew, with vintage couches and mirrors and lots and lots of very dark corners. To drink in.
How to get in: Go behind Musso & Frank, and find the very huge and intimidating dude with the list. Be on it -- or be convincing.
Koreatown
In some ways, the grandfather of the secret-LA-bar, La Descarga is the Houston Brothers' ode to Havana in the 1950s, with rum drinks, a cigar smoking patio, and floorshows from live jazz bands with very, very live dancers.
How to get in: It helps to have a reservation -- so make one, and then the doorman will show you into an office, where you'll be told the rules, and shown the... closet?
Downtown
This kinda-cramped-in-a-good-way speakeasy's in the back of one of LA's longest-running restaurants, and feels like a step back in time, thanks to wooden seats, stiff drinks, and music -- like Sinful Sundays, their end-of-the-weekend ode to dirty songs from the '20s.
How to get in: First, get a sandwich (and a Moscow Mule, if it's gonna be that kind of night) at Cole's, then continue to the door in the back, and turn the knob. Come early -- seats are first come, first served.
Koreatown
This divey K-town bar is marked only with an "R" on the outside, but inside are great bands or karaoke and a good hang -- if you know the password.
How to get in: KNOW THE PASSWORD (which you can find on Facebook and Twitter).
Hollywood
This's another Houston Brothers bar (told you they were the kings) with a similarly single-minded theme: the building used to be a brothel and a hotel, so you're transplanted into both, with almost Disney-style attention to detail -- and a death-defying, high-stepping show every hour on weekends.
How to get in: Get past the doorman, who'll show you to your room... and its bed.
Hollywood
This bar from the kings of the secret entrance (the Houston Brothers, it's the Houston Brothers), is a jaw-dropping, kind of hipster-y ode to the '70s, with DJs playing Fleetwood Mac, vintage beer cans, and hot chicks rollerblading.
How to get in: There's a garage, with one door. And it's the refrigerator.
Sign up here for our daily LA email and be the first to get all the food/drink/fun Los Angeles has to offer.