8 places to party at when you leave Staples Center that AREN'T in LA Live
Flickr user JJazi
Flickr user JJazi
With the Lakers, Clippers, Kings, and Selena Gomez (!!!) all back in action at Staples, things are about to get mad-crowded at LA Live, which sucks because A) you want a post-game onion ring tower!, and B) you have literally no idea where to go if there's a 25min wait at Yard House. Luckily, we totally do. Here're the eight best places to eat and drink near Staples that're both walkable (no more than about 3/4 mile away!), and open 'til at least 11pm.
The Original Pantry
877 S Figueroa; Distance from Staples: 0.3 miles
Open 24hrs a day for nearly 90yrs, this institution's still killing it with stellar all-day breakfasts (the bacon is thick, and perfect), as well as diner stapes like country-fried steak. Fun fact: the spot's now owned by former LA Mayor Richard Riordan. Your move, Eric Garcetti.
Caña
714 W Olympic; Distance from Staples: 0.3 miles
Formerly the crazily-exclusive Doheny, Caña is now a semi-hidden rum bar that's open 'til 2am nightly, with seasonal, fresh-produce menus, as well as classic cocktailing in a patio'd-up space that's only enterable through a garage attached to an apartment building. If it's your first time, $20 will get you a membership (and free access) for a year, plus invites to future free boozing events. Oh, and you gotta be dressed appropriately to get in, so don't wear that Byron Mullens jersey tonight. Or ever. Pro tip: If you already have a membership, you can get six people in with you for free!
Bar | Kitchen
819 S Flower; Distance from Staples: 0.5 miles
Like most of LA, if you show up here past 10pm on a weekday, you're SOL. But Fri-Sat-Sun, this may be Downtown's best hidden treasure -- the drinks are crazily creative with stellar names ("Kevin's A Girl?" -- gin, Aperol, grapefruit, and honey), and they've got sick food like roasted bone marrow w/ oxtail jam, and a burger stacked w/ applewood-smoked bacon and Gruyere.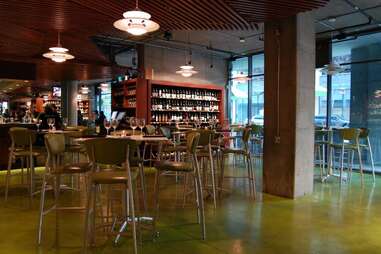 Bottle Rock
1050 S Flower; Distance from Staples: 0.2 miles
Open 'til 1am every day but Sunday, this is where you go if you're looking for next-level charcuterie boards, nearly 1000 different bottles of wine, and 18 craft beers on tap.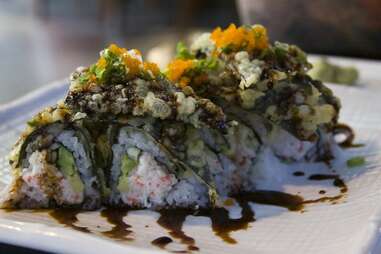 Octopus Japanese
729 W 7th; Distance from Staples: 0.7 miles
Always open 'til at least 11pm (and 12am Thurs-Sat), this upscale two-story mini-chain goes rawer than the WWF on Monday night, with Japanese numbers like albacore sashimi w/ jalapeño & grilled garlic, and non-swimmers like BBQ beef ribs marinated in soy sauce.
WP24 Bar
900 W Olympic; Distance from Staples: 0.3 miles
Yes, the actual restaurant atop the The Ritz-Carlton is a schmancy, rezzie-only Asian affair, but so long as you're not in a Byron Mullens jersey (DUDE. STOP WEARING THAT.), you can hit the open-'til-midnight bar up there, which has killer views of Downtown and an even killer-er dumpling-stuffed bar menu. Added bonus: Lakers other than Chris Kaman come here a ton post-game.
Salvage Bar & Lounge
717 W 7th; Distance from Staples: 0.7 miles
This design-award-winning barstaurant erected (!) in a building from the '20s features a hodgepodge of old-school Edison bulbs and couch cushions that don't necessarily match. They've got a small food menu with bar bites like jalapeño popper sushi-style rolls and fried chicken bites, plus worth-ordering dranks like the citrus-y Bourbon Cooler.
Hooters
1248 S Figueroa; Distance from Staples: 0.1 miles
Open 'til at least 1am every night. And super-walkable. And chicken wings. And see above.