USC Drinking Guide: 11 Trojans bars where you can Drink On
The USC college football season kicks off this Saturday, which means the collegiate drinking season kicks off this Saturday, too. To help you get all kinds of prepared for the next time you're pregaming near the Coliseum, here's a breakdown of the 11 best near-USC bars.
University Park
Fondly dubbed "the Nine-O", this divey bar is the kind of place everyone has a story (or 30) about. You're not going to find craft cocktails here. Instead, think cheap beers (cheap everything, really -- they've got a two-for-one happy hour, daily from 4pm-9pm), generously poured shots, and plenty of boozy mixed drinks, like the blue-hued AMF, aka Adios, Motha... uh, friend guy!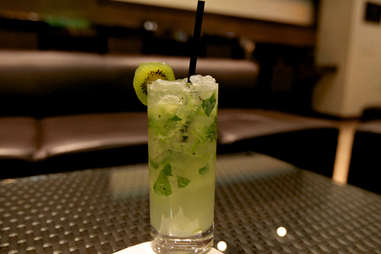 University Park
This on-campus restaurant and lounge is where you (and a shload of thirsty faculty members) are gonna go for a more upscale cocktail break. Grab their take on a classic Paloma (mmm... thyme-infused simple syrup...), and make your way to the patio, where you can sip it under an eponymous Moreton Bay fig tree.
Downtown
Trot up the stairs, past the glass cases full of hunting gear, and find yourself in a haven of aged liquors and dark woods. Seven Grand, which is just a short Metro ride away from USC, touts more than a hundred different whiskeys (enough that they need library ladders to access some of them), billiards, and its own Whiskey Society (which you're gonna want to join).
University Park
This on-campus sports bar -- tucked away in the basement of the USC student center building -- is, uh, traditionally a buzzing destination, whether it's Monday afternoon or Friday night. "Traddies" is where you're gonna go if you like pitchers of beer, shots, wings, pitchers of beer, shots, pitchers of beer, beer pitchers, 64oz vessels filled with beer, and also shots.
University Park
If it's the weekend, you can bet on finding a gaggle of definitely-only-21yr-old undergrads gorging themselves on margaritas and enchiladas at La Barca. Drinking and dining at this hole-in-the-wall Mexican joint is practically a rite of passage for USC students... and by "practically", we mean "it definitely, most certainly is, and we're pretty sure it's a law or something".
Downtown
Not to be confused with Santa Monica's Library Alehouse or the Roosevelt's Library Bar, the DOWNTOWN Library Bar's proximity to the Downtown Metro subway station makes it an attractive destination for anyone in cardinal and gold. Plus, the drinks are, like, super-good, and it's all set in a mad-cozy atmosphere -- featuring bookshelves and comfy, can-kinda-fit-two-if-one-sits-on-a-lap leather chairs.
Downtown
Do you need a tall pint of buttery Guinness, Snakebites made with lager and hard cider, and picklebacks? Do you need them at 11:30am on a weekday? Then you clearly need Casey's.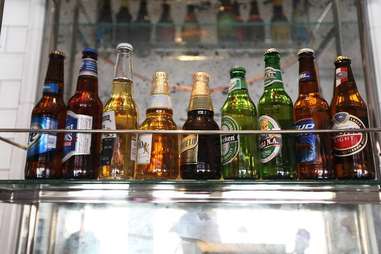 University Park
This campus-sanctioned, science class-themed gastropub touts a rotating selection of 25-plus craft beers, right across the street from campus -- which makes it kinda a big deal on game day. And also on regular days.
Downtown
Plenty of TVs, easy access to public transit, and 160 (?!?) craft beers on tap make this massive sports bar chain's LA Live outpost a legitimate option when someone's all, "Let's drink off campus tonight". Bonus? Their 32oz "half-yard" of beer looks awesome when Instagrammed.
University Park
Don't be fooled by the long line of sorority girls sitting at the communal table -- this is a serious wine bar with stellar bottles and equally impressive gastropub dishes, like a grilled lamb burger with shaved radishes & tahini. Don't miss the "open bar" deal, either ('cause those sorority girls totally aren't!): you get unlimited pours of house wines, beer, and sangria for $20.
Downtown
Is it an utter nightmare to wait in the bloated line for The Standard's rooftop bar? Of course. Are the glittery skyline views, trendy crowd, and bumping DJ sets worth the wait? Perhaps. Either way, The Standard is the must-hit spot for people wearing nice button-downs.
Eddie Kim is a journalist working in Los Angeles, and a proud USC alumnus who likes to complain about ignorant Yelp reviews. He's at @eddiekimx on Twitter and Instagram.