Topless girls on mechanical bulls. Yep.
Launched by the classy geniuses at Spearmint Rhino, Buck Wild's is a roadhouse-themed sports bar/strip club with a full booze license, a chef who did time at the critically acclaimed restaurant at the Sunset Marquis, and a second room with a mechanical bull that's visited both by strippers fresh from the pole and boots-and-short-skirt-clad waitresses fresh from watching you try to, um, hide yours. Don't believe us? Click the picture up top of Lara on the bull to check out the gallery...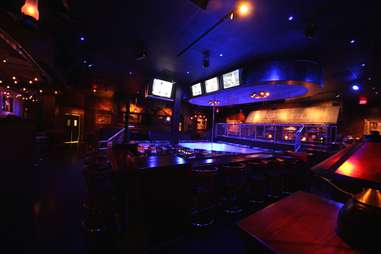 Girls usually get bucked after coming off the stage in this main room: a massive, Texas-themed, TV-laden club space with private lap-dance areas in the back for the inevitable crew of dudes coming in wearing Umbro shorts.
Here's your first of two pieces of proof that sexy bullriding exists in LA: this girl is named Lara (or Laura.... but definitely not Destiny) and she's going to get bucked.
This is obviously the mecca, though: a fully functioning mechanical bull with colored lights, a second bar, and pictures of cowgirls -- though they keep it PG-13 on the walls, so don't expect to see cow-pokes too.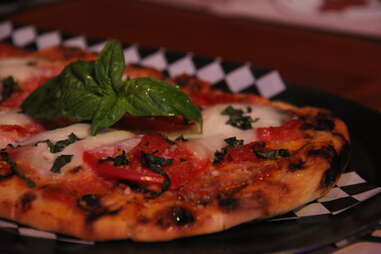 Shockingly, you'll also come here for the food, which's from a dude who has worked at a ton of actually-sweet LA restaurants. Here, he's got bar-food staples, like flatbreads...
... and an awesome snack platter w/ wings, taquitos, ribs, potato skins, and onion rings.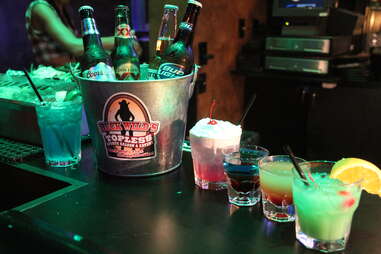 They've also got a full liquor setup with beers, cocktails, and whatever has whipped cream and a cherry on top.
Speaking of a cherry on top, here's Lara riding the bull. Or Laura...