How to hit downtown LA's sexiest cocktail bar since The Edison
Ebanos Crossing isn't actually the Coen brothers' long-awaited gangster movie sequel, but a cocktail bar/restaurant meant to evoke the idea that you're in a '20s smugglers' haven, because noted '20s smugglers really loved plush couches, exposed brick, and ridiculously on-point cocktails. BONUS: These ones are all from the award-winning former head bartender at NYC's ultra-lauded Death & Co. and Mayahuel. Here's how to hit it right:
Scotty Tomaino
Start your night off in a square chair, because triangular chairs are for hippies.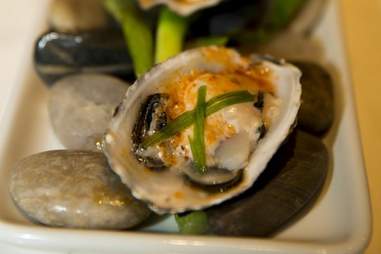 Then, suck down some apps, like these oysters w/ lime-habanero butter...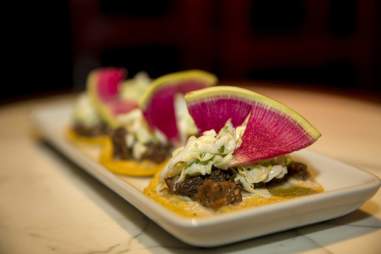 Scotty Tomaino
... or their Mediterranean spiced goat tacos.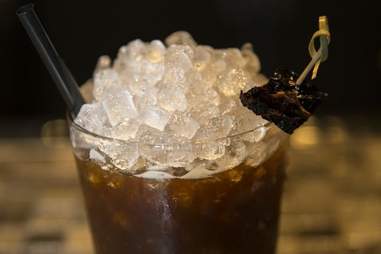 Scotty Tomaino
Wash 'em down with this ancho chile-infused, Mezcal-based Pueblocito, which will begin to colonize... your liver.
Scotty Tomaino
Move into the swanky front room...
Scotty Tomaino
... and help yourself to these sliders w/ braised pork, Black Forest ham, smoked Gouda, and maple mustard.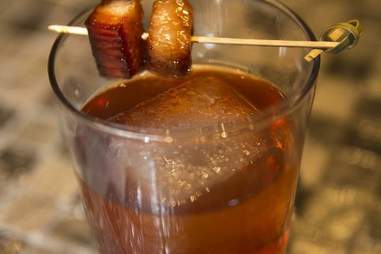 Scott Tomaino
In case that's not enough pork for you: this Old Fashioned's got bacon bourbon and some extra-special pig up top. You lose, brandied cherries.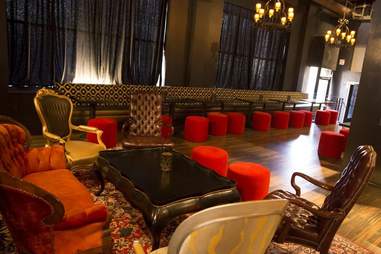 Scotty Tomaino
Finally, make it into this main room...
Scotty Tomaino
And finish things off with this fried chicken sandwich w/ jalapeno slaw...
Scotty Tomaino
... and the absinthe-y Yesterday's Noose (because, let's face it -- you're now definitely closer to death).