12 more Bad Decision Bars in LA
Remember last year, when we ran a list of 13 bars in LA where you've definitely made a bad decision? Well, turns out this city has way more places for making bad decisions than even we realized. So we're back, just in time for bad decision-magnet "The Wednesday Before Thanksgiving", with 12 more spots where everyone seems to think it's okay to pee in a planter.
Burbank
Its most famous night of the week -- and the only reason anyone goes there -- is called "P*rn Star Karaoke" night. Read those last four words again.

Echo Park
Sure, it was cleaned up a few years ago. Doesn't mean that it's "clean". Just cleaned up.

Silverlake
"Hey, let's just drink a few enormous beers and eat a head-sized pretzel. What could possibly go wrong?"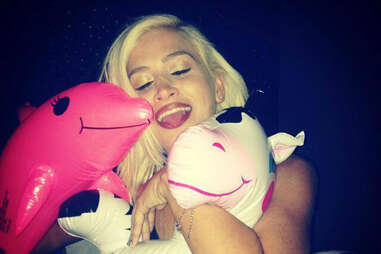 Downtown
The drinks: strong. The music at the attached dance room: loud. The decisions: bad.

Atwater Village
The good decision? The free popcorn. The bad? Everything else.

Culver City
So dimly lit that you're bound to screw some... thing up. So named because it probably won't stay a secret.
Culver City
You've heard about the casting couch, right? There's a reason this place is right by Sony.

Santa Monica
Around, and around, and around, and around, and... eventually you're definitely gonna fall on your face.

Various locations
For those moments when you're like, "I could go for the cheapest tequila ever, and also a ton of frat bros, and also low-cut waitress tees, and also..."
Silverlake
The first bad decision you're gonna make at one of the best dives in the country? Singing "Can You Feel The Love Tonight" at its run-down karaoke, and then having to answer to the regulars. The second bad decision? Everything that happens after that.

Mar Vista
It opens at 6am. And people are there then.

Manhattan Beach
Bros + Babes + Beach + Beer + Beer + Beer + Beer + Beer + Beer + Beer = Regret x Breakfast Burrito.
Sign up here for our daily LA email and be the first to get all the food/drink/fun Los Angeles has to offer.
Thrillist LA Senior City Editor Jeff Miller is probably making a bad decision right now. You can post pictures of it and tag him on Twitter at @ThrillistLA or on Instagram at @jeffmillerla.