Power-ranking the 11 hipster-est bars in LA
While it's true that the ironic usage of a word that labels ironic types is… well, ironic, the word "hipster" is kind of meaningless these days. It's sort of a you'll-know-it-when-you-see-it-and-it-is-usually-bearded thing. Like, for instance, in these 11 hipster-est bars in LA, ranked for posterity.
11. The Short Stop (click here for address and info)
Echo Park
This former super-grimy, long-standing Echo Park institution was given a full overhaul a couple years ago, which -- in the part of town longtime residents complain about getting taken over by hipsters -- kind of says it all. Dancing here (everything from '90s hip-hop to punk rock) involves a healthy dose of the strange interpretive style that typifies some Silverlake-ian shakin' these days. It'd be a bit further up the list, but anywhere people gather to watch sports unironically can't be THAT hipster, can it?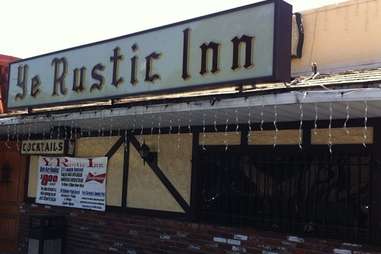 10. Ye Rustic Inn (click here for address and info)
Los Feliz
Rustic's Los Feliz locale and unassuming décor make it a chill choice for mustachio'ds in this Silverlake adjacent "slum". The white-trashy charm, wings, super-duper-dark inside, tattooed bartendresses, and frequent brushes with fame (Kiefer Sutherland's drunken episodes!) have always made the Inn just a little more "in".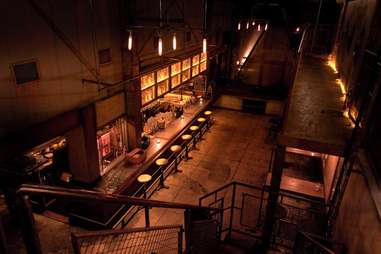 9. Harvard & Stone (click here for address and info)
Hollywood
When it transformed from The Stone Bar to Harvard & Stone, something changed at this old bar -- the music, the venue, and the crowd -- which got cuter, scragglier, and skinnier. Negative points for really, really, super-good drinks that've won absolutely ZERO blue ribbons.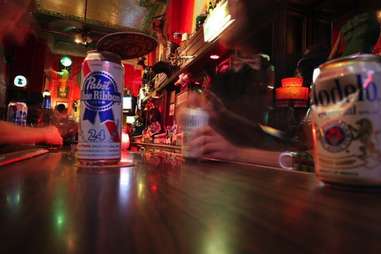 8. Bar 107 (click here for address and info)
Downtown
Crackheads meet loft-dwellers at this uber-kitchy Downtown dive, which kind of toes the line between hoarder and hipster with Colt 45 neon and black velvet wall art -- all of which is irrelevant when your'e watching some guy with wax in his beard win a "water pipe" at a comedian-hosted karaoke contest with an off-key rendition of "Sussudio".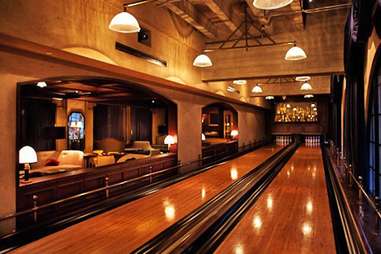 7. The Roosevelt (click here for address and info)
West Hollywood
The dance club Teddys, the pool bar the Tropicana, and the bowling alley-abetted Spare Room all have stuff in common: their music's programmed by a collective that includes a former Dim Mak chick and the dude who DJs for -- of all people -- Paul McCartney, they're all frequented by people in outfits probably purchased at a really expensive vintage store, and they're all at The Roosevelt, which somehow has maintained coolness with Fellini-lovers through many, many generations.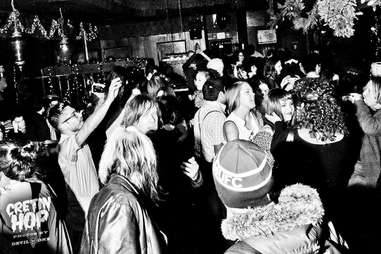 6. Footsies (click here for address and info)
Cypress Park
If Echo Park was the new Silverlake, and Highland Park was the new Echo Park, and Eagle Rock was the new Highland Park, where's everyone who owns a retro vest going next? Uh, probably Cypress Park. Footsies helps: the bachelor pad look, pool table, and theme nights (Metal! Funk!) bring in a bevy of beardeds and bad-/rad-fashioned ladies. Footsies would be further up the list, if anyone who didn't live in Cypress Park could tell you where, exactly, it is. Probably somewhere Eastish?
5. La Cita (click here for address and info)
Downtown
This Downtown standby is a mariachi bar that also has rock-driven theme nights called Punky Reggae and Mustache Monday. If you need more proof of hipsterdom than that... you're probably a hipster.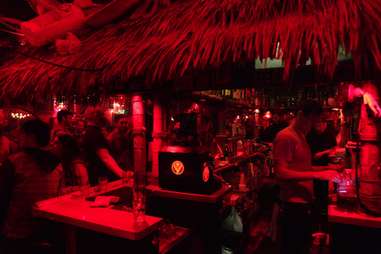 4. Cha Cha Lounge (click here for address and info)
Silverlake
Cha Cha's a former gay bar with tacky decor and an entrance that allows bicycles through it, so... there's that. There's also "art" in the vending machines, so... there's also that. And dudes from the Melvins DJ here, so... there's DEFINITELY that.
3. Good Times at Davey Wayne's (click here for address and info)
Hollywood
The dudes from La Descarga and Harvard & Stone just dropped this secret-entrance bar that you've probably never heard of, with a That '70s Show look that was tailor-made for the shaggy-haired, white-belted, vinyl-only PBR brigade.
2. Little Joy (click here for address and info)
Echo Park
Fab Moretti of The Strokes named his side project after this once-legitimate dive bar that's now kind of nice, which gives it major hipster points from the get-go. The fact that they play "Eye Of The Tiger" and Barry Manilow while pretending not to even wink puts it comfortably near the top of the list.
1. The Overpass (click here for address and info)
A secret Eastside location
You have to be on a secret list to get in. It's on the Eastside. Bands party there after their gigs. DJs are from that band. People "express themselves" in American Apparel or retro '90s trash-clothes. No one there calls themselves a hipster.
Lina Lecaro is an LA-born-and-bred author (LA's Best Dive Bars) and longtime journalist/photographer who covers nightlife, music, fashion, sex, and pop culture for online and print publications such as LA Weekly, the LA Times, Los Angeles Magazine, Paper Magazine, LAist, and Wehoville.com. According to a recent web quiz, she is NOT a hipster. Follow her on Twitter, yo.