The best bar in 18 LA neighborhoods
Fixing the worst part of all those "Best Bars in LA" lists that get you super excited, and then super-er crushed when you realize none of the bars are anywhere near you, here's a guide to the absolute best bar in EIGHTEEN LA 'hoods. Problem, solved (... if you don't live in Echo Park).
Culver City
Bigfoot West (address and info)
Both Bigfoot locations look like someone took Yogi Bear's Yosemite ranger stations and plopped 'em down right in the middle of the city. The Westside location has a couple things on its side, though: there aren't a ton of other bars in the area, and it's way bigger than its Atwater brother. Also: there's a BBQ-bombed drink.
East Hollywood
Jumbo's Clown Room (address and info)
It's not a strip club, exactly; they used to go nude, and then did tassels, and now it's more of a bikini bar. But really, it's a dive bar with a stage that's seen a litany of all types, colors, sizes, and creeds of women dance like they mean it, rather than for anyone else's amusement. It's really, truly a fantastic place.

Fashion District
The Varnish (address and info)
It's easy to forget The Varnish -- it's hidden in the back of Cole's (a perfectly great bar in its own right) and it certainly doesn't have the flash that many of the mixology-come-lately-bars that followed its much-hyped opening have mustered. But the drinks are extraordinary and fresh, the music jazzy, and the vibe 100% perfect.

Glendale
The Pub at Golden Road (address and info)
You'd think by the way we go on and on and on and on and on about Golden Road that we were on their payroll. Sadly for our writer wallets, we aren't -- they just make great beers and have life-sized Jenga, one of the best patios in LA, and some of the nicest staff on the planet. There are other great bars in Glendale (The Glendale Tap! Neat!) but if you've gotta pick one meet-up spot, Golden Road is it.

Highland Park
Hermosillo (address and info)
Our friend Steve summed it up pretty succinctly: "Hermosillo was great before they started brewing beer. Now it's better."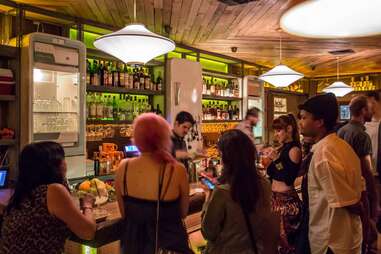 Hollywood
Good Times at Davey Wayne's (address and info)
There are so many great bars in Hollywood, with one of our runners up -- the perennial favorite Frolic Room -- essentially across the street from this newbie. But Davey Wayne's kind of has everything you could want behind its secret-entrance door: great cocktails, an amazingly good-looking clientele, and a crazy-detailed '70s vibe that's made it one of the most popular bars in town -- which means if you can't get in, it's good to know the Frolic's right across the street.

Koreatown
HMS Bounty (address and info)
Beer Belly is great. R Bar, too. And Brass Monkey. But there's something comforting about knowing the HMS Bounty -- with all its nautically themed walls, its massive, steak-laden menu, and its incredibly strong drinks -- has been there forever and will be there forever. The fact that it's the kind of place where one goes to really, truly DRINK? Added bonus.

Little Tokyo
EightyTwo (address and info)
Great drinks? Yep. Old-school pinball machines AND Galaga? Uh-huh. A patio with food trucks? Sure. Is this heaven? Maybe?

Long Beach
Alex's Bar (address and info)
Long known as a spot for punk rock kids to get their, uh, punk rock kid-ness on, this bar has aged well along with its drinks program, with a fantastic cocktail menu that makes it worth dropping in even on nights when you're not going to leave with your ears bleeding.

Los Feliz
Covell (address and info)
Not only is it our best wine bar in the hood, but it's also the best bar bar in the hood: the guys who run it are super-knowledgable without being pretentious, which makes for a mellow glass of wine and/or/but-probably-and beer.

Mid-City
The Secret Club on Fairfax (address and info)
Anyone who's been inside this bar-with-no-name, hidden behind a door-with-no-window, commanded by a bouncer (with-probably-some-sort-of-hipster-facial-hair) will attest that, despite its exclusive entrance policy (you've got to be on a list, somehow), once you're inside, the pretentiousness slips away. It's got a crazily inviting interior with a small stage that's hosted some major up-and-coming bands, plus an upstairs balcony with color-changing wallpaper. There's also a barman who may be making the best Old Fashioneds in town. And once you're in -- so long as you don't mess it up by spreading the secret -- you're in (yep, to write this, we asked for permission first).

North Hollywood
Tonga Hut (address and info)
The Tiki-Ti (see below) isn't the only tropical game in town -- in fact, the Tonga Hut, which was established in 1958, is even older (... and wiser? Maybe wiser.). That means it really feels like you're stepping into the '60s when you walk in here: the cedar walls, the drop ceiling, and the Tiki gods that line the place have all been there since the beginning.

Sherman Oaks
Chimneysweep Lounge (address and info)
Sure, the Valley may have an influx of great places to drink, but nothing beats this beat-up classic for pool/free popcorn/more pool/more free popcorn...
Silverlake
Tiki-Ti (address and info)
This side-of-Sunset shack is one of the most famous dive/Tiki bars in the world: the super-tiny interior has been kitsched-up since 1961 and run by the same family the whole time, which means their ultra-strong, ultra-sweet drinks are made just the way your dad (and maybe even his dad) liked 'em. Just don't forget your flip-flops.

South Bay
Saint Rocke (address and info)
Saint Rocke is the flashpoint of the South Bay music scene, sure, but what's surprising is that it's also a damn-fine bar, with $1 beer specials on Fridays and scratch-made drinks like the gin-St. Germain-lime-grapefruit "Roll With It".

Studio City
Black Market (address and info)
When this gastropub launched a few years ago -- from the former barman at La Descarga and with a Top Chef contender chef -- it seemed insane to drop an over-the-hill-worthy restaurant in this part of the Valley. No more: BM started a revolution and launched what's now one of the city's hottest neighborhoods, and is still going strong thanks to fantastic drinks and delicious food (thosewingstho!)

Venice
Hinano Cafe (address and info)
If you're drinking in Venice, you're definitely ending up at this beachside mainstay, which has been serving up brews since 1969 (and burgers -- don't forget the burgers).

West Hollywood
Surly Goat (address and info)
"But what about Laurel Hardware??" -- sure, it's a good question -- if you enjoy waiting in long lines and not being able to sit anywhere and feeling like maybe you're not quite good-looking enough to be there in the first place. And what about the Abbey? Also great -- surely one of the few gay bars that's equally inviting no matter your sexual orientation. But they don't have the beer list that Surly's got, nor do they have the dark corners that aren't already occupied by someone else getting, uh, frisky -- at Surly, they're yours, and your friends, and that's it.
Sign up here for our daily LA email and be the first to get all the food/drink/fun Los Angeles has to offer.
Jeff Miller is the Senior City Editor of Thrillist Los Angeles, and hopes he's not now banned from the secret bar. Hit him at @ThrillistLA on Twitter and @jeffmillerla on Instagram.