Moe's Tavern, Krusty Burger, and More Now Exist at Universal Studios Hollywood
You know that debate about where The Simpsons' Springfield actually is? Debate no more: it's in... Hollywood? Yup, Universal Studios Hollywood just opened an insane Springfield replica and crushed every last detail -- from the Flaming Moe's, to the Duff Beer, to the stuff that isn't alcohol, too.
We hit it opening weekend to shoot this Poochie-approved photo tour of the whole damn thing.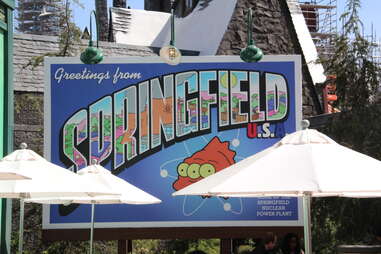 Welcome to a sadly Mr. Plow-less Springfield.
But happily Krusty Burger-filled Springfield! In addition to the above double-meat, double-cheese, double-bacon, double-OMGYES Clogger burg, you can also house...
... a freshly pulled Ribwich...
... and the Sideshow Bob foot-long chili-cheese dog, so named because obviously it's out to kill you.
Oh right, you can also grab a pint of proprietorially-brewed DUFF BEER (wuuuuuut?), which tastes like a slightly more flavorful Budweiser...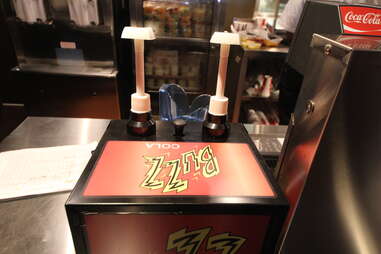 ... or a Buzz Cola, which tastes awesomely like a melted Coke Slurpee.
Both are also available across the way in the outdoor beer garden at the Duff Brewery, which also has a Bumblebee Man taco cart...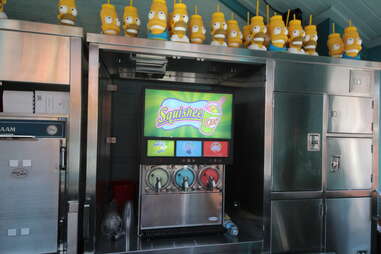 ... and a next door hot dog stand selling actual Squishees.
But wait, there's more, and that more is A MOE'S TAVERN...
... where they'll pour you...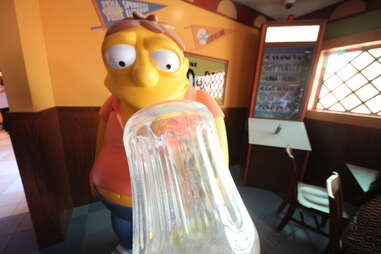 Barney's also there, hanging by a working Love Tester...
... and if you can find this phone at the end of the bar, you'll hear Bart or Nelson on the other line crank calling the bar (ha-ha!).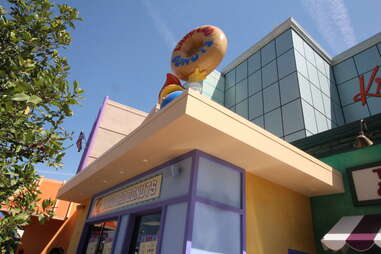 Outside, there's a Lard Lad donut shop...
... with literally FACE-SIZED Butterfinger, s'mores, chocolate-jalapeño, and sprinkle-covered, cake-like donuts.
But the best part of Springfield isn't the food: it's all the in-jokes and Easter eggs on the facades, like the movie "playing" at the Aztec...
... MGMT's take on the chances of Stu's Disco reopening...
... Patty and Selma's notes on the DMV ("Catch us smiling and win $100")...
... and Homer's workstation, complete with a button that melts down the nuclear power plant. (We think?)
There's one more food item you can't leave without, though...
... mmm... donut sundae.
Sign up here for our daily LA email and be the first to get all the food/drink/fun Los Angeles has to offer.
Jeff Miller is the LA Editor of Thrillist and has been waiting for this day since he was about 11 years old. His favorite character is Otto: let him know if you agree on Instagram at @jeffmillerla or Twitter at @ThrillistLA.