Seven under-the-radar spots you need to know about on the Eastside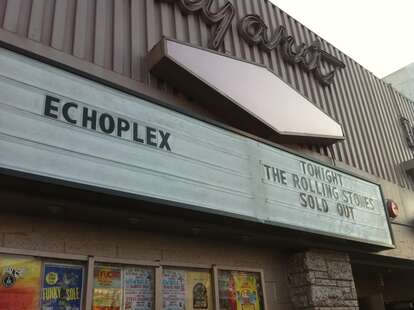 Complain about gentrification all you want (do it! DOOOO IT!), but the hipster takeover of Echo Park means crazy-unique businesses that'll offer you everything from spots where you can listen to actual LPs, to places that show you how to travel back in time to buy 'em. Speaking of which..
The Only Place Where You Can Buy Anti-Cloning Fluid:The Echo Park Time Travel Mart1714 W SunsetThe Echo Park Time Travel Mart's a bizarre storefront that stocks you-must-be-kidding supplies for your next trip through time, from centurion helmets (if you go backward) to robot milk (if you go forward). The whole thing's actually a fundraising front for Dave Eggers' kids-should-be-reading nonprofit 826LA, which means you can feel good about buying not one, but two cans of Mammoth chunks.Be transported in 3... 2... 1...
Subject The Bar To Your Dad's Bread Records:El Prado1805 W SunsetThe tiny beer bar El Prado's got a record player, which, according to the Internet, is that thing that people listened to music on before computers/cassettes were invented; sometimes, they even let patrons sign up to play their own, which means... um... now you gotta find some. Which's easy, if you head across the street to...Play DJ, over here
Buy Your Dad's Old Bread Records:Origami Vinyl1816 W SunsetOrigami Vinyl's a tiny boutique music shop that stocks new and used records, puts on free shows from now-famous bands like Silversun Pickups and NO, and -- pro tip -- sells tickets to shows with no service charge.Start spinning right this way
The Only Spot Where You Can Get A Tamale For Free:16421642 W TempleNot just a really, really incorrect answer to "What year did Columbus sail the Ocean blue?", the dark, jazz-influenced 1642's a beer bar on the Echo Park/Silverlake periphery, but, in any case, you should get over there for this deal: on Thursdays from 6-8p, order a beer and get a totally free tamale, a deal that's pretty...hot. Depending on when you eat that tamale, or whatever. Just beware of the ghosts...
Feel Like You've Been Transported To Portlandia:The Machine Project1200 N AlvaradoThis anything-goes workspace for this bizarro collective hosts random-ass... er... everything, from Bulgarian singing workshops (!!) to interactive shipwrecks (!!!) to yodeling performances (?).Click here to get weird
Eat Like You're, Like, Judging Top Chef:Allumette1320 Echo Park AveThis totally nondescript restaurant's blasting out crazy dish after crazy dish from a savant-ish chef making food with ingredients you didn't even know existed (kanzuri/beluga lentils/xiu mai). The drinks get overlooked but they're top notch, too, with insanity like the Gentleman's Breakfast, a Scotch number topped with candy-infused bitters.You fancy, huh? Right this way.
Eat Like There's No Way You Could Afford The Food On Top Chef: No-Name Taco TrucksAll Over The PlaceSeriously, the best food in Echo Park's probably being cooked on the street: there're a ton of taco trucks off Sunset that all have stellar corn-tortilla-wrapped, cilantro-and-onion-topped asada tacos that'll stuff you for less than $10 and make you wonder why anyone pays more than that for kanzuri, anyways.Tacos on tacos on tacos: click here