We write a lot about speakeasies. Like, A LOT. And sure, some of the bars are hidden away and hard to find, and others have the whole bespoke classic cocktail thing down to a science, but very rarely do we write about actual, off-the-grid, dyed-in-the-wool speakeasies. Today is one of those days, though. Meet El Tigre Magnifico, a cocktail paradise located in AN APARTMENT BUILDING IN GLENDALE.
So, how do you get in?
Imagine an ordinary street in an ordinary neighborhood (as ordinary as you can get adjacent to the Toonerville gang injunction zone). A 1980s multi-unit building you wouldn't notice if it were on fire. That's where you'll find El Tigre Magnifico. Check in at the call box, and head up the stairs through the security gate. And yes, we're sure this is the place. The proprietors preferred we didn't photograph the outside of the building (because again, REAL SPEAKEASY), but the good stuff happens inside anyway.
Oh, so it's an... actual apartment?
Yep. One where the foyer/living room/dining room/kitchen is kind of one big room, but with a laid-back atmosphere and creative lighting (peep the beer bottle chandelier and galaxy ceiling projector).
There's a legit menu to peruse...
All of them? Yes, please. And if you're not seeing prices... that's because there are none. To keep everything above-board, it's on a donation system. So, y'know, bring cash.
And once ordered, they're gorgeous
The Regal Beast -- with bourbon, Amaro, and orange zest -- is a work of art.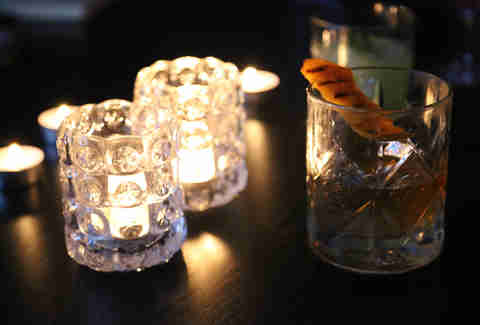 Secret Handshake > a Manhattan
It's garnished with a charred orange peel reminiscent of a tiger's tail.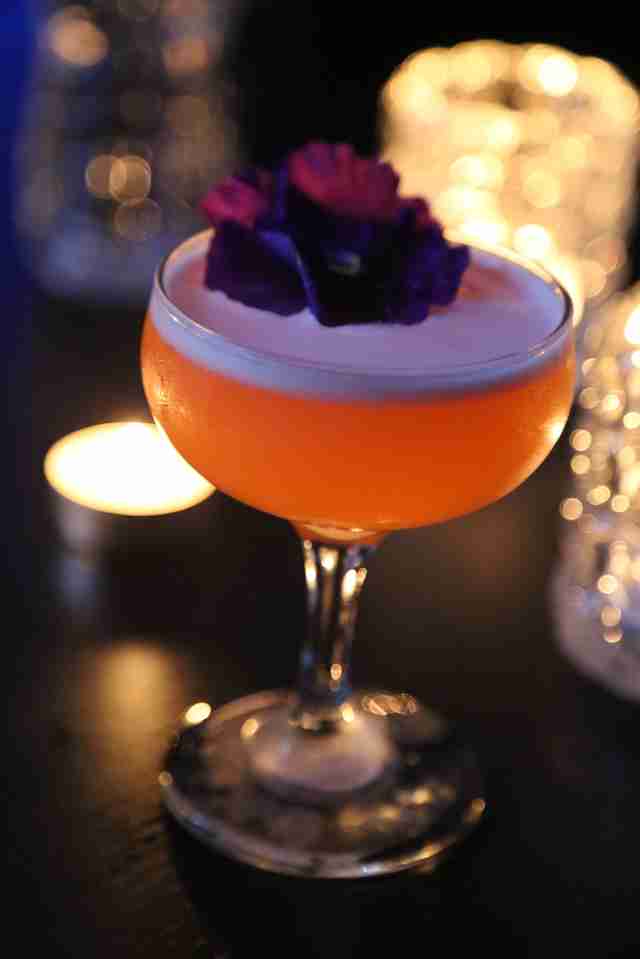 This is the Tropico
You almost don't want to disturb it, but you'll be glad you did.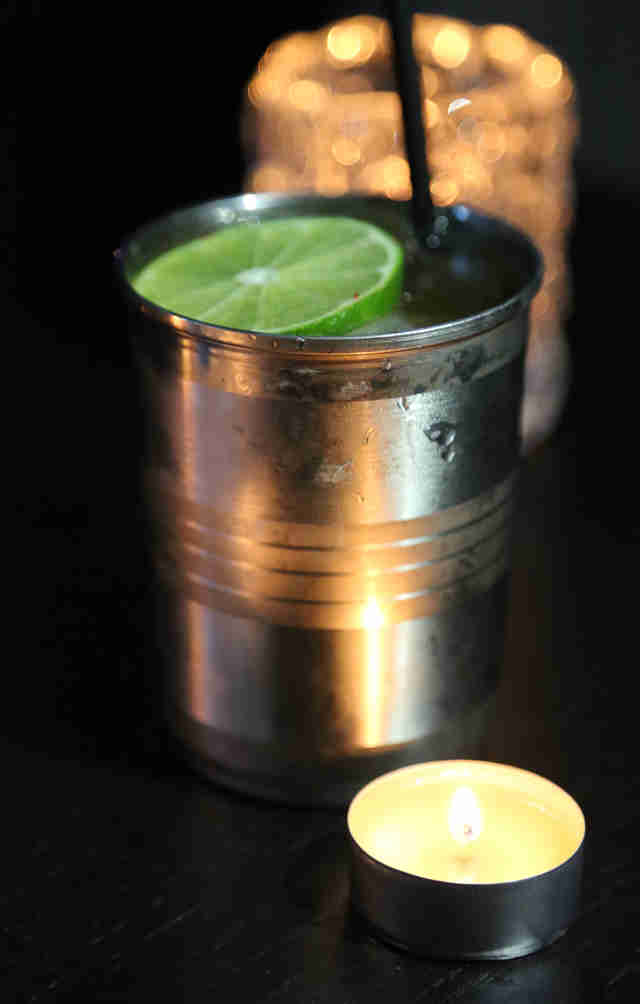 Want something off-menu?
Something with ginger, you say? No problem, they'll go and do THIS, hacking the traditional Moscow Mule mug with a more-better spice cup from a nearby Indian grocery.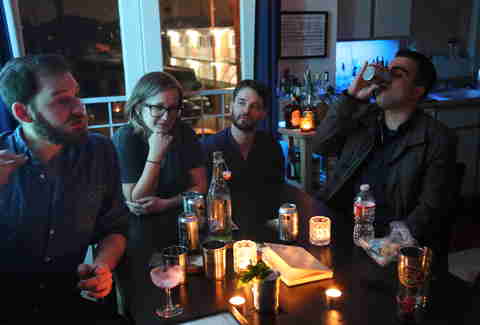 Your bartenders will sit and chat with you (and you'll want them to)
As the night goes on at the bar... err... dining room table, the fellas will hang with you. They're friendly and cool -- basically the opposite of most people who talk to you at bars.
They even did an ice mini-seminar
As they said, "Cocktail geeks love ice." They hand-saw large cubes from a big ol' chunk of frozen water to attain sexy, clear frozen beauty. "You taste first with your eyes."
So, who are these drink magicians?
Cary and Matt created El Tigre to spread their creative wings on weekends, after working days tending bar at a basic restaurant that may or may not be best known for doner kebabs. They're the Angus Young of mixology -- self-taught, and inspired by the classics. After testing drinks on each other, they decided to invite over friends to help out. And now those friends are you.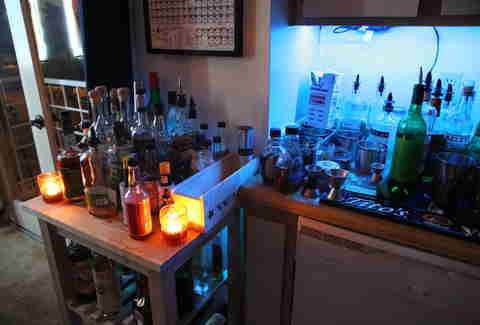 Here's how you get on board
Follow @eltigrecocktails on Instagram. Find the cell number there. Text nicely that you'd like to come and visit. Wait. Hope. It's worth it.
Sign up here for our daily NYC email and be the first to get all the food/drink/fun New York has to offer.
John Mathot is a freelance contributor to Thrillist, writer/artist on Disney's Star vs. the Forces of Evil, and co-creator/co-host of Horrible Movie Night, a monthly movie roast at Meltdown Comics. Follow at Twitter @horriblemovie and Instagram @horriblemovienight.