Los Angeles is a land where anyone on the sexual orientation spectrum can find a place to satisfy their tastes while quenching that Saturday night tequila thirst. From muscle queens to femme bears and twinks to butch lesbians, these Los Angeles watering holes aren't just for rowdy bachelorette parties anymore (but we will keep the penis straws)!
Best "I've never been to a gay bar!" bar: The Abbey Food & Bar
692 North Robertson Blvd, West Hollywood
Come one, come all (did I spell that right??)! No matter if you're new in town, just visiting, just came out, or are just a really big fan of Bravo reality programing (still?), this is entry-level gay bar go-go dancing at its best. It's a staple, and everything its reputation precedes: debaucherous, loud, constantly happening, and also has a bakery!
 
Best heavy-handed pour: Fubar
7994 Santa Monica Blvd, West Hollywood
If you want that Eastside cool with the flare of a BoysTown bar, dimly lit corners, music you might actually dance to, and vodka sodas as strong as the scruffy bartender who poured 'em, look no further, Fubar has you covered... in chest hair.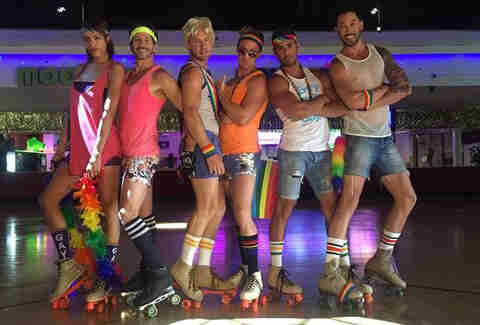 5110 San Fernando Rd, Glendale
You are either the Michelle Kwan of the hipster roller skating world, or you are just there to wear the shortest shorts and tallest socks in your closet. (Pictured: Arisce Wanzer, Ryan Allen Carrillo, Luke Prusinski, Trey Knight, Charley Walters, and Eddiedelso Garcia.)
 
Best bar to unironically woof at someone: Eagle LA
4219 Santa Monica Blvd, Los Angeles
Remember that time you bought a leather harness in an effort to spice things up with your ex? Well, it certainly didn't work then, but now you must make the unreasonable expense worth it and wear it out at least once. Two months and a couple visits to The Eagle from now, you'll find yourself with pierced nipples and a daddy! Fairy tale endings do happen!
1638 N Cahuenga Blvd, Los Angeles
Ladies are more than welcome at all of the establishments on this list, but LA itself is not a girl-bar-centric scene. Grandpa Johnson's is not a gay bar, but LUC, a party run by three queer women,  breaks the boy-on-boy stereotype with a sapphic twist on Thursday night drinks and dancing.
 
Best for bad decisions: Micky's
8857 Santa Monica Blvd, West Hollywood
3am last call + two floors of grinding gays = one solid recipe for waking up next to a stranger.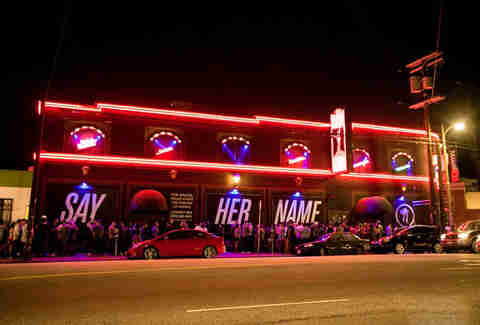 333 S Boylston St, Westlake
If Rhonda were a drag queen, she'd be the big girl with an even bigger personality, daring to wear the wildest wig, the tallest heels, and delivering the Death Drop like she's lip syncing for her life. Rhonda holds its own as a pansexual midsummer night's fever dream featuring mouth-on-mouth roulette!
 
Best shot at conversation not sparked by an app: Akbar
4356 Sunset Blvd, Los Angeles
A local-friendly gay bar, Akbar is kind of like a good ol' fashioned hometown bowling alley, but instead of pins and lanes, it has man-on-man make-out sessions. While WeHo gets swamped with the "just off the freeway" crowd, this Silver Lake alcove is neither pretentious, exclusive, nor disco ball shy.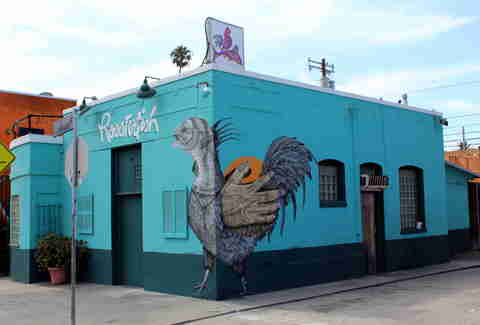 Best of the West(side): Roosterfish
1302 Abbot Kinney Blvd, Venice
Tucked far away from the Eastside dives and sheltered from the WeHo raves lies this little homo harbor in Venice Beach. There are certainly no secrets between sailors at Roosterfish -- the floors are always a little sticky (interpret as you will), dirty pictures are plastered on the bathroom walls, and the patrons are mostly loyal bar flies.
Sign up here for our daily LA email and be the first to get all the food/drink/fun Los Angeles has to offer.
Frank Sweeney is an otter navigating the waters of the rainbow universe. His expertise includes the whiskey ginger and the dance floor "are we both into this?" stare down. He is continuously striving to improve his go-go boy skill set (read: abs) while fighting his affections for pastries. Follow him on Twitter: @frankcsweeney.