Los Angeles Because there's definitely not anything exciting going on in the LA sports world (yep, definitely not), all of your attention starting today is going to be on the World Cup, that once-every-four-years soccer tournament where you constantly name-drop the only three soccer players you can name ("Oh man! Messi with the pass!"). Luckily, a ton of bars showing the games are gonna have great specials, so here're your best options (scheduling heads up: the US plays Ghana on June 16th, 6pm; Portugal on June 22nd, 6pm; and Germany on June 26th, noon).
The Cat and Fiddle: While the English practically invented soccer hooliganism, try to keep things civil at the oldest British pub in Hollywood as they celebrate the World Cup starting on June 12th. Begin your morning of football madness the champion's way with $5 Heineken specials and hearty pub fare, while catching all of the games live on large projector screens and multiple monitors.

Continue Reading
Gauchos Village: Experience the thrill of watching the games surrounded by Brazilians at this Glendale steakhouse, without having to deal with the thrill of protests, strikes, and swine flu happening at the actual games. Blow your vuvuzela freely and feast upon unlimited grilled meats for breakfast (!!) during the grand opening party on June 12th, complete with Oya samba dancers and Brazilian drummers.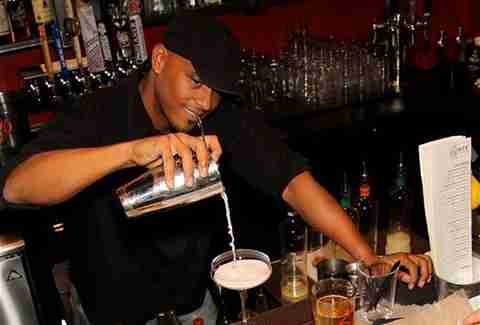 Dog Haus: Show off your World Cup spirit in the great outdoors at Pasadena's Dog Haus Biergarten, which'll open early for 9am games. Order up a $3.99 Michelada and the new (and confusingly named) Würst Burrito, loaded with a grilled Käsekrainer sausage, tots, cheese, eggs, and maple-Sriracha sauce or chili, OR BOTH!
Dillon's Irish Pub: Watch all the games on five 150in screens and more than five 50in TVs at LA's official home of The American Outlaws (aka a bunch of crazy US soccer fans who don't actually do anything illegal... hopefully). Order from the special breakfast menu to help soak up the numerous $3 Micheladas, $5 Bloody Marys, and "pancake breakfast shots" you're bound to order. There'll also be plenty of World Cup swag to nab during raffles, giveaways, and social media photo challenges.


LA Galaxy Screenings (info here): If you prefer your soccer with a healthy dose of sunshine and rowdiness, head to the massive outdoor screens set up for the LA Galaxy-sponsored viewing parties. Catch USA vs. Ghana at Hermosa Beach Pier on June 16th, and Brazil vs. Mexico on June 17th, where there will be booze and grub specials at surrounding restaurants, prize raffles, and appearances by LA Galaxy players.