How Greenbar Distillery Blew Down LA's Craft Spirits Door
We've seen a frothy tidal wave of new breweries opening across Los Angeles in recent years, but the growth of the city's craft spirits scene has been decidedly slower, especially compared to other cities. But that's quickly changing thanks in large part to pioneering spirits-maker Greenbar Distillery -- which opened its Arts District headquarters in 2012 as the first distillery in LA since the repeal of Prohibition.
Over the past decade, Greenbar has worked to overcome many of the antiquated laws and other obstacles that stood in the way of distilleries opening in the city and state, paving the way for other contenders in an emerging craft-distillery scene.
Here's the story of how Greenbar blew down the craft spirits door in LA: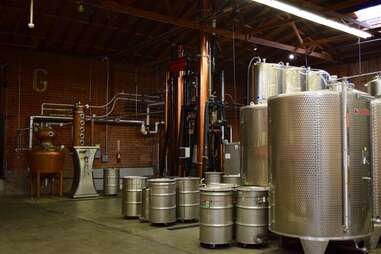 A boozy love story
Like any good venture, Greenbar started off not with a business plan, but with a love story. Over 14 years ago, a newly engaged Melkon Khosrovian and Litty Matthew -- who met while both were attending USC, pursuing their masters in journalism -- began spending time with each other's families. For Melkon's Armenian family, ceremonial toasts with vodka or fruit brandies were made frequently throughout a meal, but to Litty that liquor tasted like jet fuel. Noticing her best efforts not to appear rude, Melkon was inspired to create liquor infusions that were more palatable to his fiancé for the gatherings.
During their regular trips to the farmers market -- Litty is a Cordon Bleu-trained chef and food writer -- Melkon would gather fresh fruits and herbs to create infusions that Litty could enjoy at the family gatherings. He even went so far as to affix beautiful handmade labels on the bottles, so his family would think they brought something fancy. It worked. Not only was Litty able to fully participate in the toasts, but Melkon's family members began to enjoy the homemade infusions so much that they began asking for bottles that they could take home. Pretty soon word spread of these flavorful concoctions and the couple began receiving calls from friends of Melkon's cousins and friends of friends who wanted to order bottles of their own. The couple soon found themselves working late into the night after their day jobs just to keep up with demand.
"We finally had that moment where we had to either get our number unlisted or go into business," Melkon admits. "So, we took the idea of what we had done with our friends and relatives and decided to open it up to the world because there was something missing -- spirits that had the flavor of food. Anything [on the market] that had flavor tasted like floor cleaner or cough syrup. And this approach really lent itself to cocktail making because the flavors were rich and deep. When you would go to make cocktails that meant you could make simple drinks that tasted anything but simple."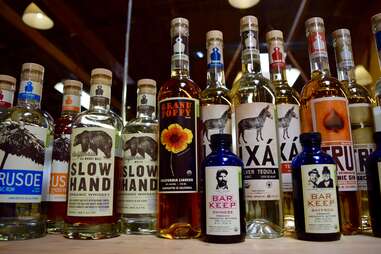 Facing unexpected obstacles
Once Melkon and Litty decided to embrace their newfound calling, the next step was to find someplace -- other than their kitchen -- where they could produce their infusions on a large-scale. The step proved more difficult than expected.
"We came to the L.A. city planning department with complete childlike naiveté and asked, 'Where can a distillery be located? What zone?'" Melkon explains. "And someone there, quite literally threw the book at us -- tossed a code book across the table at us and basically said, 'Figure it out.' And knowing so little, that seemed like too much of a burden for us, so we went to Monrovia, a smaller city that was much more able to accommodate our stupidity and they helped us along. It was a great learning ground."
For the following several years, the couple was able to grow their business from a warehouse in Monrovia, thanks in part to guidance from the city. At the time, they didn't yet have the equipment or space to distill their own base spirits, and so they would buy pre-distilled neutral spirits, and infuse (or rectify) them with local produce -- a fairly common practice in the industry. And while they sourced their ingredients locally, they hadn't yet become the organic spirits producer they are today.
At the time, many of the farms from which Melkon and Litty sourced their ingredients began to shift their farming methods from conventional practices to organic. The couple began to notice a big change in the flavors that the now-organic produce began to create in their spirits. "We were sourcing from the same farmers with the same crops going into the same alcohol, but were tasting radically different because they were coming from the organic side," Melkon explains. "The flavor was way off the charts. It wasn't subtly different, it was night and day different."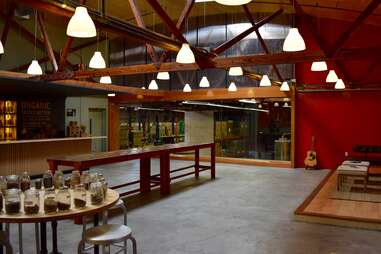 Carving out a home in the Arts District
After years of growing and evolving the business, Melkon and Litty learned that the site of their Monrovia warehouse was slated to be torn down for new apartments and restaurants to coincide with the Metro Gold Line expansion. Just as they began to look for a new location, the couple met an aide of former Mayor Antonio Villaraigosa at a Greenbar tasting event at Bottega Louie, and encouraged them to consider the just-emerging Arts District for their new home. As good timing and luck would have it, the aide told the couple about efforts to bring clean, green companies to downtown LA for specialty manufacturing. "He told us, 'If you can move here and help create jobs, we can help you cut through some of the red tape. You can't break the laws, but you'll get a sort of concierge treatment." And given that there hadn't been a distillery in Los Angeles since Prohibition, there was plenty of red tape and confusing bylaws to cut through. But with newfound encouragement and guidance from the city, Melkon explains, "We moved here, and haven't looked back."
In 2012, Greenbar Distillery began operating in a 14,000sqft warehouse in the Arts District, just over the tracks from the LA River and within sight of the 10 freeway. With the larger space and guidance from the city, they were finally able to begin distilling their own base spirits. But despite the city's guidance, they still ran into obstacles, including challenges from the county.
"Being first had a lot of advantages, along with a huge number of disadvantages," Melkon admits. "The biggest one for us technically was the L.A. County Health Department. They're very professional, but because we were the first distillery that they had to deal with, they didn't know what to make of us. They said, well, you make things that people drink, other things that people drink that we deal with we treat as food, therefore you are a food company -- and we will regulate you like a cheese plant or a milk plant."
The health department demands meant that Greenbar had to operate as a commercial kitchen would -- something that breweries and wineries are exempt from -- which meant they had to spend roughly $300,000 more than a brewery or winery just to meet the strict regulations. They also almost didn't open because the county was using standards to inspect their distillery equipment as food compatible equipment. Greenbar was subjected to this intense scrutiny for every year they've been in operation -- until 2016. Melkon explains, "After a decade of them coming by and inspecting us, this year, they finally said, 'okay fine, you can join the ranks of breweries and wineries where we don't expect your entire facility for production, you can operate just like those guys. Thank god."
Helping to pave the way for other distilleries
Chris Steller, executive director of the California Artisanal Distillers Guild (CADG), which helps protect and promote small-batch and artisanal distillers throughout the state, explains that Greenbar played a tremendous role in paving the way for other craft distilleries in Los Angeles, most importantly by persisting with their efforts to open a distilled spirits plant (DSP) downtown. "Nobody thought it could be done, but Melkon and Litty did it," Steller says. "Their existence made an impact on the visibility of our industry. It showed also the creativity of distilling what is local -- and how tastes can be expanded."
Greenbar and other California craft distillers also faced the challenge of archaic laws that kept them from offering on-site tastings and direct sales to customers. After the repeal of Prohibition in 1933, a "three-tier" system was created to separate the production, distribution, and retail sales of alcohol to avoid monopolies. And while California has since created exceptions to this system to allow wineries and breweries to offer tastings and sell on site -- distilleries weren't allowed to do so. (One other exception was fruit-based brandy producers who could sell, but not offer tastings). Meanwhile states that overturned these restrictions on distilleries have seen their craft spirits industry flourish.
Thankfully big changes have taken place to help free up the craft spirit industry just in the past few years, thanks in large part to the efforts of the CADG and passionate distilleries like Greenbar. In 2013, Governor Brown signed AB 933 into law, which allowed distilleries to offer tastings for a fee. In the bill, the tastings were restricted to six per customer and each sample could only be a quarter of an ounce. It was a watered-down version of what CADG had initially proposed -- which also included allowing direct sales to customers -- but it was an important victory in a long fought battle nonetheless.
Then in 2015, craft distillers in the state had another victory with the passage of AB 1295, which enables spirit makers who produce no more than 100,000 gallons per year to sell up to three bottles on-site per day. It also allows distilleries to offer tastings in the form of a cocktail instead of just straight-up samples, and for them to own a partial interest in up to three restaurants or bars, as long as long as at least one of them touches their distillery. The bill helped realize some of the other goals of CADG's previous proposal -- including the ability of local distillers to control their brand -- much to the chagrin of California's powerful wholesale liquor lobby, which wished to maintain more control over distribution.
The tidal wave of craft distilleries begins
As Greenbar was fighting the good fight to open and operate their distillery, several others around the LA-area were looking to do the same. While some were facing their own challenges independently, others saw Greenbar as role models. "Now new distillers can have a much freer time opening and operating in L.A. County because we went through hell first," Melkon explains. "The huge advantage has been time. We were part of the industry before 'craft distiller' was really a term. There were so few of us that it really gave us time to hone in on our skills." Melkon points out that when they first started they were one of only 10 spirit makers in the state, and thanks to the changes brought by AB 933 and 1295, along with a renewed interest in craft production, now there are over 60 in California alone. And the country now has over 1,200 craft producers up from only a few dozen when Greenbar started.
"Unless you come in with a lot of expertise and a lot of money, you're not going to make it. Which is harsh, but there's just so much competition," Melkon explains. "So, our big advantage was having enough breathing room to ramp up and learn the skills that we've honed over the years. And now we can offer something really useful and disruptive in the industry that will make a difference in someone's ability to go home and make an incredible cocktail without killing themselves."
Stark Spirits, the second distillery to open in LA county and the first in Pasadena, was launched in March 2013 by another husband and wife team, Greg Stark and Karen Robinson-Stark, who make rum, whiskey, aquavit, and brandy. While Greg admits that they were aware of Greenbar's efforts, they were mostly focused on their own challenges to open their micro-distillery -- it's less than 1,200sqft -- particularly from 11th hour demands from Pasadena's Building and Zoning departments. Ultimately the issues were resolved, and they were happy with their decision to open in the city of Pasadena.
"We heard horror stories from both breweries and distilleries' efforts to open in Los Angeles," Greg explains. "Each city offers its set of challenges, and for Stark Spirits the challenge today is to be able to sell spirits from the distillery like other craft distilleries throughout the county and state. The zoning at our location allows us to manufacture, but not do retail sales." Stark Spirits recently won five medals (including a best-of-category) at this year's American Distilling Institute's craft spirits competition and a Gold medal at the California Craft Spirits competition for the brand's Traditional Aquavit.
"For the longest time it was just Greenbar," Greg goes on to say. "Then four years ago we started, and now in the past year and a half three others have opened. I can see a dozen or so distilleries popping up here and there in the in LA area. Others are already showing up in Orange, Riverside, San Bernardino, and Ventura counties. More distilleries are coming."
The second distillery to open up in the city of Los Angeles was YSA (Young State America) Distillery, producing the award-winning Loft & Bear vodka in, you guessed it, an Arts District loft. Founder Paul Ryan Elliott, one of the youngest distillers in the country at 31, says they were inspired by Greenbar, their neighbor down the road. "I'd say arguably that they paved the way for us newcomers," Elliott says. "They were the first in what's proven for us at Loft & Bear to be a great local market with fierce local brand loyalties." YSA continues to operate out of the Arts District, but is currently working to expand to nearby Huntington Park, where they have plans to build a much larger distillery and a tasting room.
Another new neighbor of Greenbar in the Arts District is The Spirit Guild, which opened their distillery and tasting room early this summer on Mateo St. Launched by Miller Duvall and Morgan McLachlan, yet another husband and wife distilling duo, The Spirit Guild distills their two current offerings, Vapid vodka and Astral Pacific gin, from clementines grown on Miller's sixth-generation family farm roughly 100 miles away near the Kern River. Morgan explains that they were going through similar challenges of going through the permitting process as Greenbar around the same time. "There wasn't much of a precedent for opening a distillery with the city, so it made things a little difficult getting through permitting, and explaining to the city the intent of what we were doing," she says.
Morgan goes on to say that the passage of AB 933 and AB 1295 helped their efforts tremendously, "The passage allows for us to charge for tastings and tours, and to sell bottles out of our distillery directly to consumers. For small distilleries, having a tasting room is a wonderful vehicle for consumers to become educated about our unique process, meet the makers, and become more intimate with the brand. We love having people 'discover' the distillery while walking through the Arts District, people find it quite enchanting!"
Soon after The Spirit Guild opened their tasting room doors, a new micro-distillery called Our/Los Angeles opened in the Arts District. The small vodka distillery is a partnership between Steven Ocheltree and Tyler Simmons -- co-founders of local creative agency Sew -- and Pernod Ricard's Our/Vodka brand, which is collaborating with local entrepreneurs in cities around the world to create a unique flavor profile for each location. "We were aware of Greenbar, but the choice to settle in the Arts District was made independently of them," explains distillery manager Samantha Hochhauser. "That said, part of the reason we love the Arts District so much is because of the wonderful community that continues to grow here, and that includes Greenbar as well as all of our other wonderful neighbors like Mast Bros., Stumptown, and The Spirit Guild." With the ability to open a tasting room and offer tours, Our/Los Angeles looks to engage more with the public on a personal level. "We think the product speaks for itself and we like to be transparent about our process and what goes into it," Hochhauser says. "On top of that we love to get involved with our community and spread the word about other businesses and brands we're enthusiastic about."
Beyond the Arts District and Pasadena, other distilleries have also sprouted up -- two in September alone -- with others in the works. Rob Rubens Distilling and Brewing recently opened in El Segundo, and further down in Orange County, Blinking Owl Distillery is opening their doors in Santa Ana. And meanwhile Ventura Spirits has been distilling California-inspired spirits to the north for several years now.
A distillery row for Los Angeles
Greenbar, for its part, is excited about all of the new neighbors. "After over 10 years of being the only distillery in town, for there to be suddenly be four is awesome," Melkon explains. "And my dream is that we have even more and create some of the things that people love about going to Napa Valley for wine or San Diego for beer. We'd like to create a little distillery trail like Portland."
Melkon and Litty -- whose current offerings include everything from vodka and barrel-aged whiskey to bitters and California-inspired liqueurs -- hope to help create an environment for different types of craft beverage producers to collectively present their offerings to the public. In addition to collaborating with other distillers, Greenbar also aims to work with brewers, winemakers, coffee roasters, and even soda-makers, to organize special events where the public has a chance to meet them all, sample their products and learn more about what they're creating. In doing so, Melkon hopes that they can collectively create a local movement as you'll find in cities like Portland, Seattle, Austin, or New York where people tend to be more familiar with local producers. "We haven't had that opportunity in such a big city like L.A. to really bring in the audience and educate them as a group," Melkon says.
"Our medium term goal is to create that familiarity and pride in local things that are unique, that really speak to what L.A. is," Melkon continues. "Things that we can offer differently from makers in Miami or any other part of the world that has cool things, but our cool things are different and as Angelenos we should know about it and understand it and represent our handiwork in the same way that people in other cities do. Especially now that distilleries can have more of an open face to the public with tasting rooms, and restaurants and bars -- just like the brewers have had for a long time and wineries have had forever -- we want to pull back the curtain and invite the public in."
Sign up here for our daily LA email and be the first to get all the food/drink/fun Los Angeles has to offer.
Danny Jensen is a regular Thrillist contributor who hopes living on a distillery row is an option. Follow him to the next tasting room on Twitter and Instagram.