Where to get the best eggnog to drink (and eat!) in LA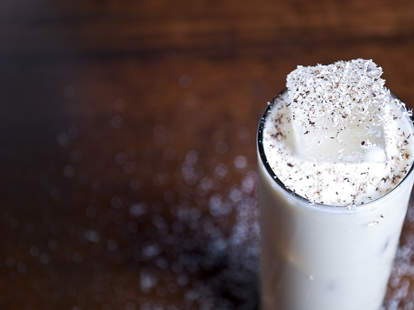 'Tis the season to be jolly (and drink and eat stuff with eggnog in it), fa la la la la, la la, la, la. Don we now our list of the nine best options in LA, fa la la, la la la, la, la, la!
 
Pasadena
What you're getting: Spiked eggnog
The house-like barstaurant's current drinks menu includes this guy, invented by acclaimed barman Marcos Tello and loaded with house-made simple syrup, heavy cream, a whole egg, and cognac.
 
Hancock Park
What you're getting: Eggnog custard ice cream
This Portland import's ice cream is a real treat, thanks to being laced with Scotchy-Scotch -- as well as nutmeg, vanilla, and brown sugar.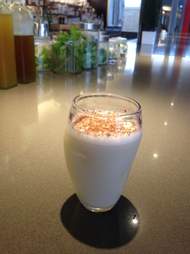 Ray's and Stark Bar
Mid-Wilshire
What you're getting: Three Spirit Nog
LACMA's fantastic patio bar is currently rocking a cold, spicy nog laced with a trio of your favorite things: bourbon, brandy, and dark rum.
 
West Hollywood
What you're getting: Not Your Madre's Egg Nog
The ultra-legit vegan Mexican restaurant (just go with it) has a festive concoction with coconut milk, caramel agave, mezcal, a proprietary masala chai blend, and homemade chocolate bitters.
Hungry Cat
Hollywood and Santa Monica
What you're getting: Big Dave's Nog
The Jameson-, spiced rum-, and brandy-laced nog (named for this seafood restaurant's founder) returns, both for dine-in (where it's topped with nutmeg and cinnamon) or in bottles to-go, where it's topped with... whatever the hell you want to top it with at home.
 
Playa Del Rey
What you're getting: Christmas Breakfast
The multi-faceted restaurant does a nog-ified breakfast-for-dessert called the Christmas Breakfast -- a melange of chocolate-covered cornflake crunch, banana rum caramel, eggnog ice cream pie, and gold leaf. Yes, seriously.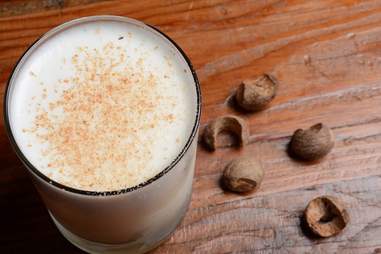 Tipple & Brine
Sherman Oaks
What you're getting: Tipple Tree
This take on a nog is cognac-based (with grated nutmeg and simple syrup) and takes a decidedly acid-y turn thanks to lemon juice. It doesn't seem like it should work, but, well, it works.
 
Los Feliz
What you're getting: Uphill Both Ways
The Eastside cheap-oysters-and-more standby offers two "flips" -- eggnogs without cream -- including the rum-based You've Got Red On You and the Old Grand-Dad-laden Uphill Both Ways, which's also loaded with Angelico Fernet, orgeat, sugar, bitters, and, duh, an egg.
Venice Whaler
Venice
What you're getting: New Year's Nog
Basic? Sure. But that's really all you need to fight off the Venice nippiness.
Sign up here for our daily LA email and be the first to get all the food/drink/fun Los Angeles has to offer.
Jeff Miller is the editor of Thrillist LA, and thinks more places should offer to-go nog. Tell him where else to find it on Twitter at @ThrillistLA or Instagram at @jeffmillerla.