Power-ranking LA's 10 frattiest bars
There's a bar or 10 in LA for every time and type, and if that time is bro-time, and that type is, uh, bros, well, consider this a primer: the 10 frattiest bars in LA, ranked by how much you'll feel like an outcast if you aren't wearing a pair of Wayfarers inside.
Multiple Locations
Barney's is somehow a college team bar for a bunch (almost all?) of LA's transplanted college fan bases, which means that, by default, there's a ton of chest-bumping going on. But unlike many bars on this list, Barney's has 1) edible food, and 2) a great beer list, meaning that, as frat-tacular as it can be (and it can be plenty frat-tacular), it moves down the list rather than up it.
Mid-Wilshire
Why's the Phoenix -- home of making reservations for UFC fights and 20+ big-screens for football -- so far down the list? Well, it's relatively new, which means that, compared to the competition on this list, it could still be taken over by hipsters, or nerds, or... uh... what's another college stereotype? That.
Mid-Wilshire
So goes the Phoenix, so goes the Parlor, another relatively new Mid-City bar that's found its footing in football and pitchers, but could turn around and find itself yuppified at any point.
Mid-Wilshire and Santa Monica
Regardless of whether you're in the one-story Busby's in SaMo or upstairs on Wilshire, you're bound to see some frat dudes doing frat dude things. But they do have live music at Busby's East sometimes, and sometimes they're not even '80s cover bands, which knocks these spots down at least a couple rungs.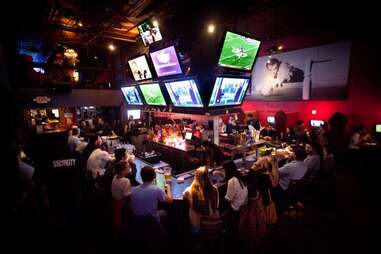 West LA
"But", you may be saying, "Q's is SO FRATTY". Yes it is. Yes, it is. But it also has a ton of pool tables, some of which are sometimes used for actual billiards, and not just beer pong... which is scheduled on Sunday nights. So, one night a week: super fratty.
Hollywood
To be fair, there are plenty of heart-of-Hollywood sports bars that could make this list: 33 Taps, The Den, Rock & Reilly's. But Dillon's seems to reign over them all, thanks to cheap beers, a ton of TVs, and a burger topped with mac 'n cheese. Yes. Wonderful things, them.
Hermosa Beach
Why not the Manhattan Beach Sharkeez, or Hermosa's Hennessey's? Because the Hermosa Sharkeez has it all: location (Hermosa > Manhattan, for this, for sure), reputation (bad door! loud music!), and tons and tons of fratties and the ladies they love hanging out with, all the time.
Multiple locations
No matter what kind of frat bro you're looking for, you can find them simply by finding their respective Cabo Cantina. Surf-bro? Venice. Pretty-boy bro? Hollywood. Sports-bro? Santa Monica. Two-for-one-margarita-swilling-bro? Happy hour, at all the above.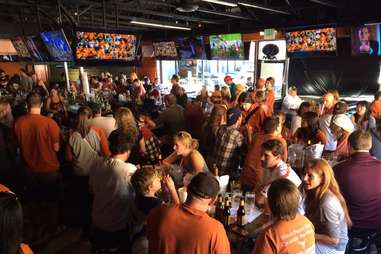 Hollywood
Yes, there are multiple Big Wangs locations. But with their remodel last year, the Holly-Wangs firmly established itself as one of the frattiest bars in all of LA, thanks to multiple beer pong tables, Golden Tee, and every single football game you could ever hope to watch.
Hollywood
Is it a surprise that our top two frattiest bars both have sexually themed names? No. No it is not. Is it a surprise that Happy Ending -- which has a magical wheel-of-drinks, a country line dance night AND a beer pong night, 50+ big screen TVs, and, oh yeah, ACTUALLY SMELLS LIKE A FRAT HOUSE -- is at the top of our list? It should not be a surprise. At all.
Sign up here for our daily LA email and be the first to get all the food/drink/fun Los Angeles has to offer.
Jeff Miller is Thrillist LA's Senior City Editor and does not have a sexually themed name. Unfortunately. Follow him on Twitter and Instagram.