You need to check out The Sayers Club's new front-room cocktail bar
The Sayers Club's established itself as one of Hollywood's best live music venues, with semi-exclusive (be on the list/invited/don't show up wearing Tommy Bahama pajamas) showcases featuring up-and-coming talent (think Florence and the Machine-eque L.P.). and surprise performances from established stars (think, um, Florence and the Machine!). But now, there's a totally-open-to-the-public front room that boasts a cocktail bar & small plates resto, so we spent a night there to show you just how you could spend your night at Sayers (NOTE: maybe still don't wear those PJs).
9:16p: Walk into Sayers' open-to-anyone front room, which is bedecked w/ guitars and encased in leather, and pull up a banquette table seat.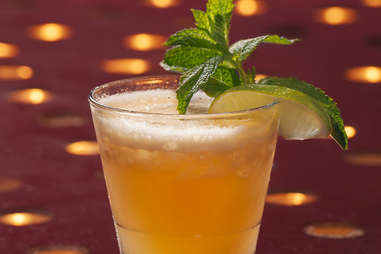 9:24p: Order up a Pineapple Smash, w/ vodka, peppermint, lime, and "hand extracted" juices. Try very hard to avoid making hand extracted juice jokes for rest of the night.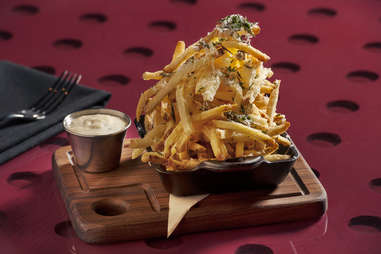 9:39p: Time for some apps, like these actually-truffled fries with a great Parmesan-esque dipping sauce.
10:03p: You're going to also want to get these fried dates, which are stuffed with piquillo peppers, feta cheese, and merguez sausage, and kinda taste like something you'd get at Cleo, which makes sense 'cause the chef did time there.
10:12p: Move on to this Mexican Firing Squad, which might have you shooting blanks if you indulge in too much of the silver tequila and hand-made pomegranate grenadine.
10:43p: Hit the wood-grilled pizzas, which include this rad number topped w/ spiced beef, caramelized onions, and harissa, which'll explain all... of why it's delicious.


11:11p: Since you smartly opted to avoid wearing your Tommy Bahama PJs, mosey past security into the main room for the first performer -- usually an up-and-comer like Rumer Willis, who's not just Bruce's daughter, but actually a killer singer as well.
12:17a: Order up bottle service, 'cause you'll be here all night for the surprise headliner -- in this case, Jurassic 5 rapper Chali 2Na, performing with a full school... er, band.