Loads of lobster, booze-infused Parmesan ice cream, and Back to The Future: The Musical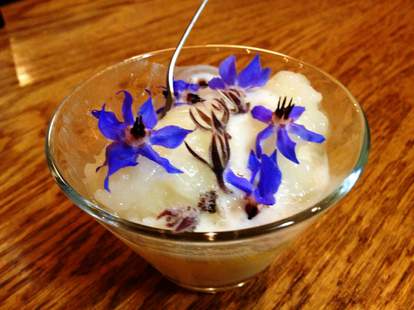 Event of the WeekTonight, super-famous barman Matt Biancaniello's got a booze-and-ice-cream pop-up collab with (and at) the dessert shop Ramekin, featuring crazy-insane flavors like Parmesan ice cream with lemon zest , dehydrated olives, chipotle-infused olive oil, and Manzanilla sherry w/ pink chive blossoms. They've also got squid ink ice cream w/ tequila. Seriously. Check it out.
Friday, May 30th The off-the-wall, based-on-movies-that-are-actually-good musical show For The Record returns, this time focusing on songs from movies directed by Robert Zemeckis, with recreations of scenes from Back to the Future, Death Becomes Her, and Forrest Gump (sadly, though, there is no hoedown sequence from Back to the Future Part III). Buy your tix right here
Saturday, June 1st The off-the-wall, usually-based-on-TV-shows comedy show Sock Puppet Theater is focusing on the film noir classic D.O.A., but recreated entirely using sock puppets. Yea. Sock puppets.
Sunday, June 2nd The Shark Tank-approved dudes behind Cousins Maine Lobster are doing a pop-up at Shade in Manhattan Beach, with four crustacean courses, including a lobster roll served w/ corn on the cob and a lobster ice cream blueberry turnover. Buy tickets at ShadeHotel.com
OngoingThe pool deck at the SLS's now open to the public, so help yourself to sick views and Jose Andres-approved food like a seafood bowl w/ king crab, uni, and lobster. Yeah, you're gonna hang out here