This is the biggest bar opening of the year. Seriously.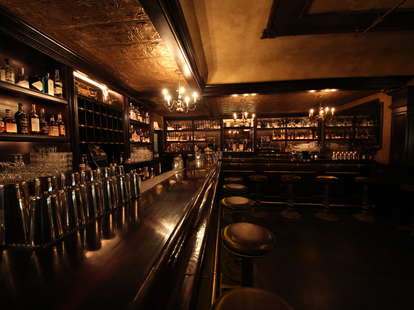 Thankfully not a show where Anthony Bourdain wanders around not getting into hotels, No Vacancy is a seriously next-level bar in a 19th-century Victorian house, from the same design-obsessed, liquor-based geniuses who gave you Pour Vous, Harvard & Stone, and La Descarga. And this time around they've got a nutso entrance, death-defying entertainment, and a drinks list prepped by 12 of L.A.'s most noted barmen & women. Prepare to have your jaw drop, starting with the entrance...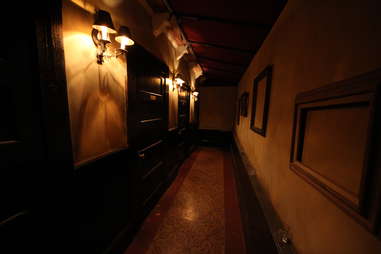 Which's behind one of these three doors, and looks like a Victorian-era hotel room.... with no exits. There're no photos allowed of the way to get into the pictured-above main bar, but lets just say it'll knock you out so thoroughly, you'll be looking for a bed to lie down in.
There's also this upstairs bar, with its own separate, Indiana Jones-style secret entrance, which'll mainly be used for private events, thanks to the huge lounge area you can see at the back in this photo, plus a side room with space for a DJ/ band/ 15-person-game-of-Duck-Duck-Goose, etc..
Either way, you're going to go down these stairs, the left side of which's decorated with memorabilia from all the location's incarnations.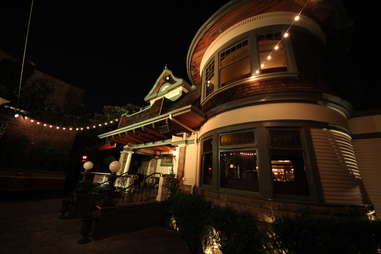 You'll end up on this back patio, which has a Bates Motel-type view of the house and, on weekends, rotating entertainment that can include jazz bands, sideshow acts, burlesque dancers, and circus-style feats (yes, that is a high wire up top).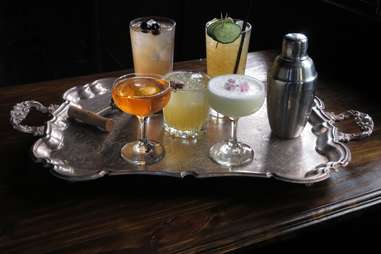 Wait... you ALSO want to know about the drinks? Here's the deal: those dozen bar-dudes and 'dettes are from top-notch drinkeries (from Varnish to The Roger Room), and're responsible for one drink on the menu each, rotated seasonally for a year; after 12 months, they'll be rotated out for new mixologists, who'll come to fill the vacancy.