There's a certain artistry to proper day drinking, especially in LA, where finding the best bar for every hour of sunlight in Summer can be crucial to your Funday ambitions. This should help: our first-ever guide to LA day drinking, complete with the best bar to drink at for every hour of daylight.
Fine print: This isn't for crawling purposes (obviously, that would be impossible geographically), but instead it's-whatever-o-clock-and-I'm-ready-to-start-daydrinking-what's-the-absolute-best-place-I-could-be-doing-it-at-this-very-minute purposes. Good luck.
Where to drink: The Drawing Room (address and info)
Why?: There are only a handful of bars actually open right when it's legal to serve at 6am, and most of them are dives, but none of them are as gloriously divey as this Los Feliz institution, where you're guaranteed to get your all-day drink-a-thon started right with 1) super-strong drinks, and 2) ultra-charming characters.
Where to drink: The Breakfast Bar (address and info)
Why?: Because this place is called Breakfast Bar. But also because they've got chicken-and-waffle sticks to help you set a day-base, and $3 Miller High Lifes to help you put that base to good use.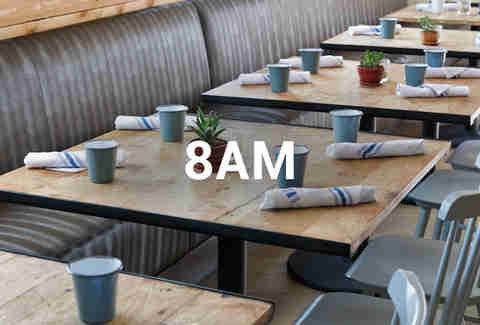 Where to drink: Playa Provisions (address and info)
Why?: Their house Bloody Marys. But also this new Top Chef-testant-run spot (the first of many by-the-sea places on this list, 'cause, duh) has you covered on the most substantial breakfast front (where you'll need to be covered at some point): their ciabatta breakfast sandwich is stuffed with (deep breath) sausage, bacon, avocado, eggs, pickled collard greens, Gruyere, and house-pickled habanero hot sauce. Pro tip: spoon some of the hot sauce into your Bloody.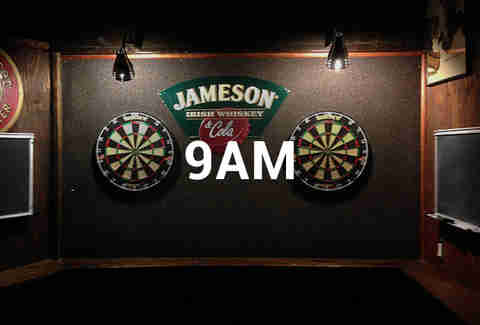 Where to drink: Molly Malone's (address and info)
Why?: Because it's an institution. Because it has Guinness on draft. Because it's open. And because it's in the middle of the city, which means whether it's where you're starting the day or where you'll end up in the middle (or both!), it's convenient for someone to meet you and join you for at least one pint.
Where to drink: Open Air Kitchen + Bar (address and info)
Why?: Formerly Fatty's Public House, this Fairfax gastrobistro has a killer build-your-own-Bloody bar, which's probably right in your boozy wheelhouse around 10am.
Where to drink: Hungry Cat (address and info)
Why?: This by-the-ArcLight spot isn't just a great hidden-away treasure where you can get your drink on before a movie, but it also has brunch with killer oysters on weekends, which -- at 11am, and after a few tipples -- is kinda the perfect snack.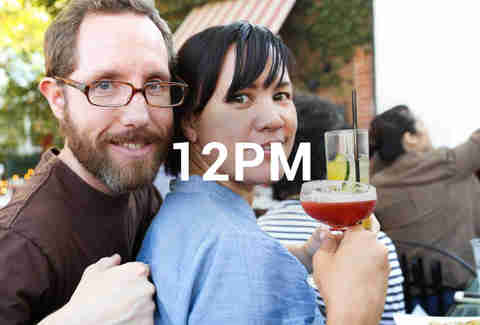 Where to drink: Alcove Cafe/Big Bar (address and info)
Why?: It's time to graduate to full-on, tomato-juice-free cocktails (hooray for noon!), and the Alcove's attached little bar, Big Bar, is the perfect transition spot: fresh-ingredient-filled, brunch-friendly mixed drinks like the Cockney Sparrow (Beefeater, rose tea, lemon, cucumber, Champagne) comprise the menu, and the patio's one of those you-could-spend-hours-out-there-and-not-even-notice gems.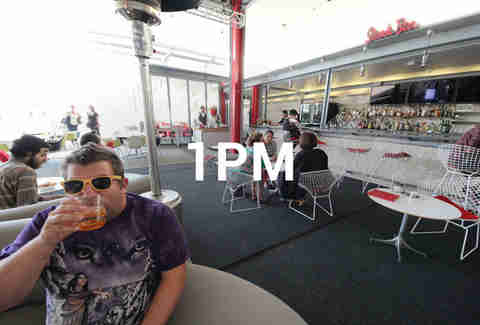 Where to drink: Stark Bar (address and info)
Why?: It's time for something more substantive on both the food and drink side, and Stark Bar at LACMA -- one of our favorite patios to drink at in the city -- offers both: a full-on drink menu with fruit-mushing, high-end-boozing greatness, and flatbreads with pickled artichokes and gourmet sausage that'll beat back the hunger that's no doubt yearning to break free.
Where to drink: O'Brien's (address and info)
Why?: This Santa Monica Main St staple may be brotacular, but it's also got a great mid-afternoon happy hour, with $3.50 domestics from 12-7pm.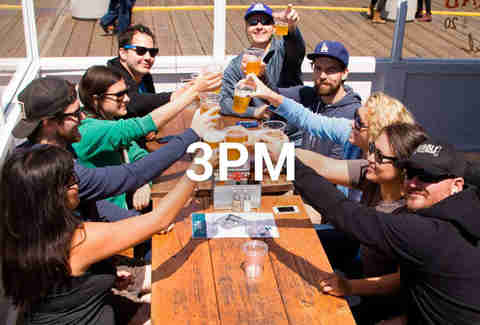 Where to drink: Golden Road Brewing (address and info) 
Why?: You're probably at the point in your day where you're like: "drinking is fun. But you know what's more fun? Drinking... and playing games at the same time!" That's where Golden Road comes in: they've got giant Jenga, ping pong, and more, a slew of outdoor seats, and some of LA's best local beer, brewed right there.
Where to drink: Tropicana Bar at the Roosevelt (address and info)
Why?: The sun is high, you're ready to get half-naked, and you'd like to see people much better looking than you do the same. Thankfully, the Tropicana at the Roosevelt -- sometimes a list-y place at night -- is much easier to get into during the day, as are a bunch of other options from our list of LA's best pool bars.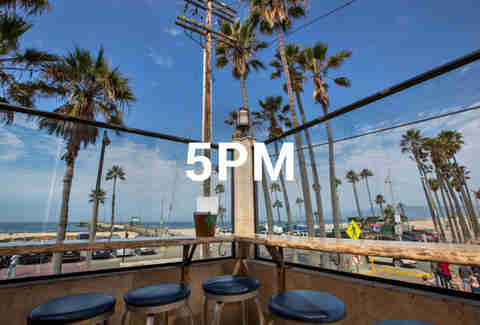 Where to drink: The Whaler (address and info)
Why?: The beachside staple's just finally finished their renovations, which means you can just finally get tap Negronis and bourbon-and-IPA-based California Kings, plus late-afternoon bites including their house banh mi.
Where to drink: Mercado (address and info)
Why?: Now's when you want chips and guac. Now's when you want happy hour margaritas. Here's where you're going to get them.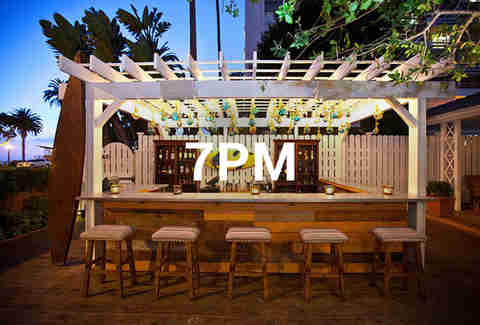 Where to drink: The Bungalow (address and info)
Why?: There's no better place to watch the sunset, cheers a day of drinking well done... and figure out where the hell you're going for the night.
This list -- and all the rest -- look even sexier in our iPhone app. Get it now!
Jeff Miller is Thrillist LA's Senior City Editor and probably won't be seeing you for that 6am drink, but'll totally meet you out at 4pm. Follow him on Twitter and Instagram.