The most stunning bar you've seen in a LONG time
Disappointingly not named after the diminutive dude from Willow, Warwick's a jaw-dropping cocktail lounge in a formerly non-jaw-dropping location: the space that used to house the grimy Club Lingerie, which has been completely transformed into a glistening, two-story beauty with equally eye-pleasing cocktails from a duo of guys from The Roger Room, and a seriously unique bottle service program that promises not to be just a bottle-of-Goose-and-Red-Bull drop-off. Intrigued? Here's the walk-through:
Once you're done admiring that front room (and the people in it), you'll probably want to head straight to the back bar, a 360-degree bad boy serving up a seven-strong specialty drink menu, as well as a carefully curated beer selection.
Start off with the Blackberry Buck, a bourbon-based concoction that supplements house blackberry ginger beer with blackberry and ginger root (note: you may taste some blackberry and ginger) along with vanilla, cinnamon, and nutmeg.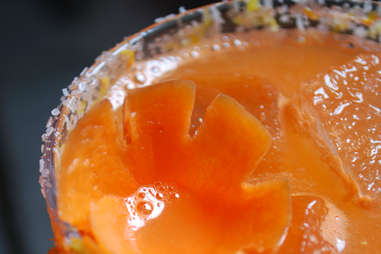 Of course, you'll also likely want this spicy tequila-/ mezcal-based Spanish Bull, which'll knock you to the floor with Cointreau, and orange & carrot juice. Actually, the tequila probably does most of the floor-knocking.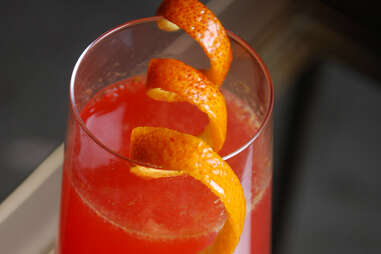 Your date? She'll see someone sipping this Prosecco and orange juice Orange Royale and'll definitely want one... even if it is just another name for Orange Quarter Pounder.
At some point, you'll mosey up to the white-tinged upstairs bar, complete with loungey couches and a perch for kinda-creepy people-watching.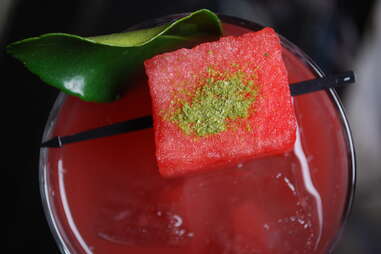 They've got the same drink menu, which means you can get all the goodness you haven't yet tried below, like this Kaffir Melon Cooler w/ gin, watermelon juice, kaffir lime, pomegranate juice, and lime juice...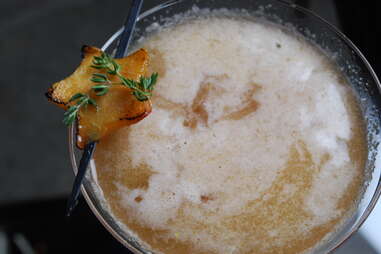 ... this Peach Cobbler, made with cognac, lemon juice, peach puree, and (um, awesome) maple syrup...
... or this Warwick Cup, which's clearly a winner since it's got Pimms #1, as well as strawberries, lemon juice, pineapple juice, and soda.
The final specialty drink might be the most embarrassing to order, but is clearly the coolest looking: this Coca Pina Fresca w/ rum, pineapple juice, and lime, topped with coconut foam.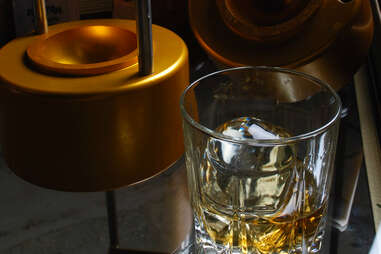 Finally, that bottle service. Each type of booze is assigned a mixologist and a classic drink or two they'll make -- i.e., if you do gin, they'll make you fresh Southsides. Tequila'll get you tableside Palomas or Margaritas. But the best way to go is whiskey/ bourbon/ scotch: drop some dough on a bottle and it includes this custom ice sphere-maker, which literally makes circles RIGHT IN FRONT OF YOUR EYES, and not just because you've already had seven drinks and everything seems like it's spinning.