Inside the LA Tiki Bar Scene That Is Keeping Old Hollywood Alive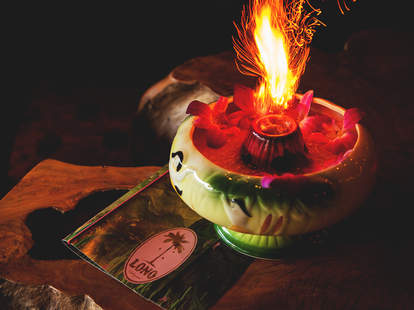 Los Angeles is a place built on fantasy. We turned a desert into a lush paradise thanks to our famed entertainment industry, a business that hinges on make-believe. So it's only fitting that Tiki, the most fantastical bar scene in history, started and continues to thrive in the City of Angels.
Though Tiki bars got a bad rap for being kitschy, silly, and straight up "uncool" in the '80s and '90s, the Tiki trend is decidedly back with a vengeance -- and in fact never really left Los Angeles. The scene today is full of artists, adventurous mixologists, and people young and old who want a bit of paradise in their lives. In a city that is often about chasing the "hot new thing," a visit to one of LA's Tiki bars is a refreshingly throwback journey to the Golden Age of Hollywood.
TIKI DRINKS REBORN
Tiki's origins date back to the 1930s (with the trend peaking in the '50s & '60s), but its rebirth can be traced to the aftermath of the Great Recession, when the need for escape came back. Around that same time, mixology and craft cocktails were becoming popular in the country's biggest cities, and Tiki drinks took their place at the cool table. Because make no mistake -- while the tropical aesthetics and a renewed interest in all things mid-century has helped Tiki gain favor, what keeps this trend going is the drinks.
To the uninitiated, a Tiki drink might conjure thoughts of bottom-shelf rum mixed with canned pineapple juice and whatever other sugary mix you have lying around. That's a far cry from a real Tiki drink. Originally based on a Caribbean Planter's Punch recipe, most Tiki drinks keep to the idea of "one of sour, two of sweet, three of strong, four of weak."
"Tiki cocktails are craft cocktails and have been from their beginnings," says bartender Liz Relles, who has worked at Tonga Hut in North Hollywood for nine years. "When we talk about Tiki mixology, you're not just throwing a bunch of juices together, adding rum, and hoping for the best. It's balancing different elements together and sometimes using a dropper to do so. It's layering herbal elements. It's adding just enough spice without overpowering other subtleties."
The Mai Tai and Zombie are the quintessential Tiki concoctions; the former, invented by Victor "Trader Vic" Bergeron (or Tiki godfather Donn Beach, depending on who you ask), isn't terribly sweet and should come with half a juiced lime floating on top. The Zombie was a Donn Beach creation and gained its popularity for having 5 ounces of liquor and a warning of "only two per customer." In other Tiki drinks, you'll often find fresh-squeezed citrus, many types of rum, and spicy syrups like falernum and orgeat. Though the combination of citrus and Christmas spices sounds weird, it makes for a shockingly complex -- and delightful -- beverage.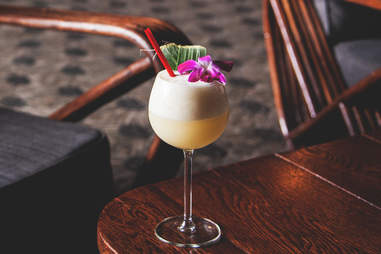 Genevieve Adams
TIKI: A HOLLYWOOD STORY
While Tiki bars abound in LA today, back in 1933, you basically had two hang-out options in Hollywood. Visit a swanky club, where you could drink martinis, dress to the nines, and dance dispassionately to the sounds of the house orchestra. Or, you could go to a dive bar and realize you're living in the same Great Depression as everyone else in the country. So after visiting the Caribbean and working as a technical adviser to South Pacific-set films, one-time bootlegger Ernest Raymond Beaumont Gantt (later known as Donn Beach) decided to bring some paradise home to LA. He found space for a 24-seat bar in Hollywood, filled it with all his tropical paraphernalia, got some cases of rum, and opened Don the Beachcomber in 1933.
The meticulous, exotic cocktails were a revelation. Charlie Chaplin, Howard Hughes, and other big names frequented the place and patrons lined up for Donn's "Rhum Rhapsodies." Soon after, Bay Area proprietor Victor Bergeron fell in love with the Tiki concept and in 1937, changed his Oakland, California restaurant Hinky Dinks into Trader Vic's. Another Tiki legend was born.
These enchanted Tiki rooms were nothing like the stuffy, fancy clubs or the hopeless reality of 1930s America. "It's no accident that studio production designers often also designed Polynesian restaurants," says Jeff "Beachbum" Berry, noted Tiki historian, author, and owner of the acclaimed New Orleans Tiki bar Latitude 29. "The best were like perfectly art-directed movie sets that shut out reality and allowed you to dream of faraway places." It was a manufactured slice of heaven and people couldn't get enough.
New locations of Don the Beachcomber and Trader Vic's opened up around the country; by the late '50s, the craze was fully mainstream with backyard luaus a common staple of suburban weekends. But in the '80s and '90s, Tiki, once the ultimate paradise fantasy, became that lame thing your square dad liked and the tropical trend died out in most of the US. But not in LA.
Multiple joints remained in SoCal through Tiki's dark ages. "While high-overhead 'Polynesian Palaces' like The Luau in Beverly Hills couldn't survive once the Tiki trend became passé, the Tiki-Ti and Tonga Hut were both small-scale neighborhood bars with loyal regulars," Berry says. "And that clientele is always going to hang out at their 'local,' whether or not it's still trendy."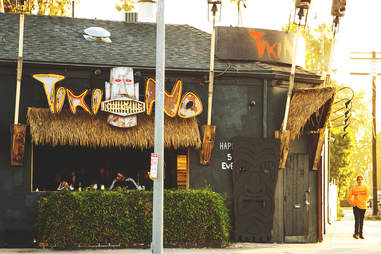 Derrick Zonca
LA'S BEST TIKI BARS
Today, you'll find classic and revamped Mai Tais and Zombies on Tiki (and even some non-Tiki) menus across the city. These hidden gems of the LA bar scene include stalwarts from Tiki's original heyday to more recently opened hotspots breathing new life into the trend.
Established in 1958, Tonga Hut is the oldest Tiki bar in the city. The North Hollywood spot features a bright red, mid-century fireplace; bamboo-lined booths; and a water-spurting sculpture known as the "Drooling Bastard." Order Tiki classics, like Zombies and giant flaming Scorpion Bowls, or, you can enjoy a single serving of the Tonga Punch if you like your booze to come adorned with a floating flower in a bamboo bowl. Their Mojave Punch takes the typical Planter's Punch and adds the modern touch of homemade hibiscus syrup and passion fruit to the mix.
Tiki-Ti has been around since 1961, housed in a former violin repair shop. Founder Ray Buhen was behind the bar when the original Don the Beachcomber opened and he went on to work at all the best Tiki establishments before tiring of making other people rich of off his delicate work and opening his own spot. Today, the tiny Los Feliz bar is run by Buhen's son and grandson, who take great care to maintain the integrity of all 85 (!) tropical drinks on the menu. Try their signature Ray's Mistake -- as the name implies, Ray screwed up a drink, the customer drank it anyway, and it's now their most popular item (made with botanical liqueurs, passion fruit, dark Coruba rum, and a "super secret flavor"). Or, for a surprisingly potent drink full of coconut cream, try the deliciously deadly Painkiller.
If a dark Tiki bar with walls full of glass sea floats and years of collectibles is a little much, try Tiki No in North Hollywood. There's still a fair amount of thatch, bamboo, and the occasional dried puffer fish, but you'll also find "regular" bar staples like karaoke, a jukebox spinning modern music, and a drinks menu that's more approachable for non Tiki-philes. Try the Lychee Luau (gold & silver rum, lychee liqueur, pineapple, lemon, falernum) during their daily happy hour for $7. Or get their Toasted Marshmallow -- it's shockingly fun to watch the marshmallow be set aflame (and even more fun when you get to drink it afterward.)
Though "secret" tiki bar Pacific Seas opened in 2016 on the top floor of Clifton's downtown, it's based on one of the original LA Tiki establishments. The first Clifton's restaurant opened on Olive Street in 1932, and after Don the Beachcomber became popular, was turned into a tropical oasis called the Pacific Seas in 1939, where you could eat while surrounded by 12 waterfalls, hourly lei-ings, live organ music, and neon palm trees. Though it closed in 1960, Clifton's past Tiki glory lives on in the new Pacific Seas; the place is covered in hand-carved tikis, carefully selected artwork, and there's even a full-sized speedboat right in the middle of the place. The atmosphere and history are worth the trip to Pacific Seas alone, but the drinks are pretty good, too. Try the Pacific Seas Daiquiri: Based on the original Cuban recipe of rum, grapefruit juice, lime juice, and maraschino liqueur, it's a far cry from the frozen concoction that graces the happy hour menu at chain restaurants.
LA's newest Tiki bar, Lono, opened in Hollywood in 2017, offering classics like the Mai Tai and Grass Skirt, exciting new twists on Tiki drinks, and a menu full of delicious food (think jackfruit sliders and steak rubbed with Kona coffee). The decor is more Hawaiian-tropical than Tiki, which still makes for a wonderful escape from the tourists at the Walk of Fame outside. Try their mysterious Curse of Lono (they won't reveal their ingredients), or for a truly modern Tiki drink, get the Ring of Fire made with mezcal, aged cachaca, and togarashi spice. It's all served at this hotspot on Hollywood Boulevard -- only streets away from the location of the original Don the Beachcomber.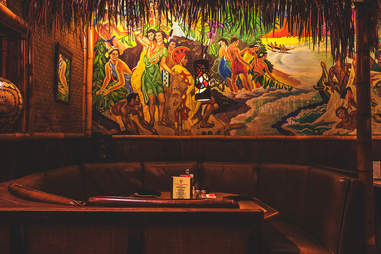 Anne Fishbein
LONG LIVE TIKI
Even those five bars are barely scratching the surface of LA's busy Tiki scene, which stretches into the city's outskirts at places like Tiki-themed steakhouse Damon's in Glendale and the divey Thomway Hale Hawaii Lounge in Torrance. At most, you'll find girls in circle skirts, guys in Hawaiian shirts, and legitimately friendly people. More than just a collection of rum drinks, Tiki has become a community in LA -- the regional fandom supports a Tiki market in Long Beach and the four-day Tiki Caliente festival in Palm Springs, among others.
"It's really a community of artists who get to create and meet new people," says LA office-worker Michelle Perez, who runs @LadiesWhoTiki, makes custom Tiki mugs, and adorns her authentic home Tiki bar in her spare time. An active member of the scene, Perez loves how Tiki truly brings people of all walks of life together; most of her friends bond over its retro appeal and the few that haven't yet gotten on the tropical train are converted once they take a sip. As for her own passion, "it all started with Disney, the Enchanted Tiki Room [at Disneyland]," Perez says. "From there I got into Shag art, mid-century fashion, and found Tiki bars when I came to LA."
For that reason, no matter what Tiki's future holds around the country, Berry believes that Los Angeles will always have an affinity for tropical tastes. "It's a company town built on the manufacture and marketing of fantasy, and that's also what Tiki has always been about."