Crazy-good food, late-night karaoke, and 24hr spas: how to do Koreatown
Tiffany Tse
Tiffany Tse
So, Koreans have this thing called "o-cha", and it's kind of confusing for the uninitiated (five bars are involved, and five rounds, and the fifth one is called o-cha...), but basically it's a fantastic bar crawl. Thankfully, LA's Koreatown is the perfect place for it. Need proof? Here you go:
WHERE TO EAT:
3003 W Olympic Blvd #107
They've got a rich, fall-off-the-bone pork spine/ribs stew served family-style. That's everything you need to know.

3303 W 6th St
If you're looking to expand your horizons beyond all-you-can-eat BBQ, this place is a good start, especially if you start by trying their galbi jjim -- a classic Korean comfort food dish with melt-in-your-mouth braised short rib.
425 S Western Ave
Not afraid of weird-sounding food? Try the pigs feet at this hole-in-the-wall -- they're cooked to a tender, gelatinous texture that's actually super good. Afraid of weird-sounding food? You can get boring-old, delicious pork slices, which you eat with garlic, pickles, and lettuce.

3185 W Olympic Blvd
This joint specializes in naeng myun -- cold noodles served in a refreshing, tangy broth filled with ice, radish, cucumbers, and boiled beef strips. It's traditionally eaten in the warm-weather months in Korea (so... year round here then?).

4008 W Olympic Blvd
Olympic Noodle dishes out K-Town's best chicken kalgookso -- a soup made with homemade, knife-cut noodles cooked to the perfect al dente consistency, and paired with super-fresh, tangy kimchi and radish.
WHERE TO DRINK:
3515 Wilshire Blvd
OK, so maybe you've already heard of this place, but that doesn't make Line Hotel's lobby bar -- which turns into a full-fledged lounge on weekends -- any less awesome. Sip on craft cocktails like curry soju and White Russians with other 20- and early-enough-30-somethings, and check out the snack/dessert bar, where you can sate your drunchies and maybe run into Roy Choi (he heads the hotel's eateries).
239 S Vermont Ave
K-Towners have been boozing at this speakeasy-inspired bar on a random stretch of Vermont for a while. Don't be fooled by the unmarked exterior: it's got an upscale feel, a decent-sized outdoor patio, and fancy, 10-ingredient, occasionally-on-fire cocktails.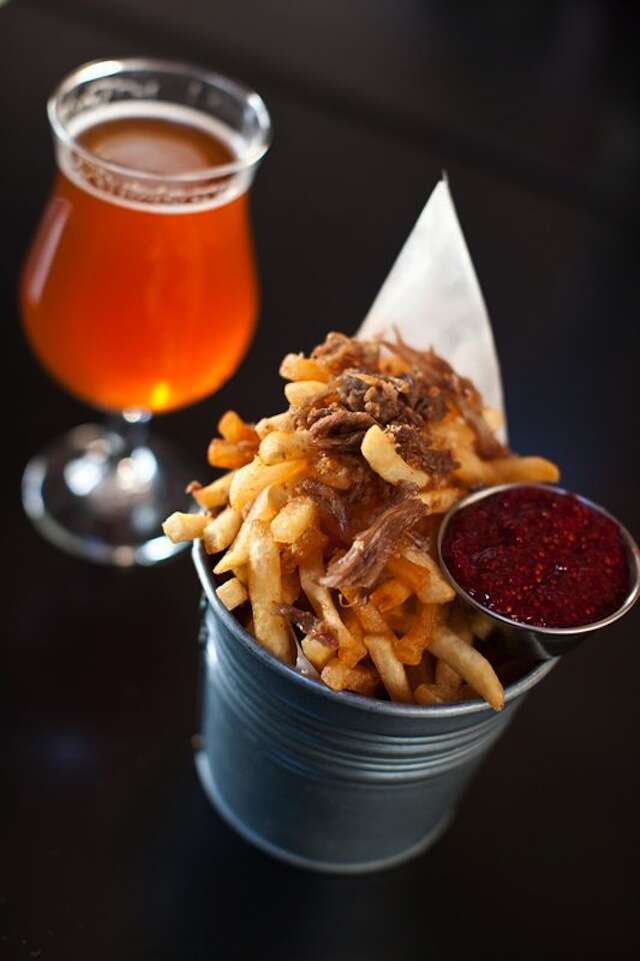 WHERE TO EAT AND DRINK:
532 S Western Ave
If you want to continue boozing but also keep food-ing, hit up this hidden-in-the-back-of-a-parking-lot watering hole, known for its county fair food-inspired menu on steroids (duck fat fries, pork belly chips, deep-fried Pop-Tarts, beer and chipotle-braised short rib), as much as its excellent local craft beer selection.
3317 W 6th St
Those looking for serious Korean dive bar eats -- like corn cheese, kimchi rice, and spicy rice cakes --should head straight to Dan Sung Sa. Every table starts off with a bowl of sugar-dusted sweet potato crisps and a hearty miso/bean sprout soup to refresh your palate in between all the soju and beer.
WHERE TO SING, DANCE... AND DO OTHER STUFF
659 S Mariposa Ave
Does singing Michael Jackson's "We Are The World" with 12 total strangers in a log cabin-inspired karaoke bar sound like your idea of a great time? Brass Monkey's your best bet. Put in your song requests early, since the DJ gets backed up quickly.

3309 W 6th St
The best thing about this karaoke spot -- aside from the fact that their song selection includes karaoke classics such as "Don't Stop Believing" and "Thong Song" -- is that, despite their official closing time of 2am, they typically close whenever the last person leaves, even if that person is you, and it's 4:27am, and you're singing "Don't Stop Believing" followed by the "Thong Song".
3319 Wilshire Blvd
This OG K-Town club practices the uniquely Korean custom of booking, which is basically speed dating with alcohol and loud music. In a standard booking scenario, a bunch of guys buy a table, and throughout the night, waiters bring girls in the club over to meet you, leading to plenty of potentially awkward/awesome/awkwardly awesome moments.

3701 Wilshire Blvd
La Defence, as the name indicates, has private karaoke rooms outfitted with disco balls and tambourines. If you see girls in short dresses waiting in the wings, those are either chicks that're overdressed for karaoke, or doumi (entertainers) who earn bucks by singing with, and offering lively conversation to, customers.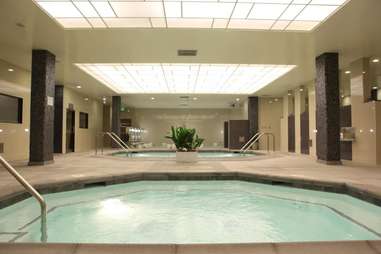 WHERE TO REST:
2700 Wilshire Blvd
After downing your last Hite, you could summon an Uber and pay an inflated fee to get home. Or you could head to Wi, an open-for-24-hours spa where you strip naked (if you want to, it's optional) and soak in hot tubs. There's also a coed floor (everyone's in robes) where you can sweat out your night in saunas or soak up whatever else you consumed with ramen, rice, and BBQ meat.
Sign up here for our daily LA email and be the first to get all the food/drink/fun Los Angeles has to offer.
Tiffany Tse is a freelance writer for Thrillist, and thinks every post-rager night should end at a Korean spa. Check out what she's up to on Instagram at @twinksy.