The 23 Best Beachside Bars in Los Angeles
For the next time you feel like taking a swift kick to LA's Summer heat groin, here's a list of the best and breeziest beachside bars in LA. Order up a frosty cold beverage, kick off your flippy-floppys, and enjoy the view.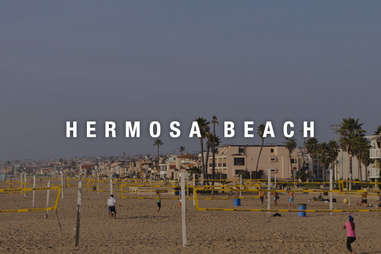 If you can navigate through the occasional, temporarily Irish bro-down in the downstairs bar, you'll be rewarded with the riches of a stunning beach view from the upstairs patio. Lose an afternoon during the $5 happy hour with jumbo 23oz domestic brews, or brave the 50oz "world's largest pint" and be rewarded with a souvenir glass and the strong likelihood of a fully clothed ocean swim.

Fans of shuttered beachside dive The Poop Deck will be pleased by its recent reincarnation, which now features a noticeable lack of, well, poop. Thankfully, the charms of the fish tank behind the bar, the nautical "island" table, and the billiards remain, as do the wallet-friendly prices with the classy addition of more-than-decent wines.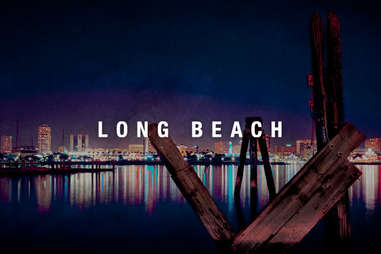 The oldest operating brewpub in SoCal also happens to offer top-notch pints (and pitchers!) right on the beach. Once you've adequately sampled their recently revamped offerings on the outdoor patio, order up a growler of your favorite pour to take on a three-hour tour home.

With a massive beer menu that calls for a degree from Beer University and super-sexy views of the LB harbor, this actually-pretty-respectable chain offers a rewarding waterside refuge. Order up one of their signature half-yard pours (why no full yard?) along with an onion ring tower during happy hour, and feel confident that your evening is headed in the right direction.

Belly-up to the cozy bar at this laid-back local favorite, which sits just across from the base of Seal Beach pier and offers panoramic ocean views. Pro tip: order a bacon and shrimp-adorned Bloody Mary.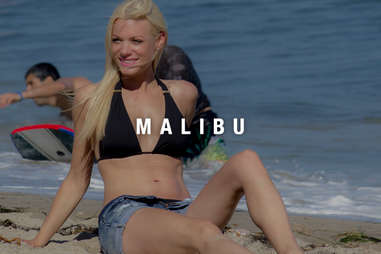 With totally Instagram-able panoramic ocean views, delicious hula pies, and a mellow vibe inspired by namesake Duke Kahanamoku (the Hawaiian father of international surfing, naturally), you hardly need another reason to head up the PCH to this kitschy surf stalwart. But, just in case: $5 Mai Tais and hula dancers on Fridays.

This beach hideaway may no longer be a secret, but... who cares! It's still one of the only places in LA county to legally drink booze while sticking your feet in the sand, and definitely the only place in LA county you can do that while also eating a gargantuan iced seafood tower.

Perched just above the tumbling waves with your feet up on a day bed, you won't care who sees you order another strong, manly drink that definitely is NOT a strawberry daiquiri. Spend your Sundays wisely at this Malibu classic, poppin' bubs, devouring tuna tartare, and enjoying the rotating line-up of DJs throughout the Summer. And the sunsets. Did we mention the sunsets?

Why bother haulin' up to land-locked wine country when you can sip vino with a view of the beach at this low-key, adult grape juice hideaway? Throw around words like "jam-y" and "tobacco-y" like you know more about wine than what the staff recommends at Trader Joe's, while enjoying quality pours, food truck vittles, and live music.
If you're not into stuff like watching the sun set on the ocean, bikini-clad volleyball players, and cheap beer, than DON'T GO TO SHELLBACK. And if you are? Totally go to Shellback, bro.

If you're looking for something more swank than shots-shots-shotsshotsshotsshots near the beach, seek refuge in this class act of a bar, which features Tony Stark-worthy views of the Pacific. Order up farmer-friendly cocktails like the optimistic Sunrise Over Manhattan Beach, or take a pour from their futuristic wine dispensers. Then head to the upstairs bar for more drinks and market-driven upscale eats, courtesy of a cast of well-decorated chefs.
While you're not likely to get too sandy on the outdoor patio of Tony P's, you will enjoy sweet-ass marina views, a relaxing ocean breeze, and -- if you're smart (you are), a 25oz mug filled with one of their dizzying arrays of draught beers. And yes, that's a collection of 1,400 tap handles.

With 180-degree views of the harbor, roaring fire pits, and an extended happy hour, you're likely to make the patio at Whiskey Reds your second home this Summer. Wait... can we actually do that for real?
Because you need a classy beachfront bar to impress your parents, and you need alcohol to spend any amount of time with your parents, Coast delivers on both with impressive views and booze. Even if those views sometimes include a flailing rollerblader with a gut, the stiffly poured Life of Ryely and tequila-laden Pepino Sour will help smooth out the unsightly edges.

This sprawling, indoor/outdoor classy surf bungalow nails the rustic charm at every turn, but to catch an ocean breeze, you'll want to head to the lantern-lit patio. Tough life for you. Order a market-fresh marg at the outdoor bar, then cozy up around a fire pit at night or step up to the ping pong table to show off your skills.

While you may feel as though you've been sucked into a tourist vortex, the "macho mega"-sized margaritas and unbeatable ocean views at this end-of-the-pier standby will ease some of your anxieties. And should its extensive and potent cocktail menu leave you feeling "macho mega"-hungry, the tableside-prepared guac and massive nachos will restore peace to your world. Probably.

What Rusty's lacks in refinement, this pier standby makes up for in unpretentious boozy revelry, fantastic views of the Pacific out back, live bands, karaoke, and heavy-handed bartenders pouring piña coladas into coconuts.

Don your favorite pair of faded madras shorts, and reminisce about your crushing victory at the Figawi regatta at this Nantucket country club-styled beach bar. Oh, that wasn't you? It's cool, you'll still enjoy yourself at this slick hideaway with a Hot Sandy Beach (tequila, basil, jalapeño, lime juice), Pier Pressure (rum, lime juice, grenadine, egg whites) or a classic Dark 'n Stormy.

Bury your feet in the sand, order up a craft beer, and bid a fond farewell to any commitments you had for the rest of the day at this low-key, right-on-the-damn-beach favorite. Order up the respectable burger or fish & chips... really, it doesn't matter as long as you're holding a beer while doing it.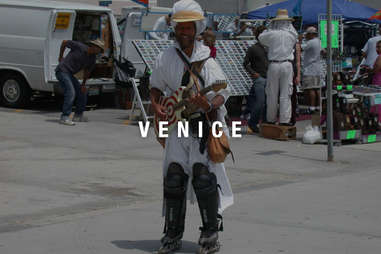 Situated right on the Venice boardwalk, this beachside retreat offers an impressive rotating selection of mostly local microbrews. Indecisive imbibers fear not, too: the skateboard-flight of beers will help you find the perfect pairing for the tasty and sustainable gastropub bites.

Because you need more grit in your life, this sandy, well-worn Venice institution will satisfy your rough-around-the-edges desires and curiosity for confusing murals. A solid beer selection and $3 Bloody Marys & mimosas on the weekends offer a refreshing respite from an afternoon of broiling on the beach.

Personality goes a long way at this boardwalk dive, especially when that personality is accompanied by stiff drinks. Once you've killed it with "Takin' Care of Business" on the karaoke mic downstairs, head up to the porch to catch an epic sunset view.

Throwing back half-liters of German brews and snacking on oversized Bavarian pretzels would be a respectable way to pass the afternoon in a dimly lit beer hall, but doing so on the sun-soaked strand of Venice is, without doubt, a more respectable way to pass the afternoon. Lederhosen optional. Kinda.
This list -- and all the rest -- look even sexier in our iPhone app. Get it now!

Danny Jensen is a Thrillist LA contributor and he has a degree from Beer-Drinking University. Follow him on Twitter. Everybody's doing it.