20 LA bars that are open on Christmas Day
Crap, it's Christmas Day and you're already out of brandy and eggnog, what to do, what to do... oh, right, drink brandy and eggnog (or probably just, like, light beers and cheap whiskey) at any of these 20 LA bars that are all actually open on Xmas.
Beverly Hills
It's like every other night you've spent at this hotel bar, just with more mugs of Italian mulled wine, freshly roasted chestnuts (yes, they're real things!), and expertly trimmed Christmas trees. Open 7am-2am.

Westwood
What's better than ordering a hot-buttered-salted-truffled-rum at the bar before going to see The Gambler next door at the iPic Theater on Christmas Day? Being able to order another (and then another) from your seat in the theater on Christmas Day. THAT'S WHAT. Open 4-10:30pm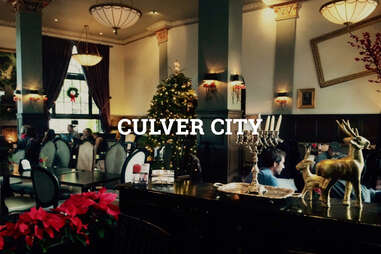 Culver City
Cheap alcohol and day drinking. This is how photo booth Christmas portraits for next year's family Xmas card come together, people. Open 11am-2am.

Culver City
Don your finest Christmas sweater and warm up by the fireplace at this classy 1920s-era lobby bar. Open 2-6pm or later, depending on traffic.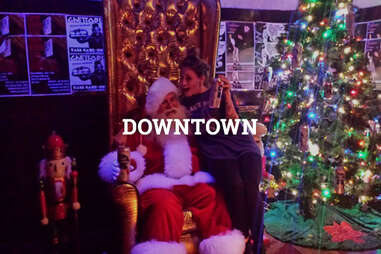 Downtown
This is the one bar where you're most likely to see Santa with a PBR tallboy in one hand and a karaoke mic in the other, though if it gets to that point in the evening, you should probably decline invitations to sit on his lap.

Downtown
Say "humbug, yo" to all those cheerful Christmas lights around town and lose a few hours in this darkened den of top-notch booze.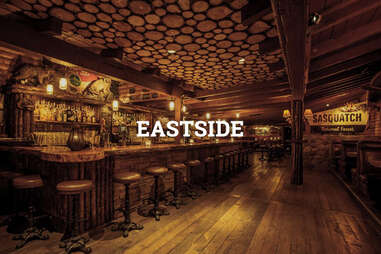 Silverlake
Picklebacks? Yes. You will have Christmas picklebacks. Open 6pm-2am.

Los Feliz
Why not celebrate one mythical dude (Santa) with another (Sasquatch). Open 5pm-2am.
Hollywood
This British-style gastropub will be pouring pints and "Christmas Cheer" cocktails, like the hot spiced cider, plus there'll also reportedly be roast goose, Christmas pudding, and elves in (thank God) "fuzzy hats". Open 2pm-2am.

Hollywood
While, sadly, the traditional "Krewe of Jingle" Christmas parade won't be stopping by this New Orleans-themed watering hole, you can still get your jingle on with the revamped bar offerings and refined, barrel-aged cocktails. Open 5pm-2am.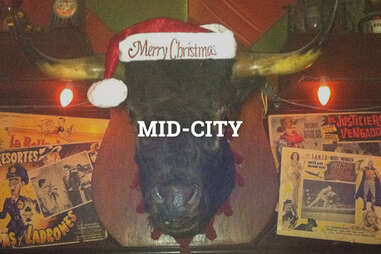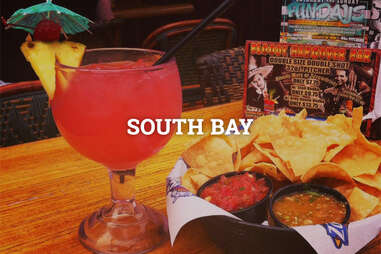 Hermosa Beach
Celebrate Jesus' 2014th b-day the way he would've wanted: by drinking cheap pitchers and throwing darts.

Manhattan Beach & Hermosa Beach
Santa bro out.
Sherman Oaks
With enough Christmas lights to make Clark Griswold proud, The 'sweep keeps the uber-cheap drinks and free popcorn flowing like a champ.

Valley Village
If you wanted to shoot pool, play Ms. Pac-Man or Galaga, listen to a great jukebox, and generally just spend Christmas Day drinking in a place that feels like the most righteous finished basement from the '70s, this is definitely your spot.
West Hollywood
Adding to the many reasons why this is one of the best new bars of 2014, this classy throwback-bar will be slingin' on Santa's big day. Open 5pm-2am.

West Hollywood
Perfect for escaping the holiday madness in a comforting dark corner, this cozy joint will be pouring five new winter cocktails, including the LA-noir-inspired Mulholland Fizz and The Long Goodbye.
Santa Monica
Because your karaoke version of "White Christmas" sounds waaaaaaay better than Bing Crosby's after a few drinks. Open 6am-2am.

Santa Monica
Though you'll be gawking at insane views of totally snow-free Santa Monica beach, you can still get into the Christmas spirit(sssssss!) here with holiday-inspired cocktails like The Grinch, Spiked Apple Cider, and Candy Cane Crush. Open 11am-9pm.

Venice
Unless you want people to totally hate you, you're going to have to stop karaoke-ing Christmas songs at some point. Today is not that day. That day is sometime in July. Open 11am-2am.

Sign up here for our daily LA email and be the first to get all the food/drink/fun Los Angeles has to offer.
Danny Jensen is a regular Thrillist contributor and will undoubtedly be finishing all of the eggnog. Send him boozy holiday wishes on Twitter and Instagram.