Sure, you're supposed to be drinking at home with your family on Christmas Day, but by 6pm, you'll have clocked enough hours with grandma to make a guilt-free exit to the bars. Or, better yet, round up the whole family and bring family time to one of these 27 spots open on the 25th.
Atwater Village
Not enough rockabillies, bikers, and animatronic woodland creatures at The Griffin for you? Walk two block down Los Feliz Blvd and get yourself into Bigfoot Lodge for some of the best craft cocktails the city has to offer.

Atwater Village
The Roost may not have free popcorn anymore (boo!), but you can still spend Christmas Day with its world-famous Big TV.

Atwater Village
You'll feel like you're in the Gryffindor common room at the tapestry-adorned, fireplace-laden Griffin, and that's definitely not a bad thing. Bonus: sweet-potato tots.

Beverly Grove
It's not Christmas without copious amounts of tequila, so get El Carmen in your life right away. And you know what goes great with tequila? Many more tequilas. Opens at 7pm.
Culver City
Ever wondered how they celebrated Christmas in hotels in the '20s? Well, time machines don't exist, so drinking in this very legit 1920s-era bar on Christmas Day is the closest you can get. Show up early, because it'll close at 6.
Downtown
We know you and your friends love to take turns reading passages from Pride and Prejudice to each other, and Library Bar will ensure you can get your Jane Austen on, even on the 25th. Oh, and get a couple thousand orders of the pork belly skewers (with spicy maple glaze, cilantro, and lime), because you have to treat yo'self sometimes.

Downtown
This Thrillist-fave bar full of delicious sandwiches will be jingle bell rockin' from noon until close, so if you're Downtown, this is a done deal, especially since it always has an Anchor on draft, and it's always $5.

Downtown
If Library Bar and Beelman's aren't enough for you, keep the ACME Hospitality crawl going by at their newest spot for some not-obnoxiously-designer burgers and seven rotating taps.

Downtown
If jambalaya is all you really want for Christmas, this NOLA-style gastropub will fulfill your dreams. Open from 12pm-2am.
Hollywood
If you've ever wanted to spend Christmas Day in the middle of the Pirates of the Caribbean ride, look no further than Sassafras, a decked-out bayou-style bar with live music and great drink specials. Bonus: you'll most definitely not hear the Deliverance banjo riff.

Hollywood
It's maximum dark in the Burgundy Room, which means you won't have to get a good look at all the nightmare people cruising down Cahuenga.

Hollywood
With its Christmas roast and Christmas cheer cocktails, The Pikey aims to trick you into thinking you're in the Dickensian Christmas age. Check it out from 4pm-2am.

Koreatown
Koreatown's best nautically themed bar will be doling out its traditionally stiff pours on Santa's big day, so make sure you're a part of that. Ho, ho, ho, and a barrel of rum. In a single drink.

Manhattan Beach & Hermosa Beach
Even Santa Claus has his bro side. Hit up Baja Sharkeez to unleash it in the South Bay.

Pasadena
Conveniently located right across the street from Denny's, so, looks like you've got your day planned. 7pm-close.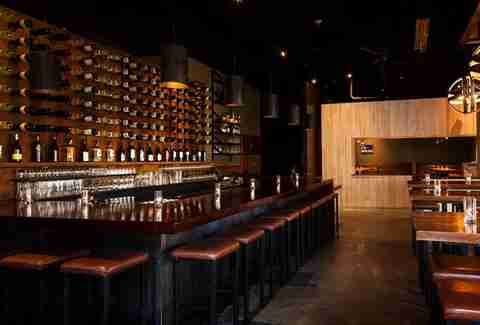 Pasadena & Santa Monica
Even if you're not a wine expert, Bodega will treat you kindly. And so will its finger-licking small plates (like Caprese sliders and homemade hummus & pita).

Santa Monica
Free popcorn, karaoke, and nary a lick of pretentiousness to be seen. Have yourself a merry little sing-along from 5pm 'til close.

Sherman Oaks
It's not a holiday in the Valley if you don't end up at the Sweep for some pool and White Russians. It'll be open bright and early at 10am.

Sherman Oaks
But you can't spend ALL night at the Chimneysweep, so feel free to pop across the street to the Oaks Tavern to mix things up (and play copious amounts of shuffleboard).
Silver Lake
4100 Bar will be spreading the real holiday cheer from 6pm-2am with a jukebox, photo booth, and $8 Dickel picklebacks.

Studio City
If you've managed to round up your entire family, Laurel Tavern will do you right with its big communal tables, burgers, and strong craft beer lineup.
Valley Village
Starting at 8pm, you'll be able to get your holiday cheer on at The Fifth. Which means starting at 8pm, you'll be able to play Ms. Pac-Man. Until, like, forever.

Venice
It's been a long year. You deserve an ocean view while you booze it up on Christmas Day. The Whaler will open at 11am.
West Hollywood
If you want to spend your Christmas in one of the most beautifully designed bars in LA, get over to Harlowe. Open 6pm-2am.

Westwood
If drinking in lounges modeled after Balinese forests is what puts you in the Christmas spirit, Tanzy is open from 5-10:30pm.
Sign up here for our daily LA email and be the first to get all the food/drink/fun Los Angeles has to offer.
Wilder Shaw is a regular Thrillist contributor who will almost certainly be at 4100 Bar, because that's pretty much where he is at all other times in his life. Buy him a pickleback on Twitter at @WilderShaw_ and Instagram at @wildershaw.