The Long Beach guide to Sunday Funday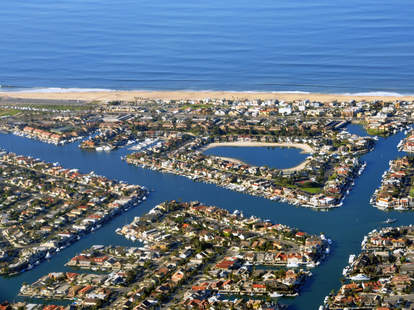 <a href="http://en.wikipedia.org/wiki/User:Chensiyuan" target="_blank">CHENSIYUAN/WIKIMEDIA</a>
In Long Beach and next-door Seal Beach, not participating in Sunday Funday is a crime punishable by... missing out on Sunday Funday. The "International City" gets 329 days of sunshine, and sports an 11-mile coastline that provides for endless amounts of aquatic shenanigans, followed by tons of bars and restaurants with bay and ocean views, or at least very blue skies. We tapped native son, bartender extraordinaire, and occasional groomer of amazing mustaches Erik Trickett to take us around to his favorite spots to extend the weekend to its natural conclusion.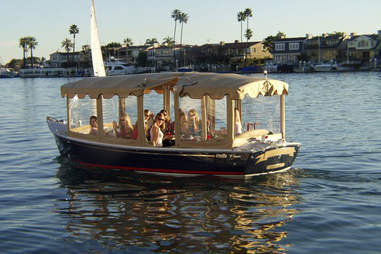 <a href="https://www.facebook.com/pages/Duffy-Electric-Boat-Company/127279057324385" target="_blank">DUFFY ELECTRIC BOAT COMPANY/FACEBOOK&nbsp;</a>
The undisputed best way to start your day is taking out a Duffy, which are all-electric rigs born in the 1960s when Newport native Marshall "Duffy" Duffield decided to install a motor from "the crappiest [golf] cart I could find" into a boat. They're now ubiquitous in Long Beach, mostly because they are awesome -- and you can rent one right outside The Boathouse (see below!).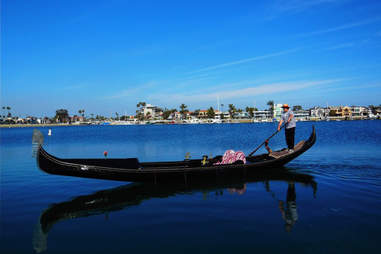 <a href="https://www.facebook.com/gondolagetawaylb" target="_blank">GONDOLA GETAWAY/FACEBOOK</a>
If you're feeling romantic and/or Italian, you can take your pick of gondola operations and have a man with excellent balance oar you out amongst the Naples canals. If you're an athlete, windsurfing and kiteboarding are excellent options. If you're an athleast...
Just lay on the beach until you're ready to hit one of these outstanding establishments:
Sarah Bennett
Schooner or Later
Every good Sunday Funday starts at this brunch institution attached to a boat-supply store that overlooks the Alamitos Bay marina. With the wait for a table never less than an hour, most customers end up sipping out of Long Beach's glassware of choice, the schooner. Once seated, go hardcore with "The Mess" topped with chili and avocado. (You will know The Mess when you see it -- it is a mess.)
Sarah Bennett
Hennessey's
Just down the coast on Seal Beach's Main Street lies this Irish bar with a beachside twist. Instead of a dark wooden pub, Hennessey's has an outdoor patio with lots of windows that let in the ocean breeze and allow for choice people watching.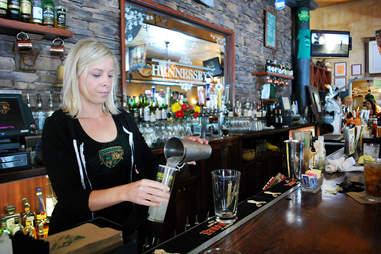 Sarah Bennett
"This used to be my office," Trickett says of when he worked at nearby 320 Main. "On Mondays, I'd do my inventory, then come down here and do my ordering phone calls from the bar." This seems like an excellent idea.
Sarah Bennett
Boathouse on the Bay
Perched near the last turn before vessels from the marina head out to sea, Boathouse occupies one of the most prime seaside locations in Long Beach. The interior features tiling and a vibe not unlike Jerry's Famous Deli, but its patio (complete with fire pit and thick clear shields to keep out that pesky onshore breeze) is where most choose to sit/sip.
Sarah Bennett
"I love a place where I can listen to good music and have a good view with a good cocktail," Trickett says. This right here would be that view.
Sarah Bennett
Tantalum
The crowd is pushing retirement in a good way, because what better place to retire than a bar with 180-degree views of inner Alamitos Bay and island drinks impeccably designed by former Lead Bartender Lauren Trickett. Is the opposite of "no relation" "yes relation"? Because yes, Lauren is Erik's sister.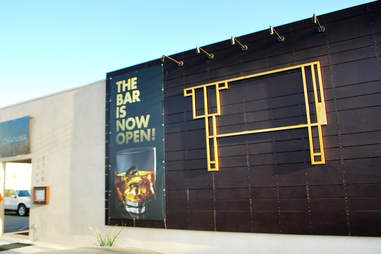 Sarah Bennett
Chianina
Another Long Beach spot with an unexpectedly affordable, stellar bar lineup, surprising only because it's an upscale Italian steakhouse that could easily lean purely into pricey wine and get away with it. But at this Naples Island oasis -- where the windowless interior is padded with recording-studio-quality sound absorption material -- the small plates are as high falutin' as the surrounding 'hood, yet no reservations are necessary to pull up a stool.
Sarah Bennett
O'Malley's
Some like to pit Hennessey's and O'Malley's against each other, but these Main Street Irish bars are more like sister stops than enemies. Footie jerseys on the walls and a fireplace in the corner make O'Malley's a bit more homy, and on Sundays (as during the week) you're likely to run into off-duty local bartenders, or the owner of Still Life Tattoo, seen here examining his work on Erik's arm. "Everyone takes care of everybody out here," Trickett says.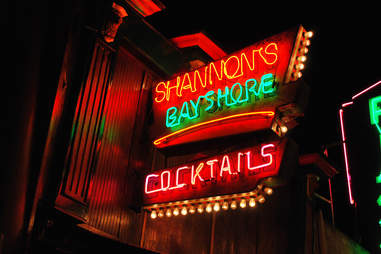 Sarah Bennett
Shannon's Bayshore Saloon
After the sun goes down, the place to be is Second Street in Belmont Shore. The original Long Beach dive bar and the home of "Shoot the Root" (just ask for it) was once a regular hangout for members of Sublime, and is a must-stop if you want to be considered well qualified to represent the LBC.

Erik travels all over America in a flying Duffy boat. Follow him on the Twitter right here.
Sarah Bennett is an editor at Beer Paper LA. Obviously you need to follow that, right here.
*Brand does not have any affiliation with the places, events, or unusual watercraft named in the above article