Because it's Little Dom's birthday and its staff likes charging a completely nominal fee for drinks, this Wednesday they're essentially giving away martinis -- charging just seven pennies -- which makes you kind of wonder "why bother?" Aside from that whole legally-having-to-charge-for-drinks thing.
The martinis will be smaller than usual, but there's no limit on 'em, and they'll be served from opening at 8am*** from 5:30pm until they run out... so, yeah, what this comes down to is you're gonna want to take Wednesday off, and maybe Thursday, too, while you're at it.
***UPDATE: Little Dom's just sent us an email that they're starting this at 5:30 rather than 8am, so actually, sleep in after all.
Sign up here for our daily LA email and be the first to get all the food/drink/fun Los Angeles has to offer.
Jeff Miller is the Senior City Editor of Thrillist Los Angeles, and would love to know if you're actually gonna get there at 8am. Let him know on Twitter at @ThrillistLA and Instagram at @JeffMillerLA.
Previous Venue
Next Venue
Venue Description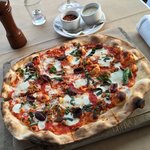 1. Little Dom's
2128 Hillhurst Dr, Los Angeles, CA 90027
If you want breakfast pizza and Jon & Vinny's is too far west for you, consider Little Dom's, the Los Feliz alternative. The cool and casual Italian bistro serves breakfast, lunch, and dinner that'll knock out your tastebuds. Seriously. Expect the aforementioned breakfast pizza and egg dishes at breakfast, meaty sandwiches at lunch, and a range of pasta and meat entrees at dinner. Oh, and did we mention Little Dom's pizza margherita? Keep it simple with tomato sauce and mozzarella or dress it up with house-made sausage but either way, it's good.